Top End land-based fisho bags $10,000 prize-tagged barra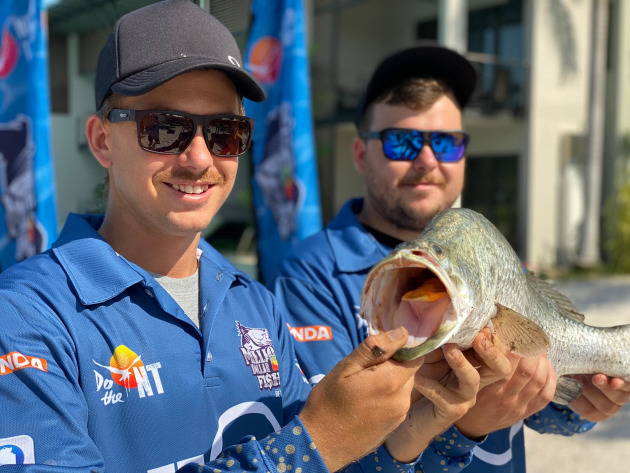 THE third $10,000 tagged fish has been captured as part of Million Dollar Fish Season 5, with Territorian Daniel Klingner reeling in the prized catchoff Mandorah Jetty.
Klingner of Bees Creek and his brother Anthony Klingner from South Australia, also a keen anglerwho has visited the Top End numerous times to fish, decided to drive to Mandorah to wet a line offthe jettyon Wednesday, 20 November. Little did they know they would bag a red-tagged barramundi worth $10,000.
Although the self-confessed fishing fanatic's catch did not have a $1 million tag attached to it, Klingner said he was looking forward to putting the cash towards purchasing a boat so he could go on more fishing trips.
The lucrative 67cm barra is the first to be caught through land-based fishing this season. Data revealsthe fishtravelled approximately 14km to Mandorah, with records showing the barra was initially tagged and released in West Arm Darwin Harbour.
In Season 5 of the Million Dollar Fish competition, 121 barramundi have been tagged and released across the Territory including 100 carrying $10,000 cash prize tags and a further 20 purple-tagged barra each worth $5,000 to be split between the angler and one of three Northern Territory-based charities.
For the first time in the competition, Season 5 has a staggering six prize-tagged barramundi worth $1 million each, including a Season 5 tagged Million Dollar Fish and an additional five barra with $1 million prize tags from Seasons 1 to 4.
Season 5 of the Million Dollar Fish competition runs from 1 October 2019 to 31 March 2020.
To be in the running to win a prized-tagged fish, register for the competition at www.milliondollarfish.com.au