THE 2014 Hobie Kayak Bream Australian Championship presented by Daiwa was held on the 21st - 23rd of November at South Yunderup in WA.
The event saw 48 of Australia's best kayak anglers battle it out for the prized title "Hobie Kayak Bream Australian Champion" in a truly national competition.

The championship kicked off on Friday the 21st with the the Lowrance Navigation Day. Grand finalists sounded the arena for the first time in their fully rigged Hobie Cat factory supplied, Pro-Angler 12s. Timber, snags galore, canals, boat hulls and flats, proved there was something for everyone as the competitors mapped the area with their Lowrance Elite–5 CHIRP sounders.

Day one results saw Daniel Brown (NSW) in 1st place with 3/3 bag for 2.34kg, in 2nd was Brett Ozanne (WA) with 3/3 for 1.87 kg and Chris Burbidge was sitting in 3rd with 3/3 for 1.67kg.

Going into day two, conditions switched. Overcast skies, occasional rain and winds up to 25km per hour rolled in to hopefully turn on the bite. Brown sat nervously at the Power-Pole start line with only 370g lead over his nearest rival but as the morning progressed for many, including Brown, the fish refused to strike.

Burbidge, however, ventured up river and was rewarded for his efforts. Most who ventured that way came home with full bags at the end of day two. Perhaps it was the pod of dolphins smashing bream in the snags that provided a clue to their location.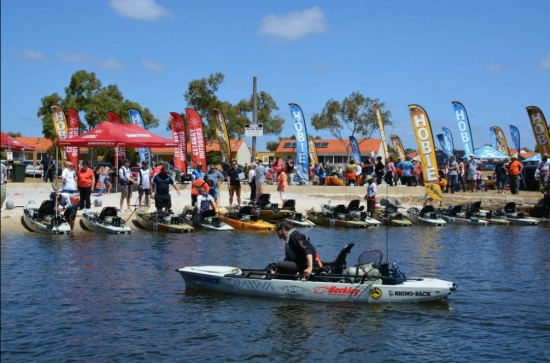 As the grand finalists waited patiently for weigh in, Burbidge stood at the Berkley Bump Tub watching as angler after angler went up on stage. Finally, it was his turn to walk down the the Rhino-Rack Runway and onto the stage in front of the 200 strong crowd gathered there to watch.

As he took the "Hot Seat", (the seat on the stage reserved for the current leader), Burbidge looked on as Brett Ozanne came up on stage for the final weigh-in of the tournament.

Ozanne needed a bag weight of 1.4kg to take the title. His three bream, mostly taken in the canal just 1.2km west of the Daiwa Event Site, fell just short at 1.25kg and Burbidge pumped his fist in the air, ecstatic with his victory. After a great year including three Hobie Kayak Bream Series tournament wins, the Australian Championship title was now rightfully his.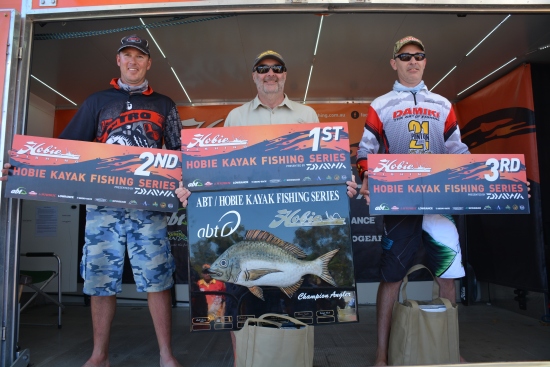 The top three place getters on the podium.

A total of 144 black bream with a total weight of 68.83kg were caught and released at the event with many tagged by RecFishWest (the peak body representing the interests of 740,000 recreational fishers in Western Australia) to aid in the sustainability of the system and promote fishing as an enjoyable and sustainable pastime.

The organisers would like to thank the following for their support: Special thanks go to all who competed, the team from Getaway Outdoors for providing dealer support and of course to our generous sponsors Daiwa, Berkley, Atomic, Lowrance, Rhino-Rack, Strike Pro, Austackle, TT Lures, Yamatoyo, Ecogear, Power-Pole and Hog's Breath Cafe who without their support, the Hobie Kayak Bream Australian Championship would not be possible.

More info: www.hobiefishing.com.au