Volunteers sought for tree planting at Buckland River, Vic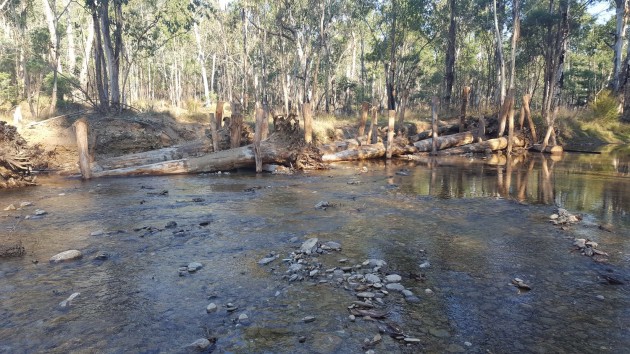 A PARTNERSHIP between the Australian Trout Foundation, North East CMA, Victorian Fisheries Authority, local angling clubs and Landcare has installed and pinned 37 hardwood trees with root bulbs intact into the Buckland River just below Buckland Bridge.
This was complemented by strategically placing 84 tonnes of large boulders in the stream to create habitat for a variety of fish and other water creatures such as platypus and native water rats. The final stage is now underway with a further 84 tonnes of boulders being installed, an angler access track being formed, and the planting of 500 trees and shrubs along the river bank.
Volunteer tree planters are wanted and welcome 
Another "Trees for Trout" day is looming on Saturday June 15. The partnership is calling for all conservation-minded recreational anglers who would like to volunteer to plant some trees.
Date for Buckland Planting day: Saturday, June 15
Start Time: 10.00 am
Meeting Place:  Buckland Bridge, Buckland Valley Road, approximately 10 km from Porepunkah (NOT Mt Buffalo Road).
BBQ Lunch provided; volunteers please register for catering purposes.
Volunteers may register by email to habitat@atfonline.com.au or phone Terry George 0418 332 744.
Satisfaction is gained and guaranteed by contributing to the health of our waterways
"Healthy Streams and River Banks = Healthy Fisheries and Environmental surrounds"
Recreational anglers, please be aware that this is another example of your Fishing Licence funds working for your fishery.