IT was a wet and wild weekend at Paynesville in Victoria as 55 anglers hit the water in Round 6 of the Hobie Kayak Bream Series presented by Daiwa.

It was a tough event for most anglers with only 62 bream presented to the tournament director over the course of the weekend. Many fish were seen over the two days but unfortunately proved too difficult to catch for most.

At the end day 1, Richard Somerton from Victoria was the TT Lures leader of the day, bringing back a solid three bream bag for 2.35kg. He was followed by fellow Victorians, Nathan Prezioso, with three bream for 1.8kg and Mitch King with two bream for 1.76k­g. Mitch King, also from Victoria, lead the Hog's Breath Cafe, Boss Hog Big Bream the heaviest fish of the day weighing in at 1.05kg.


Richard Somerton with a nice brace from Paynesville.

The wet weather continued on day 2 and winds picked up to the forecasted 20-30 knots. Many anglers hoped that the wind would turn on the bite for the second day of competition but unfortunately it was another tough day on the water.

At the conclusion of the tournament, Richard Somerton held on to his lead and claimed the top prize with six bream for a total weight of 4.96kg. Nathan Prezioso maintained his number two position with six fish for 4.09kg and Rick Massie also from Victoria, climbed from 19th place to take 3rd place and the Mortgage Corp Monster Mover with a total of four bream for 2.96kg.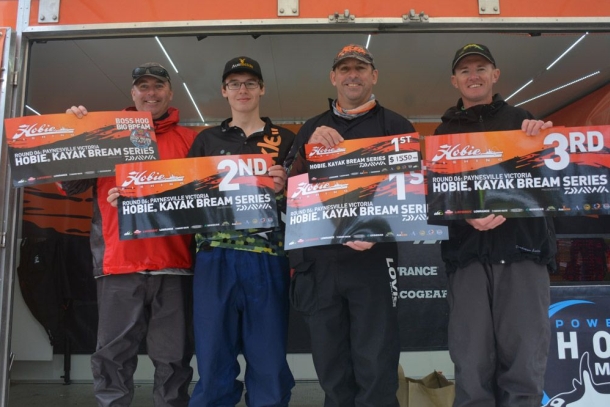 Top three place-getters and winner of the Boss Hog Big Bream Award, Tony Pettie.
Tony Pettie took out the Hog's Breath Cafe, Boss Hog Big Bream Award with his 1.1.kg kegger that he picked up near the mouth of the Mitchell using a Jackal Chubby in Brown Suji Shrimp.

Round 7 is the 2nd of three Hobie Fishing Worlds Qualifiers and will be held in Forster in New South Wales, on the 16th and 17th of May.

More at: www.hobiefishing.com.au