LAST Sunday, bass anglers from up and down the east coast gathered at Tallowa Dam, 160km south of Sydney to compete in round three of the Hobie B.A.S.S. Australia Nation Kayak Series.

The 43m high dam holds water from a 5,821sq km of catchment area and forms a 930 hectare lake. It is unique for its massive mechanical fish lift, which transports fish over the dam wall in a 2,500L bucket, assisting the migration of 10 native fish species between the upper and lower areas of the river.

A large field of the country's best bass kayak anglers headed off in excellent conditions from the Power-Pole Starting Line in the catch-photo-release (CPR) tournament. The majority of the field made the long trip up the eastern arm of the waterway in search of bass hiding in snags at Beehive Point, but it was two cunning anglers who decided to fish the basin directly in front of the launch site who picked up first and second for the day and saved their legs a workout in the process.

At the end of a fantastic day's fishing it was Joe Crust from Sydney who took out the major prize with a 115cm total aggregate fish length for three bass.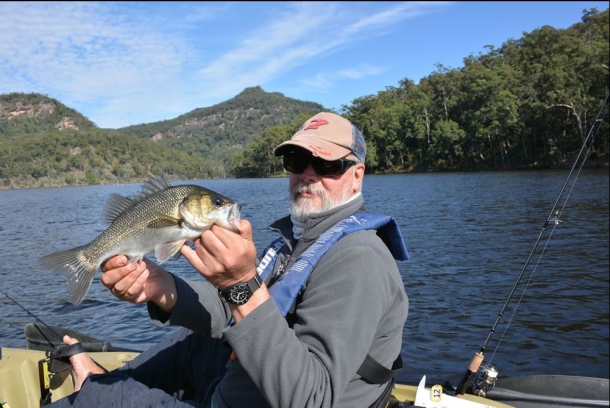 Sydney fisho Joe Crust took out the Tallowa Dam event.
Richard Robson from Bowral followed closely, missing the top spot by 1cm with 114cm and Glenn Hayter, also from New South Wales, took third place on the podium with his 107 cm bag.

Brad Chin from Heathcoate in New South Wales picked up his Hog's Breath Cafe Boss Hog Big Bass after making the slog up to Beehive Point and landing an impressive 46 cm Australian bass.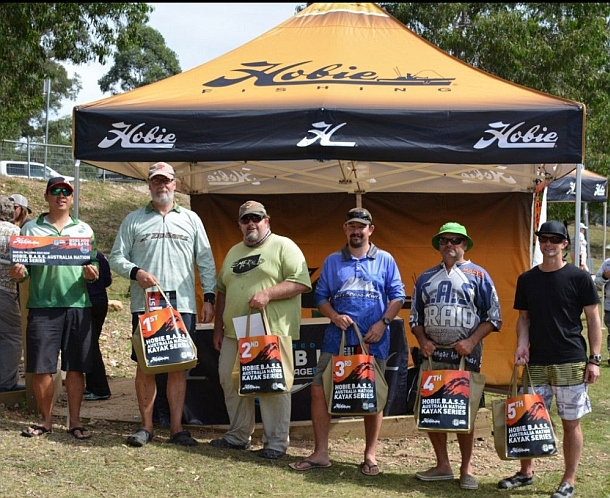 Prize winners at the Tallowa round.
More at: www.hobiefishing.com.au