Berkley Gulp! Turtleback Worm review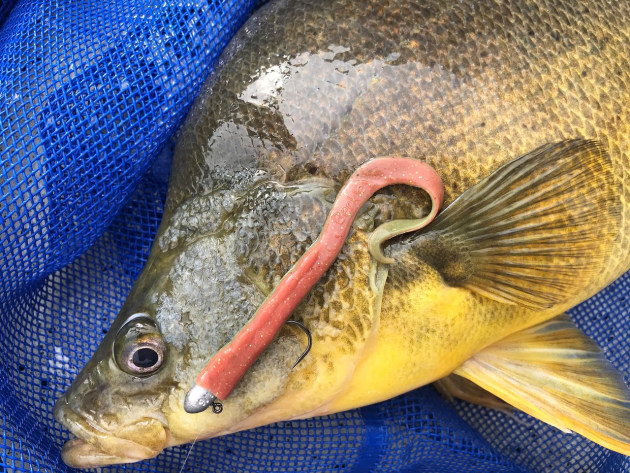 BERKLEY'S unique Gulp! soft plastics have certainly been one of the larger players in the heavily saturated soft bait market.
The fact they have stood tall through the highs and lows is testament to how fishy these baits really are.
Many would argue that they are not a soft plastic at all but an artificial bait, but is that not what a soft plastic is?
I'm not really fussed on the finer details or purism of what is or is not, all I know is that they catch fish and catch them pretty darn well.
So, when I hear of something new about to be released it has my interest, especially when it is an already proven model as the Gulp Turtleback Worm in a new 7 inch, 18cm size.
At 7 inches it had me thinking snapper and mulloway with no doubt they would be a great finesse option, but once I got a few packs I quickly realised these slender curl tail worms would have a much greater range of species to target with them.
First run was on snapper and they proved to perform well rigged on a normal jighead, however, they proved to be a perfect trailer option on the Berkley Kachi Kachi Dama kabura jig.
The one thing that stood out above everything else was the tail action, with very little or no movement it wiggled and danced so enticingly that it had to work on so many species in a host of different scenarios.
Test run number two is where this plastic knocked it out of the park for me and cemented its place in my soft plastic arsenal. I slid a few packs in my bag on a day trip out to Windamere Dam chasing golden perch. Being early spring and a cracker Saturday with 50 plus boats the fishing proved far from expectation.
By mid-morning I snipped an inch of the nose of one and slid it onto 1/6 th weighted jighead and began slow rolling it out from the weed edges. It took all of two casts before a golden smashed it. As the day progressed, it convincingly smashed all other lures and presentations out of the park on what was a quiet day for most.
Available in 6 colours with an RRP of $11.99 and the versatility to be fished whole or cut back as plastic or trailer, you would be mad not to have a few packs in your kit.
For more information: berkley-fishing.com.au