Garmin quatix 6 review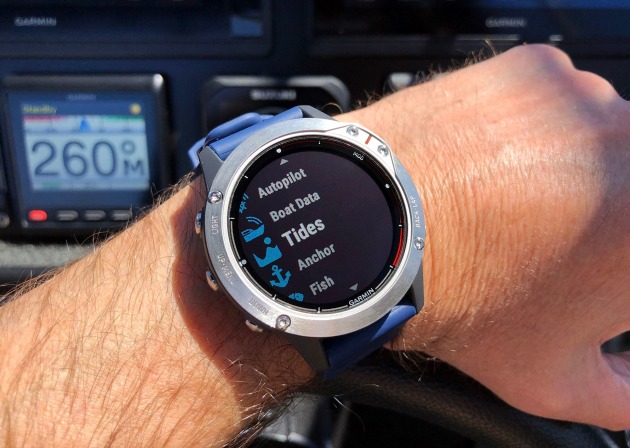 IF you've ever considered buying a smartwatch, you'd have almost certainly looked at Garmin.
As a leader in the wearable tech market, with a range of GPS-enabled watches catering to every active lifestyle, the question 'Should I buy a Garmin watch?' is best rephrased as 'Which Garmin watch should I buy?'
For those with a boating/fishing/outdoors bent, Garmin's latest marine GPS smartwatch, the 'quatix 6', is the answer.
I've been wearing one for a while now and I'm still amazed by its capabilities – on and off the water.
LIFE ON THE LAND
Although the quatix 6 is part of Garmin's marine product range, if you think it's just a 'boat watch', think again.
Like previous iterations, the quatix 6 merges design qualities and features from Garmin's flagship multisport GPS watch, the fenix 6. In fact, it has all the activity profiles of the fenix – gym workouts, running, hiking, cycling, mountain biking, skiing, snowboarding, swimming, stand-up paddle boarding, rowing, kayaking and more. (If you enjoy chasing a small white ball with a stick, the golfing profile includes 41,000 courses from around the globe!)
From a fishing perspective, the benefits of the built-in barometer, compass and tide information are obvious, but it's also the high-sensitivity GPS tracking and navigation data packed into the quatix 6 that further extend its appeal.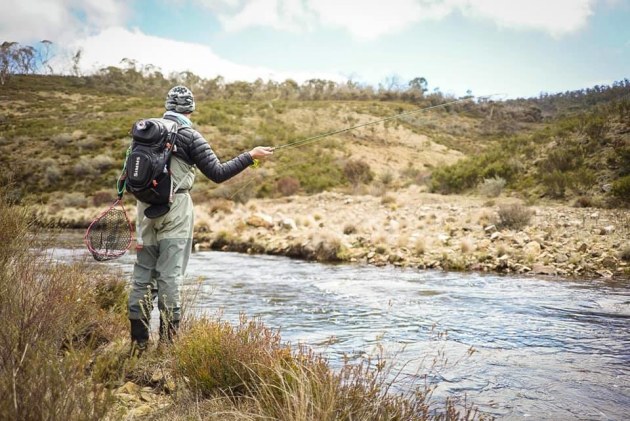 Displaying clearly on the 260 x 260 pixel sunlight-visible colour display, the preloaded topographic maps are perfect for any journey off the beaten track – from hiking through the Tasmanian wilderness in search of pristine trout water, to negotiating rugged terrain in northern New South Wales to access a remote bass creek. Safety (particularly, not getting lost!) is paramount on these sorts of trips and the TracBack feature, which stores an electronic breadcrumb trail and creates a return route, provides real peace of mind.
Waypoints can be dropped at promising sections of water to revisit for a few casts later in the day or for marking access points for subsequent trips. (Fishing World editor Scott Thomas has been honing his archery skills lately and he uses this same feature on his fenix watch to help him search for arrows he's lost in the bush!)
LIFE ON THE WATER
Waterproof to 100m, preloaded with boating features and supporting premium BlueChart g3 maps (featuring integrated Navionics data), the quatix 6 is the most sophisticated marine smartwatch on the market.
My Bar Crusher 670HT is loaded with Garmin marine electronics, so I'm able to make full use of the watch's connectivity to stream data such as boat speed, engine rpm, water depth, temperature and other custom data direct to my wrist. This is useful in a range of situations – such as deepwater jigging for kingfish and drifting over reefs for snapper – as it means I can focus on fishing, rather than constantly turning around to check the sounder.
The remote waypoint marking function helps maximise fishing time. A quick press of the MOB button to mark a hook-up places a waypoint directly on the chartplotter, instead of having to run back to the helm to mark it. It might sound like a small thing, but anyone who uses their marine electronics in this way will appreciate the benefits, especially during a hot bite.
Along similar lines, I've been punching out the k's on my SUP board this year and have started marking likely-looking areas discovered while paddling. Revisiting these marks in the boat has resulted in some quality fish.
The built-in autopilot app allows me to change heading, engage pattern steering and follow a GPS route from anywhere in the boat. While this feature is of more benefit on a 40-footer than a trailer boat, it'll still come in handy when we're chasing marlin offshore this season. The Fusion-Link app, which allows remote control of the volume and tracks on the Fusion stereo, will also get a good workout over summer.
My lifetime sailing experience is limited to a few weekends onboard cruising yachts, but if wind in your sails is your thing there's a host of built-in SailAssist racing features as well. If you love being on, in and around the water, Garmin's quatix 6 has no equal.
LIFE IN THE FAST LANE
I have a few luxury Swiss-made watches and, to be honest, wasn't really a 'smartwatch type' until I started wearing the quatix 6.
Like most smartwatches, when it's paired with a compatible Apple or Android device it delivers a range of smart features. I'm not overly fussed about receiving call, text, email and social media alerts on my wrist, but the personalised health and fitness insights are a bit addictive. Along with daily activity tracking features such as step counter, distance travelled and exercise intensity minutes, some of the health-monitoring functions include heart rate, blood oxygen saturation, sleep, stress tracker, energy monitor and more. Additional data – be it performance training metrics or detailed information from the various activity profiles – is available when the watch syncs with the Garmin Connect app. (With 32GB of memory, it can hold plenty of activity history between syncs.)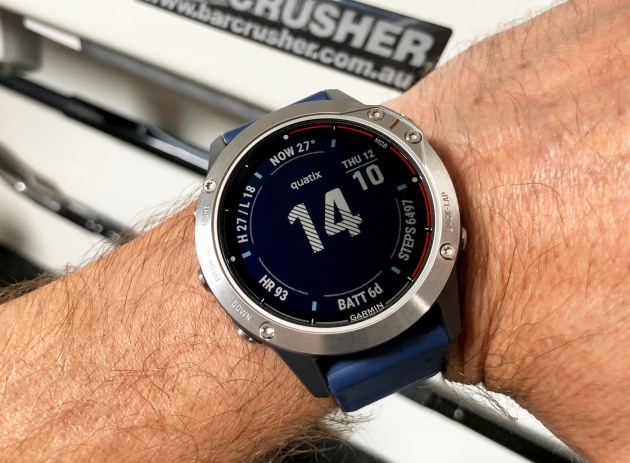 I've avoided using a smartphone to pay for things, but the Garmin Pay contactless payment solution in the quatix 6 has changed my mind on this technology. Leaving my wallet at home and not having to stash cash in my wetsuit when on the SUP board, yet still being able to pay for a drink at a bar or cafe, is awesome.
On top of everything else, this WiFi-enabled watch is preloaded with music streaming apps (including Spotify and Amazon Music) and can also store up to 2000 songs. Music play back is via Bluetooth headphones, speakers and stereo systems. With a hot summer ahead, I'm looking forward to some chilled-out days in the pool with family and friends, drinking a few beers and listening to some tunes... without worrying my iPhone will end up in the water when the kids change the music!
With a stainless steel bezel, fibre-reinforced polymer case and Gorilla glass lens, the quatix 6 is tough enough to wear anywhere. Measuring 47mm in diameter and weighing 80g (with silicon band), it's also comfortable enough to wear anytime – day and night.
The internal, rechargeable lithium battery has so far performed inline with the quoted 14 days of battery life (in smartwatch mode), running down slightly quicker depending on how the watch is used.
Garmin's quatix 6 starts at $999 and rounds out at $1799 for the quatix 6x solar (titanium) version. Interchangeable bands are also available.
For more information: garmin.com.au