Gerber 7.5" Magnipliers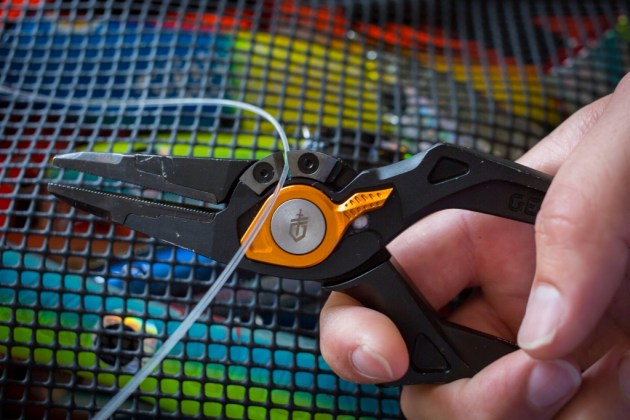 I'VE been using Gerber's new 7.5" Magnipliers for a few months now. They've mostly accompanied me on trips where I have been casting big lures for pelagics such as GTs and kingfish - fish that require strong braid mainlines, thick leader and large heavy-gauge hooks. A pair of strong, compact and light-weight pliers with a heavy duty cutter is essential for this style of fishing to cut through 200 lb+ leader material and be on-hand ready to remove big hooks from strong jaws. For this reason, I like to have a pair of pliers attached to my gimbal or fighting harness strap while fishing, which is where I have kept the new Gerber Magnipliers. They come with a nylon sheath and coiled tether which makes them easy to attach to your gimbal belt straight out of the packet.
The Magnipliers are made from hot-forged aluminium that has been manipulated into a comfortable design with the added grip and control of a finger choil. The pliers are finished with a black powder coating that's easy to grip when wet and have exchangeable steel jaw tips and sharp exchangeable carbide cutters that cuts 200 lb leader with minimal effort. The Magnipliers are spring loaded for ease of use and can be held in place with a plunge lock when in the sheath.
These pliers have most recently proved their worth after spending a week strapped to my gimbal belt while on the rocks of NZ chasing big kingfish on surface lures. They copped a fair bit of abuse cutting line, crushing barbs, bending hooks and assisted in removing plenty of XL trebles from the mouths of big kingfish, all the while being exposed to the elements without a rinse in freshwater.
So far, (and after a rinse in freshwater and a few drops of oil!) there are no signs of any meaningful corrosion, the jaw tips are still perfectly aligned and the carbide cutters are still razor sharp - you can't ask for more than that from a pair of fishing pliers!
Available from Hobie kayak dealers.