Mako Eyewear Blade G0H2 review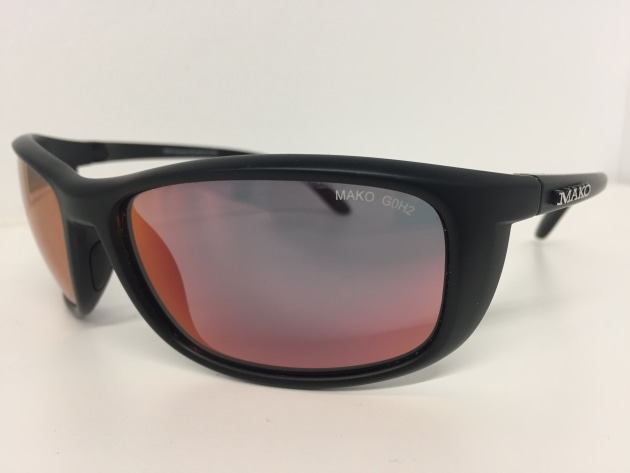 I AM a passionate blue water angler and often on the water before sunrise and return to port after dark, meaning my eyes can be exposed to sunlight for up to 13 hours a day in the summer months for several days in succession. They are the harshest conditions for your eyes that I can imagine.
Polarised sunglasses are a must for protecting your eyes from dangerous UV rays, cutting glare and as a physical barrier to wayward swivels, insects, and salt water spray etc. They help you to see lures, search for bait fish, identify floating hazards and spot fish, and are critical for switch baiting for marlin. Without high quality, well fitting polarised eyewear in this environment, no matter how good the fishing, your day would be ruined. This is where the Mako Blade G0H2 comes in.
I have been testing these polarised red 'flash' anti-reflective mirror glass lens sunglasses extensively for the past six months. Surprisingly, the base lens colour is grey, which is the darkest tint Mako produces, cutting out the most light and in my opinion, the best for high intensity bright sunny offshore conditions. The grey base/red mirror coating helps with natural colour definition delivering excellent contrast and clarity. The small downside is that in the first and last morning and afternoon low light hours, objects can be more difficult to see. Mako makes specific lenses for these conditions. The lens is also equipped with additional coatings that repel water, oil,dust and dirt.
The frame is a matte black light-weight plastic, thin-armed semi-wrap around style that ensures the frame sits close to your face, thereby blocking all intruding light providing maximum coverage and protection. They fitted my 'well-nourished' face perfectly and are the most comfortable sunglasses I have ever worn, with no eye fatigue or friction points after a full days fishing. Customised prescription lenses are also available.
Not only are the Mako Blades GOH2 ideal for offshore fishing applications, they are perfect for all high brightness outdoor activities including driving, skiing, and golf.
For more information, click HERE.