NEBO PaL+ 3-in-1 Multitool review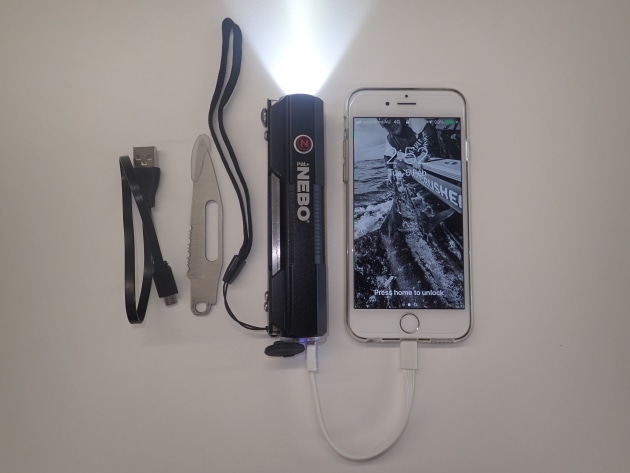 DESIGNED in the USA, NEBO hi-quality innovative LED lights and tools were launched in Australia in mid 2018. The PaL+ is a handy compact 3 in 1 multi-tool with rechargeable flash light, powerbank and folding knife – three practical tools that are useful for work and home activities as well as outdoor pursuits such as fishing, camping, hunting, hiking, boating and travelling. It is 13 cm long which conveniently fits in your pocket or purse. The PaL+ is also water and impact resistant.
The PaL+ is packaged with an instruction manual, micro USB charging cable, lanyard and protective knife-tip guard for when the knife is detached. Weighing almost 200 g and solidly constructed of anodised aluminium and stainless steel, combined with its functional design, exhibits an overall feeling of quality. I have been keeping the PaL+ in a small zip-lock bag with the accessories that also doubles as a receptacle for my mobile phone when charging it.
When in the field, the 2200 MAH powerbank is perfect as a back-up charger for mobile phones and other USB powered devices. The LED charging indicator lights are blue when charging a device, flash red when the PaL+ is being charged and steady red when fully charged which takes 4-5 hours from when completely drained.
The rechargeable flashlight is operated by a single button and has three modes - high (400 lumens, 2.3 hours and 167 m beam), low (40 lumens, 13 hours and 57 m) and strobe (400 lumens, 2.5 hours and 167 m). It remembers the last mode used and will return to it when next switched on. For anglers, the low mode is particularly useful as it provides perfect light for tying knots or baiting hooks without 400 lumens of intense LED light shining into the water and potentially spooking fish.
The third feature is an extremely sharp three inch 420 grade stainless-steel foldable half serrated knife blade. It locks open for safe use through a frame lock that can be operated one handed, although using both hands is recommended. A thoughtful feature is that the blade can be easily removed by taking out a single screw allowing you to carry and use the flash light and powerbank on flights. I made good use of this to charge my phone on a recent international trip. The blade with supplied protective tip guard can be stored in your checked in luggage and re-attached on arrival.
The PaL+ is another quality product from NEBO with impressive design and practical features for fishing and many other uses. With a suggested retail price of $79.95, it's great value. For more information click HERE.