Penn Slammer IV review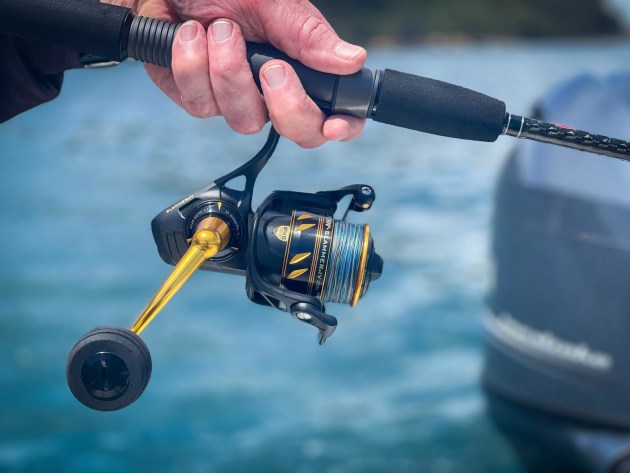 PENN released its popular Slammer III reel a few years back. That reel was a runaway success for the iconic American brand with a sturdy construction, quality drag, and a modest price tag. I own several Slammer IIIs and have used them everywhere from Sydney Harbour to PNG. I found them reliable and more than fit for purpose.
Penn recently updated the series with the new Slammer IV. At first glance it looks very similar to its predecessor. I guess there's no point fixing what's not broken.
Penn also introduced a new 2500 size with the new Slammer. I've been testing the 2500 and 4500 and have matched them to the latest Penn Regiment Black Ops II. I opted for a 7' rod to match the 2500 and a 7'9" for the 4500.
The idea was to use the 4500 as a land based rod, which also wouldn't be out of place on the boat. Meanwhile, the smaller 2500 and 7' Regiment Black Ops II is a versatile package for saltwater lure fishing for everything from tailor, salmon, and small kingfish to snapper offshore and tropical species in the north.
It's a "big 2500", rather than a "finesse" reel for throwing micro lures among the snags. It's my "go-to" for chasing pelagics around Sydney and so far it has delivered as promised.
The first thing I noticed about the new version was its smoothness. Penn has definitely created a smoother reel in the IV. The body itself features an IPX6 waterproof rating, the same as its predecessor.
The new version has a redesigned Dura-Drag which is better sealed (sizes 3500-10500), smoother and able to offer a wider range of drag settings. Other features include the Hydrophobic line roller, 8+1 sealed stainless steel ball bearings, CNC gear technology with brass main and pinion gear and much more.
It's worth noting, some of the features differ between the 2500 and larger sizes.
All of the above makes for a tough and resilient reel in the saltwater. If you're a kayak or jet ski fisho, or you just like that peace of mind, the extra sealing in the Slammer IV is a welcome addition.
If you're after a dedicated saltwater reel, with a modest price that will withstand the knocks and harshness of the saltwater environment, the Slammer IV is highly recommended.
For more information: www.pennfishing.com.au