REVIEW: NS Blackhole Avenger S-711h Rod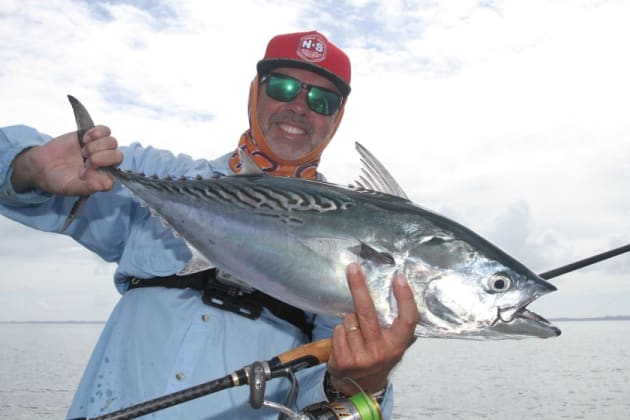 NS BLACKHOLE rods are based in Korea and distributed in Australia by E J Todd. The range is extensive and takes in everything from heavy popper rods to bream sticks in a wide range of models and price ranges.
The NS Avenger rod series feature fast action rod builds and genuine Fuji componentry. All rod blanks feature NS Blackhole's exclusive WXW (Wide X-Wrapping) carbon cloth and deep D joint rod joins for the best connection between tip and butt sections without any flat spots. Fuji tangle free K guides and Fuji VSS and ACS reel seats come standard. High grade cork around the handle and winch fitting with EVA butts.
There are six spin models in the range designed exclusively for Australian conditions. These range from ultra-light finesse bream to powerful snapper rods.
There is also one casting rod (the C-661XH) that has been designed for impoundment barra fishing. The extra length and fighting power makes it ideal to cast and fish for long periods with minimal fatigue.
I fished an Avenger S-711H rod recently up at Hervey Bay for tuna, trevally and queenfish. This rod is 7'1" long, one piece and rated for PE1.5 to PE2. I fished it with a 4000 Stella threadline and 20 pound braid that made up a very handy outfit. It cast 50 – 70 gram metal lures and soft plastics out of sight and was just as well suited to throwing 100 to 130mm poppers and stickbaits. In three days fishing it accounted for numerous tuna and queenfish and even spent an hour bent solid on a 30 kilo cobia hooked on a micro jig before the 30 pound leader gave up.
I was most impressed with this rod and since it got home it's become a favourite for fishing soft plastics and micro jigs for snapper as well as throwing plastics and poppers at the local Currarong kings.
RRP $299
More info at ejtodd.com.au
By Greg Finney