REVIEW: Savage Gear 3D Suicide Duck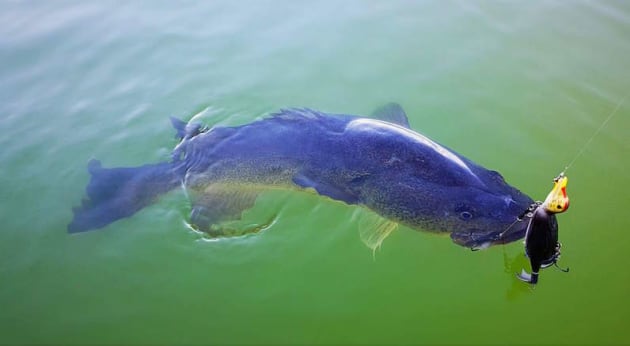 AWARDED "best of show" in the hard lure category at the most recent ICAST trade show in America, the Suicide Duck from international tackle giant Savage Gear is no ordinary lure. Yes, that's right, it's a duck! Type the words Murray cod and duck into your YouTube search bar and you'll soon find why this has Aussie inland anglers excited.
Based on a 3D scan, Savage Gear's ducklings are refined when it comes to detail, from joins in the bill to webs in the feet. They are equipped with semi soft, durable feet which spin on the lure's rear, much like a traditional fizzer. A slow roll retrieve has the lure bobbing across the surface with a nice wake as its rear propellers churn out a neat bubble trail. Throw a vicious sweep of the rod in, and the lure comes to life, darting forward like a fleeing duckling.
I can attest, that the Suicide Duck does elicit the most brutal surface strikes from Murray cod, although it has already proven itself on bass, and even giant trevally on the bluewater! For our inland natives though, that little burst, then pause retrieve seems to be a winner.
Standard hook arrangement on the duck is with a belly and back treble, although a stinger arm is also included to put a hook between its feet. With a 10.5cm, 28g model and 15cm 70g option, a standard bass or cod outfit will have you covered, with a heavier duty swimbait style rod, such as the purpose built Black Savage bait casters designed for the duck, required for the heavy lure.
The Savage Gear 3D Suicide Duck is available through BCF stores, starting at $22.99.
More information can be found at Savage Gear Australia's Facebook and Instragram pages.