REVIEWED: Yeti Coolers Tundra 50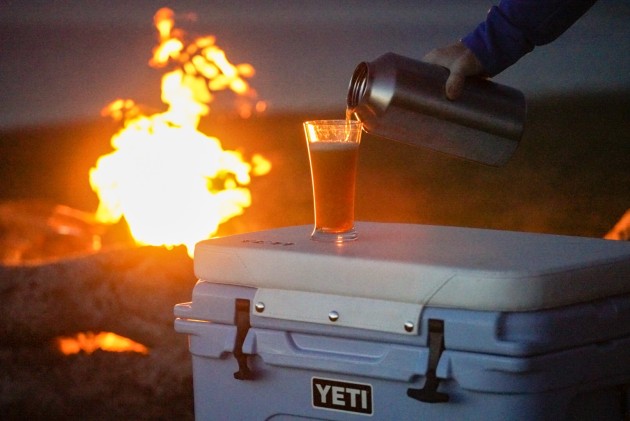 A QUALITY ice box is an essential item for any fisho or boat owner. I own several and mostly use them when travelling and camping to keep food and drinks cold. They're also important for ensuring kept fish remain chilled before you arrive home.
One of the biggest brands in ice boxes worldwide, Yeti Coolers, recently set up shop in Australia. I've owned a Yeti Tundra 45 for several years and have always been impressed by its bullet-proof quality and ability to hold ice. So when the US ice box giant announced its Australian arm I saw it as a great opportunity to find a new Yeti for the new Fisho Bar Crusher. Best of all, the Tundra 50 measured perfectly with the console and now sits proudly on the boat complete with matching cushion. The Tundra can be taken in and out of the boat depending on who's onboard or where I'm fishing. It's a solid, thick walled cooler with incredible ice retention; which leads me to an important point about ice boxes.
I take my ice boxes a little seriously and turn ice retention into a challenge when travelling or camping. I recently went away camping for four days and packed the ice box full of food. We had a separate cooler for drinks. To ensure the food stayed cool the entire time I followed a few simples rules. Firsty I cooled the ice box before placing any food inside. The previous day I placed a bag of ice inside to start the chilling process. The next important step was to ensure all food items going inside were frozen, or at least chilled. That means everything, even if it doesn't need chilling. Anything that goes inside at room temperature will only speed up the defrosting process. The other important factor is to ensure you minimise opening the lid. I packed it with fozen water bottles, athough ice and dedicated Yeti freezer block work equally well. If you opt for ice, it's important ot drain it regualry. Likewise, water bottles can be emptied to slow the melting process if you really need to extend the cooling process.
So how did it go over four days? Needless to say I brought too much food and when I arrived home these leftovers were still icy cold. I placed them back in the fridge and ate them over the next few days. I hate wasting food and nothing went to waste on this trip thanks to an effective cooler.
As a side note, I also have a Yeti Rambler bottle. The large stainless stell bottle is a great way to keep liquids hot or cold. It also works pefetcly as a beer growler. Fill it up with beer at a "growler refill station" and it keeps fresh for 24 hours. It's a perfect way to enjoy a freshly poured brew after day fishing. 
Yeti Coolers also has a complete range of soft coolers, tumblers and heaps of accessories. Check out the website at yeti.com.