TESTED: Chefs Choice Knife Sharpener Model 120 and Diamond Sharpening Steel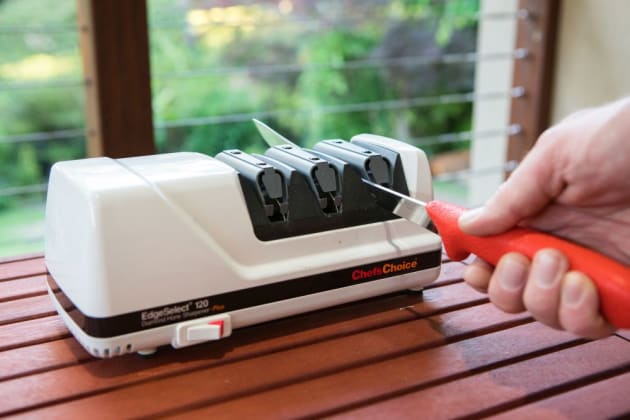 A SHARP knife is a safe knife. Nothing puts your fingers at risk more than sawing through fish, meat or vegies with a blunt knife. Blunt knives are also the best way of destroying a perfectly good fish during the filleting process.
I'm a stickler for sharp knives. I own a range of different knife sharpeners; some are kept at home while others stay on the boat. Some work well and some are simply gimmicks. If you spend good money on quality knives – whether they're kitchen, pocket or filleting knives – you should also invest in a decent sharpener or two and learn how to use them.
I recently got hold of the Edge Select Diamond Hone Knife Sharpener 120 and Edge Crafter Diamond Sharpening Steel. It's important to understand these two products have very different functions. The diamond steel should be used to "touch up" knives before use. If your filleting knife has had some work and the edge is lost, a couple of strokes will reapply that edge and ensure a sharp cut. These are handy items and every kitchen and boat should have one. The Chefs Choice product is an oval shape and features 100 per cent ultra-fine diamond abrasives. Chefs Choice says it will simultaneously steel, hone and realign the knife edge. It's available in three lengths and is a lightweight and affordable option for maintaining a sharp knife.
The electric Knife Sharpener 120 is, on the other hand, a bench top powered device with several uses. It has a three step process which can take your knife from completely blunt to razor sharp. This is something the steel can't really achieve. Most fishos use their filleting knives for a variety of purposes and end up with slightly damaged edges. If you look closely, you'll notice tiny chips and bumps along the edge. If that's the case, simply switch on the Edge Crafter and run your knife through the guide on position 1. The plastic guide angles your knife at a 20 degree angle. You must use both sides to achieve the 20 degree edge on each side of the blade. Most European knives are perfectly suited to this 20 degree edge. Now have a look and you'll notice the chips are gone and there's a shiny, yet rough new edge along the blade. Now it's time for position 2. Again run your knife slowly through each side of position 2 until you feel a sharper edge develop. Once position 1 and 2 are complete, use position 3 for polishing and stropping the blade. This simply tidies up the coarseness and applies a smooth ultra sharp edge. It's worth noting that if you have a semi-sharp knife, you could skip position 1 and start on position 2. Position 1 is for knives that need more work.
I tested the 120 benchtop sharpener on a variety of knives with great results. Some knives need more work depending on the hardness and quality of the steel, but I found they all turned out sharp. The entire process for each knife is anywhere from three to five minutes. That's a lot faster and easier to use than a stone which requires more skill and a lot more time. It's also worth noting position 3 can sharpen serrated knives.
All up the Chefs Choice products offers fishos a simple and very effective solution for keeping knives sharp. Don't let those fillets go to waste and protect your fingers, you'll need them to catch more fish!
RRP for the Knife Sharpener Model 120 is $379.95 and the 10" steel is $52.95.
More info at www.tacspo.com.au