Electric Motors: A basic guide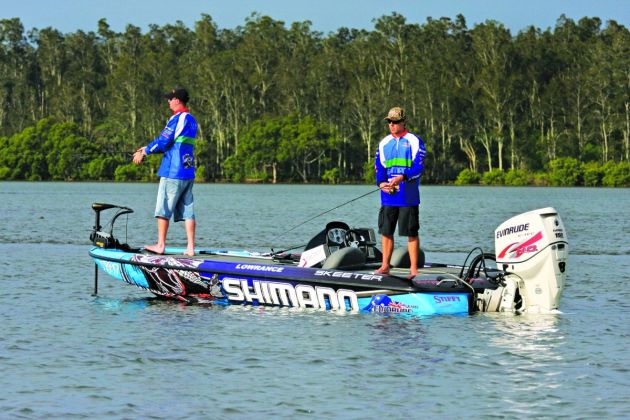 AN electric motor is one of the most useful accessories that can be installed on a sportfishing boat. MICK FLETORIDIS explains why you should have one.
THE electric trolling motor has evolved to become one of the most important accessories anglers can install on their boats. While an electric mightn't directly catch you more fish, it will put you in their vicinity more stealthily, and in the case of many current models, keep you on the spot using modern GPS technology. Many electric motors will also automatically steer a course along a troll line, run virtually silently, deploy at the push of a button and more. If only they could brew coffee!
Electric evolution
Like many keen anglers, I've long relied on electric trolling motors to assist my fishing. The first electric motor I owned was a Shakespeare 12v 24lb thrust model bought in the '80s for use on a canoe and a 10ft Brooker tinny. While not as sophisticated as the current crop of electrics, that old Shakespeare repaid its initial outlay cost ($75 from memory) many times over the years, mostly trolling for trout in the Snowy Mountains and natives in south western NSW. Being a basic design though, the Shakespeare's 3-speed toggle switch set on High would drain a fully charged car battery (pre deep cycle battery availability) in quick time.
When I upgraded to a 3.9m Stessl Edge Tracker I fitted a Minn-Kota 42lb bow-mount 12v electric with foot pedal control and autopilot – at the time these motors weren't common place in Australia. It was also a freshwater model, the precursor to the later Riptide saltwater series. That motor delivered years of trouble free duty and helped me fish for everything from trout to natives, flatties and bream. When upgrading again to a 4.3m Webster Bassmaster, I installed a new Riptide 12v 42lb thrust Minn-Kota bow-mount, later retrofitted with a Co-Pilot remote control. That motor was used on the majority of my fishing trips over the next 10 years, apart from offshore, and indirectly caught me a lot of fish.
A Jarvis Walker Watersnake 55lb thrust bow-mount electric resides on the current boat in my shed - a 3.9m Quintrex Hornet Trophy. The point of all this is that any fishing boat I own must have an electric motor fitted. For mine, an electric motor is as important as a sounder/GPS unit for getting connected to fish. So if you've never owned an electric motor, here's what you need to know.
History of electrics
The first electric trolling motor was invented by O.G. Schmidt in 1934 in Minnesota, North Dakota, USA. The motor was a basic design achieved by attaching a starter motor from a Ford Model A car to a flexible shaft and propeller. Schmidt's invention later resulted in the birth of the Minn Kota Manufacturing Company, named after its location near the Minnesota/North Dakota border. As well as Minn Kota, there are other reputable brands of electric trolling motors on the Australian market today including Motorguide and Watersnake. All provide propulsion via brushed electric motors driven by 12 or 24v DC battery power.
Unlike petrol outboards which are rated in horsepower, electrics are rated by their propulsion force at full speed, measured in pounds thrust. As a general guide, 12v creates thrust up to 60lb with currents up to 55 amps, 24v will create thrust to 100lb and current to 55 amps. To provide the power, 12v marine deep cycle sealed lead acid batteries are most commonly used. Unlike car batteries, deep cycle batteries are designed to withstand constant discharging without damage. The modern electric is designed around a motor sealed inside a watertight compartment at the end of the drive shaft. Being submerged during operation, prevents the motor overheating.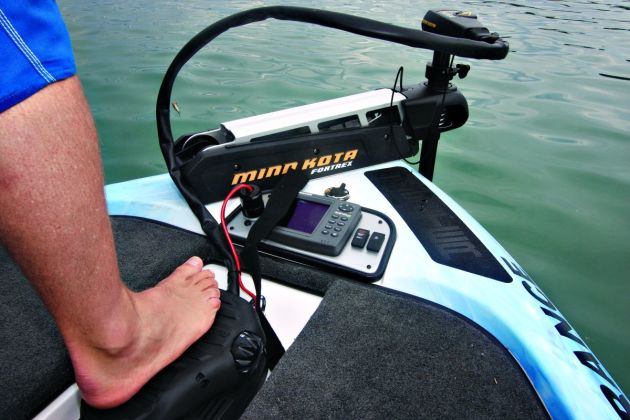 Which motor?
Typically, on a boat fitted with an electric motor the fuel-driven engine is used to quickly get from place to place, while the electric is only used when fishing. An electric motor performs best for slow speed manoeuvring when lure or fly fishing, trolling or to help hold position in current or against wind. In case of a main engine breakdown an electric may also get you home in favourable conditions, but is best not relied on for that purpose.
The electric motor that best suits your boat comes down to boat size, weight and intended purpose. Selecting the perfect motor can be challenging as there are many variables, and electric motor manufacturers generally only provide basic guidelines. As a basic guide, each 100lb (45kg) of boat weight requires around 2lb of thrust. Going by that, if you've got a popular sized boat of around 4.5m that weighs 1000kg (including, motor, fuel and 2 x occupants) that's around 2200lb, which equates to 44lb of thrust.
Given that most fishos cart way more gear on boats than they need a little leeway is required, but in this case a common 12-volt electric model providing 55lb of thrust should adequately do the job. As when selecting the power rating of your fuel engine, it's also best to avoid over or under powering your boat with an electric motor.
Bow or stern mount?
This is a big consideration when choosing an electric. In general terms, bow mounts pull the boat through the water and steer quicker, using less power than a stern mounted motor that pushes the hull. Bow mounts too can usually be operated remotely which is a big advantage when fishing. Bow mount electrics are commonly deployed by depressing a lever by foot while simultaneously sliding the motor housing from its cradle by hand. In the case of the recently released Minn Kota Ulterra, deployment can be done via a touch of a button on the unit's i-pilot remote control. If there's a downside of sophisticated bow mounts like this it's usually only the initial outlay.
If you intend to mostly troll under electric power a tiller control model mounted on the boat's transom might suit you best. There are plenty of tiller control models on the market and most are reasonably priced, especially in comparison to higher specced bow-mount electrics. Most tiller control models feature a twist throttle like a petrol outboard, and a simple locking tilt/trim arrangement. Tiller control models are generally 12v powered and provide up to 55lb thrust, with some manufacturers offering higher propulsion models. An advantage of the tiller control electrics is that they can be easily adapted for use on canoes and kayaks.
Bow mount electrics as their title suggests are fitted to the boat's pointy end, commonly via a form of quick release plate that allows for easy removal for travel, maintenance or security. Operating bow mount electrics is usually done via a foot control or wireless remote. Most foot controls have on/off, speed and steering controls with the latter operating via electronically controlled servo motors. Many bow mounts come equipped with both foot and wireless remote control which means operators can choose which system suits them best. In recent years, key-fob style remote transmitters have revolutionised electric motor controls. These remotes – that are commonly worn via a lanyard around the neck or as a wristwatch style – not only steer and direct the boat, they can hold your position even in current and wind using GPS technology. Trollers are also able to point their boat in the direction they want to run and the motor will self adjust to keep the boat on course.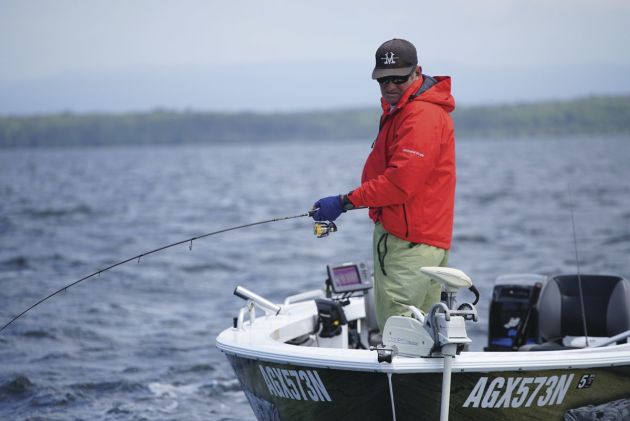 Height advantage
Electric motors are available with different shaft lengths, so when choosing one for your boat it's important to get it right. While the depth of the motor is usually adjustable via a standard locking collar system, having enough length for adjustment to start with will prevent problems. If your boat has a healthy amount of freeboard the motor will be mounted a longer distance above the water surface and require a longer shaft than a lower slung craft. When fishing in any swell the rise and fall of the boat will see the electric motor housing do the same. This is accentuated in the case of a bow mounted electric. If the motor shaft is too short the motor propeller will cavitate at the surface on maximum rise and make steering and manoeuvring the boat very difficult. If you're unsure which length suits your boat ask the dealer or someone who has the same boat as you. Online forums can be a great source of info for this sort of thing. As a general rule, in this case, longer is usually better.
12 or 24 volt?
Having never owned or operated a 24v electric motor I can't see a huge need for one, however, if you have a big heavier boat that might struggle from the maximum thrust offered by a 12v model going to 24v is possibly your best bet. The main consideration with going up in voltage is the extra weight and bulk of installing extra batteries and the associated cabling. If you've got an average weight boat of up to 5m, which is the sort of craft more commonly fitted with electric motors, a 12v model should be available to suit your needs. Considering other factors such as hull shape, windage and more will affect this decision. The best way to narrow down your choice of electric motor is to talk to owners of similar boats to yours who can give you firsthand advice on any potential pitfalls. Once you've chosen the right electric motor for your boat you'll be amazed at how much your fishing will benefit. Ultimately, you'll be catching more fish.