REVIEW: Beastmaster Snubby 440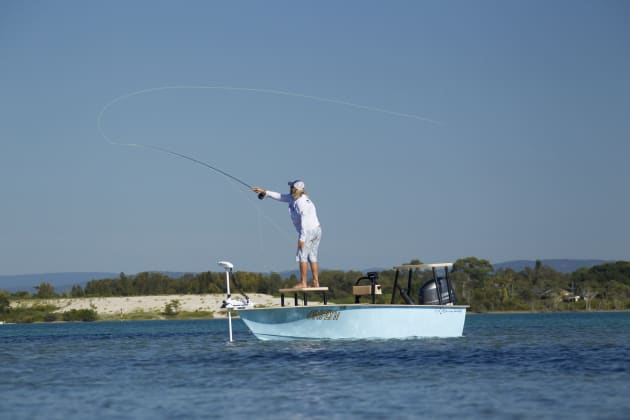 KEEN fly fisher Brett Wilson has downsized with his latest boat – an impressive flats boat from Beast Master. Shane Chalker asks him a few questions about his latest head-turning Snubby 440.
Hi Bretto, so you have downsized and traded in your old Hooker boat for this unique looking rig?
Yeah I got the Hooker with the thought of trying the offshore fishing thing, but it prevented me from doing that really skinny water at the back of the lake around the islands and sand flats. It's fishing that I really love. Plus the light tackle estuary fishing. The Snubby is perfect for this style of fishing .
Your new boat is a very original design and I noticed it getting plenty of attention at the ramp. Did you have much input to the design?
Rob Ferguson (owner, designer and builder of Beast Master Boats) explained my options and I suggested a couple of things I would like try. He knows his product so well, you just tell him what you want and he simply does it. The front casting platform was an afterthought and Robbie said "yep we can do that", and so he modified the front deck to suit. The platform sits on top of the hatch with an adjustable turn-buckle, and it can be removed, but still gives easy access to the storage.
I've seen you using the front platform, it looks pretty effective, especially when you're doing the fly fishing approach.
Definitely, I hadn't used one until recently at Hinchinbrook Island and couldn't believe the difference visually. The advantages of a little elevation that the platform gave me was amazing. Being able to see structure more clearly and offer additional casting distance enables me to site cast to more fish. The added advantages aren't just fly fishing-based, casting to bream in oyster racks and spotting fish to pitch plastics at in the estuary are more examples of its usefulness.
The back platform is even higher but this isn't necessarily to fish off is it?
No, it's mainly for spotting fish. It's an American thing from the poling boats, but I will be using my electric to sneak around the flats. But it's a great place to get onto and have a look around, I'm amazed at how much more fish life you spot from up there, so much more then when looking from standing in the hull of the boat.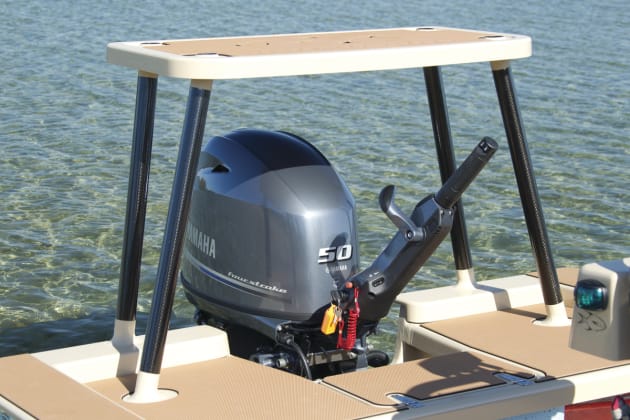 And you have gone with the tiller steer?
Yeah I'm bit of an old school lover of a tiller steer; all of my past favourite boats have had them. What helped me to make the decision was the inclusion of the small glove box mounted on the back of the passenger seat which was enough for the few switches I needed and to mount my electronics on. The passenger seat also has a purpose built grab rail which makes the boat perfect for driving standing up, which is what it was designed for. It's amazingly dry for a small boat plus driving standing up is very comfortable and you have fantastic vision of what's going on all around you which is not only safe but fun too.
The decking also looks pretty impressive, what is that?
Yes it's from a company called SeaDek and is a bit of a challenge to keep clean but is really grippy and feels great under foot. The boat was put through a scanner from a naval engineer to get the exact measurements needed for the decking to fit all areas precisely. You can have personalised logos or sponsor banners cut from the material as well. I even got a 1.2m ruler into the gunwale patch.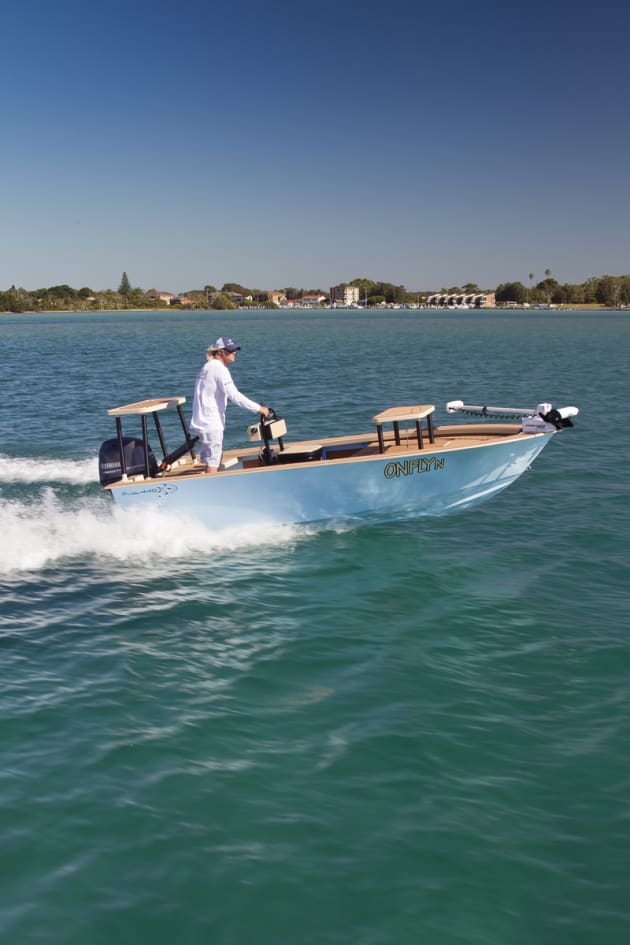 You do a lot of travelling with your style of fishing and I noticed your trailer stands out, what's the story with it?
For the trailer I went with a custom unit built in Hervey Bay by PJM Industries. Much like this entire rig, the attention to detail on the trailer is one of the main reasons why people stop and have a look. I opted for the drive on style of trailer because 90 per cent of the time I fish alone and to drive on, hook it up and roll away works great for me.
For a small boat there looks like plenty of storage?
Yes there is a heap of storage under the front hatch, which also has an aluminium fuel tank which holds 45 litres, but like most things with these boats, can be customised to hold more or less fuel, which ever you desire.
You go on plenty of fishing adventures, is the boat going to be coming along on some of them in the future?
Yep, for sure! That's what it's there for and why I got the great trailer so I can confidently do the miles. I did some filming last year in places where I would love to take this boat.
And what's currently on your agenda, are you working on anything exciting?
Always got plenty going on. Well I have not long returned from a trip to Weipa where I was filming with Krank Productions for our second instalment for the Rise Fly Fishing film festival. We managed some more amazing footage and look forward to showing "Parallel Lines" to everyone in August.
Thanks a lot for answering the questions, Bretto.
No problem, Shane, any time.