REVIEW: Sea Jay Velocity Sports 490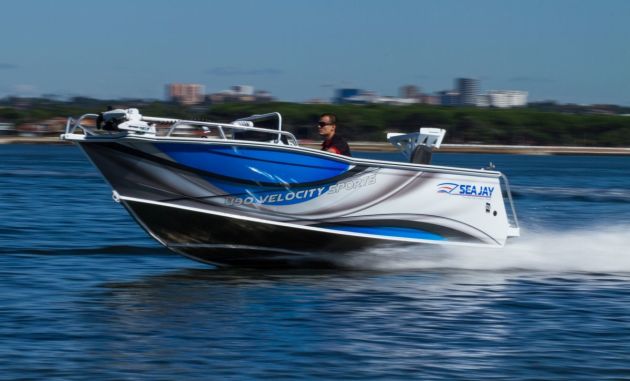 Some boats are just better designed for sport fishing than others. This all-rounder is definitely in the former category, according to MICK FLETORIDIS.
THE 4.8-5m trailer boat class is very popular with fishos for many reasons. Boats of around this size offer advantages over both larger and smaller craft. A boat of five metres or less is generally easy to tow behind a standard vehicle, launch and operate solo and generally has enough size and sea-keeping ability to fish inshore and offshore, depending on conditions. For mine, a boat of around the 4.9m mark makes for a perfect all-rounder for the reasons just listed and the fishing opportunities they can open up.
It was the local fishing options I was thinking about as young Brock Cohen of new southern Sydney dealership Marina Bayside pointed the Sea Jay Velocity Sports 490 towards a glassed out Botany Bay. The fishing on offer on this historic waterway is varied and often productive, depending on time of year. Flatties, bream, whiting, squid and trevally over sand flats, tailor, salmon and kings in the deeper open water of the bay, and secret jewie hotspots for those in the know. With the connecting Cooks and Georges Rivers also well worth exploring there's plenty of fishing available and a boat like this is ideal to do it in.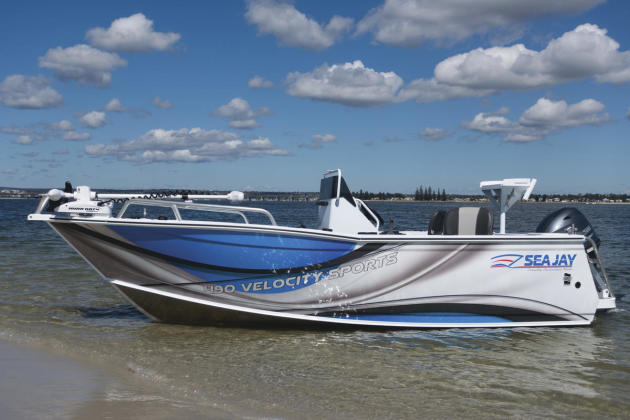 Feeling sporty
Bundaberg-based Sea Jay Aluminium Boats has long held a reputation for its quality pressed aluminium and plate boats designed for the sport fishing market. One look at the Velocity Sports 490 makes it clear that the tradition is continuing. This particular boat is available in three models – 490, 520 and 550. The 490 I recently jumped aboard stood out from the crowd, courtesy of its stylish, mostly blue, factory fitted vinyl wrap. Adding bling to the package was the mag wheel fitted Dunbier trailer it had arrived on.
The Velocity Sports model features Sea Jay's Samurai hull which boasts a healthy deadrise, prominent reverse chine and a sharp entry point for a combination of impressive ride and stability. The hull is constructed from 3mm thick aluminium sides and 4mm on the bottom – and it shows. The boat felt rock solid when climbing aboard and a short session throwing it around on the bay did nothing to change that impression. It just feels well balanced overall and definitely built to last. Moving around on board or shifting weight dramatically to one side didn't greatly affect the Velocity Sports' stable attitude. While billiard table conditions on the Bay made it difficult to assess the boat's manners in rough conditions it highlighted what fun is to be had behind the wheel! The boat boasts a 2.3m beam and good freeboard that, combined with the hull's raised sheer line and prominent bow, affords a secure feel and should help deliver a drier ride when the going gets messy.
The boat's bow section is a roomy area for lure or fly fishers to cast from and featured a 55lb thrust Minn-Kota I-Pilot bow-mount electric as part of the dealer package. A useful 32mm grab rail is fitted on the pointy end and if you like taking everything including the kitchen sink along on fishing trips, there's loads of up front storage. The bow's deep hatches will eat up tackle boxes, bags, wet weather gear, camera cases and other ancillary items and keep them off that pristine carpeted deck. There's also a good sized anchor well for your ground tackle as well as bowsprit roller and three solid metal bollards well positioned around the boat. As an indication of the manufacturer's attention to detail, the hull's stern also carries welded anchor points either side for easier tying down to the trailer and there's a fold-down boarding ladder fitted to the engine/swim platform.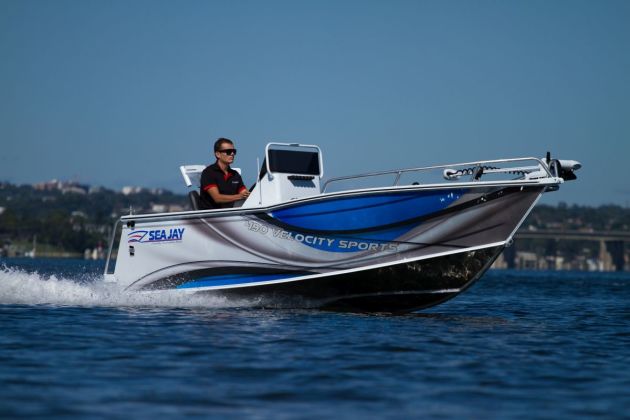 The Velocity Sports was fitted with a side console unit – a centre console is also an option on this model – and two non-adjustable pedestal seats, with five mounting positions available around the boat. The console carries a grab rail above, dark tinted screen and roomy facia panel for mounting electronics; the test boat was already sold and was just in need of fitting a buyer specified Furuno sounder. As part of the dealer package the console was fitted with a GME radio and a set of Yamaha smart gauges for monitoring the 70hp four-stroke fitted astern.
Extra storage space for portable valuables is available on a shelf inside the console and below and there are aluminium side pockets either side of the deck. The transom was fitted with a plumbed live well on the port side and an open storage section directly below. A removable solid metal bait prep table with four rod holders sat prominently in the middle and the cranking battery and isolation switch to starboard. The gunwales were also fitted with six plastic rod holders and upright storage for another six outfits is available at the front of the side console.
Show and go
This particular boat is rated to a maximum of 90hp. While the test boat was fitted with a 70hp Yamaha four-stroke it didn't lose anything in terms of performance. While we were only two-up, young Brock – who is a Formula 3 powerboat racer and no slouch behind the wheel – showed how the Velocity lives up to the Sports part of its name. While barely audible at idle the Yammie developed a nice growl at higher revs and pushed the 490 along very nicely. For the record the speed figures via the Yamaha gauges were: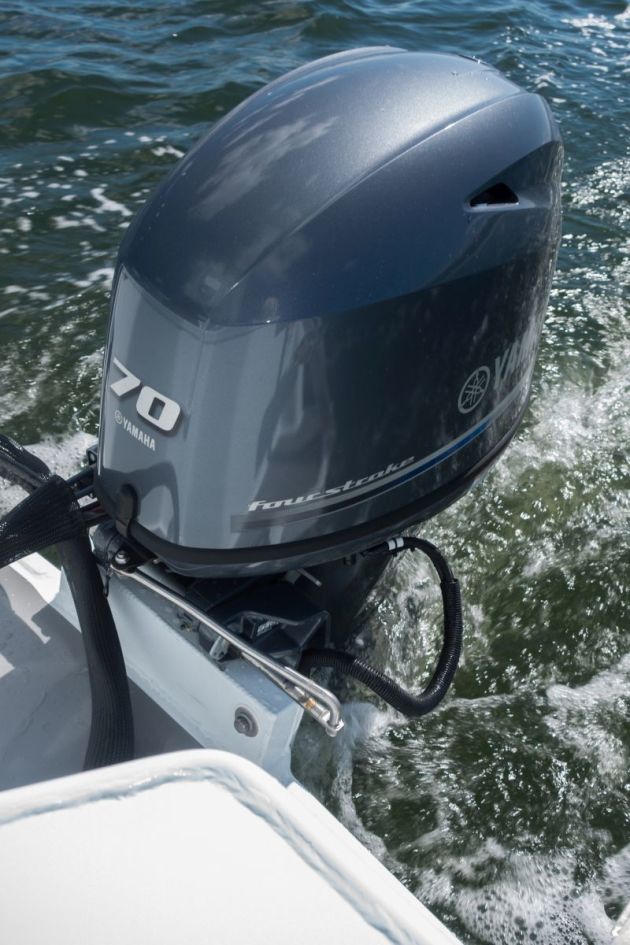 Having a stint at the wheel I was impressed by how well balanced the overall package feels. At speed the boat smoothly covers the water without fuss while providing minimal wake. For fishos who generally fish with only one other person or often go it solo the Yammie 70 will provide more than ample get up and go. If you see yourself suddenly having more mates when you buy a boat like this, it'd be wise to opt for a 90. It'll make it easier in the long run if you plan on adding extra accessories like batteries and lugging around a mountain of gear each time you hit the water.
While the Velocity Sports had cable steering it was nice and light and responsive and certainly didn't have me preferring hydraulics. The low seat driving position sitting isn't ideal for height challenged fishos like myself as the tall bow obscures the view somewhat, but driving standing is a workable compromise. Overall, the boat was a lot of fun to drive and throw into the odd fast turn and change of direction. It was easy to control and just feels like a well put together boat designed for serious fishos. Definitely a boat I'd like to spend some serious fishing time on.
Contact:
Marina Bayside: marinabayside.com.au
Sea Jay Boats: seajayboats.com.au