Shimano Curado DC Comp
YOUR CHANCE TO WIN A SHARE OF OVER $480 WORTH OF FANTASTIC PRODUCTS FROM SHIMANO! 

FIRST PRIZE – Shimano Curado DC Reel | VALUED AT $449.95
For smarter, more efficient lure casting under a variety of circumstances, the new Curado DC changes the game and represents the latest in Shimano Technology development.
Shimano's Digital Control (DC) braking system is the star element of this reel and gives you the ability to make every cast count. When the DC braking system is engaged during a cast, little to no thumbing of the spool is required to control the line propelling from the spool. This is due to the internal microcomputer that controls the spool rotation by measuring its speed during a cast. As a result, the appropriate amount of braking force to keep the cast under control is applied and backlashes are prevented. While electronic, it doesn't require a battery, as the system re-charges itself as the spool rotates.
The Curado DC offers four adjustable settings that enables anglers to fish a wide variety of lures of different shapes and sizes, in all weather conditions, without having to constantly fiddle with internal brake settings. It can also accommodate different casting techniques and even line type — monofilament, fluorocarbon or braid.
Housed within the aluminium Hagane Body, Micromodule gearing provides seamless gear meshing for smoother winding performance, whether on the retrieve or when hooked up. It also features X-Ship and four SA-RB bearings, two A-RB bearings, and an anti-reverse roller bearing to ensure winding remains smooth and effortless.
Watch a video of the Shimano Curado DC in action
RUNNER-UP PRIZE – Kairiki 8 Braid 150m | VALUED AT $39.95
Featuring 8 carriers and incorporating premium Japanese manufacturing, the new tight weave VT construction is created through applying high tension at opposing directions during the braiding process. In the VT Construction Method, fibre is weaved evenly at all angles – resulting in a smoother finish, reduced diameter and a long cast. Additionally the smooth finish creates less friction through the guides, minimising cast noise and aids to a stealthier approach. The tight weave achieves enhanced sensitivity, resulting in low stretch. These attributes make Kairiki 8 an excellent choice for finesse fishing, casting lures and tying knots where smoothness, sensitivity and castability are all required to give that extra edge against your next encounter.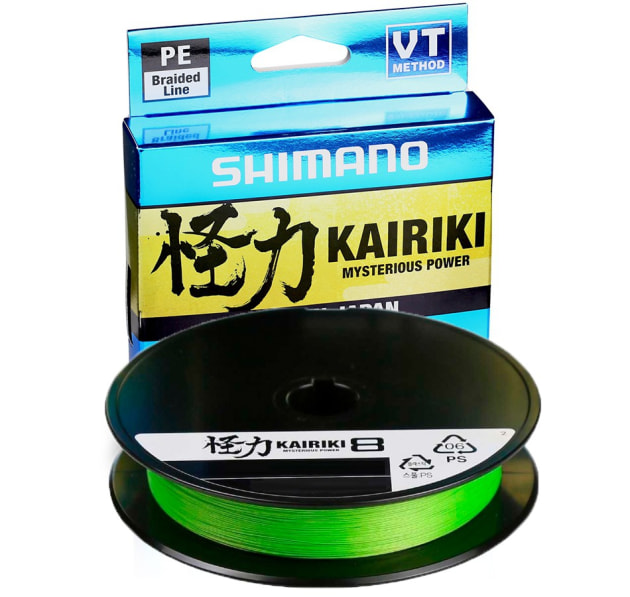 SIMPLY CLICK HERE TO RECEIVE THE FISHING WORLD eNEWSLETTER AND ANSWER A SIMPLE QUESTION.


TO FIND OUT MORE ABOUT SHIMANO FISHING PRODUCT CLICK HERE
Terms and conditions: This competition is open to Australian residents with a postal address. All entrants must provide their details and answer the question via the entry link provided. Your information will only be used by the promoter Yaffa Media. All entrants will be subscribed to the Fishing World eNewsletter - you may unsubscribe at any time. Existing eNewsletter subscribers can also enter by confirming or updating their details. Yaffa Media Privacy Policy. Competition closes 11:59pm on 31/03/2019. Winners will be drawn and notified no later than 05/04/2019.