ARK XO Tech 12V Power Distribution Hub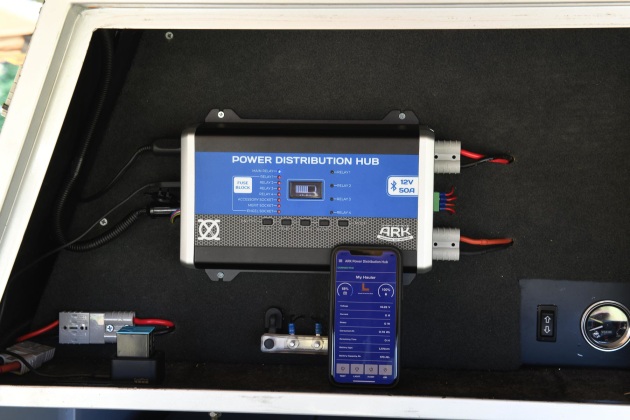 XO TECH is ARK's next generation of the XO Series range tailored to 12V electrical systems for the camper, caravan, 4x4 and canopy fit outs.
The XO Tech Power Distribution Hub (PDH) is the latest innovation by ARK which allows the control of on-board devices, monitoring of usage, battery protection, a range of outputs along with Bluetooth connectivity for remote control and monitoring from your smartphone.
The XO Tech PDH is an all-in-one power management system that distributes power through a full suite of outputs. No more bulky control boxes, rocker switches or even fuse boxes! The PDH is completely equipped with all these features and more in an innovative, compact, lightweight and easy to install system giving full control and monitoring of the 12V electricals in the recreational vehicle.
EASY TO INSTALL
The XO Tech PDH must be one of the easiest products on the market in this category to install. It's compact design of 267mm L x 192mm W x 60mm H can fit just about anywhere and there are only two inputs, an Anderson style connector for power into the unit from the battery and a water tank sensor input for monitoring of a single tank.
POWER OUTPUTS
It's not called a Power Distribution Hub if it doesn't have a full suite of outputs! The PDH although compact by design is equipped with a total of nine outputs. The first of the series is the 4 x controllable switches; these can be wired to fridges, lights, water pumps or any other 12V devices and can be controlled on the PDH or smartphone. The balance of the outputs run live which consist of an Anderson style connector, a Power socket, a Merit socket, an Engel socket along with a twin USB socket catering for all power requirements for the user.
MONITORING
The XO Tech PDH not only distributes power to all the devices but also monitors battery state of charge and usage. Monitor in real time a water tank, battery voltage, current, power and time to discharge. Monitor total consumption including minimum and maximum voltage data, maximum current data, total watt hours and used battery capacity in amp hours since the last charge. All this can be viewed on the scrolling OLED display directly on the unit or via smartphone giving the user full control of their power management.
PROTECTION
Safety is key to any adventure and the XO Tech PDH is equipped with a full range of protection for the battery and the devices connected. Battery protection includes reverse polarity protection, current protection and temperature protection. There is also an adjustable low voltage disconnect that the user can set in either a High, Medium or Low mode based on their desired level of battery protection. If there is the need for more power to run a high current device like an air compressor which will drop the battery voltage past the chosen protection mode, then this setting can be overridden with NO protection mode which stays active for 15mins then automatically returns to the last preset protection mode setting. The XO Tech PDH is equipped with internal self-resetting fuses and a main relay which is identified by a series of active lights on the face of the unit, this means no maintenance or replacement and a fault can be easily identified immediately.
SMARTPHONE APP
Control your devices remotely from the comfort of your camp chair! Furthermore, all the information needed for proper power management is displayed on the smartphone app in both real time and total power consumption information; you can rename devices, rename controllable outputs, change battery protection levels, load battery data such as size and type and can even pair multiple PDH devices to the app. If the PDH has triggered a protection mode then this data will be logged, as soon as the app is opened this fault will appear and the recorded data of the event will also be displayed.
For more information: www.arkcorp.com.au