Fusion announces weather-proof marine entertainment system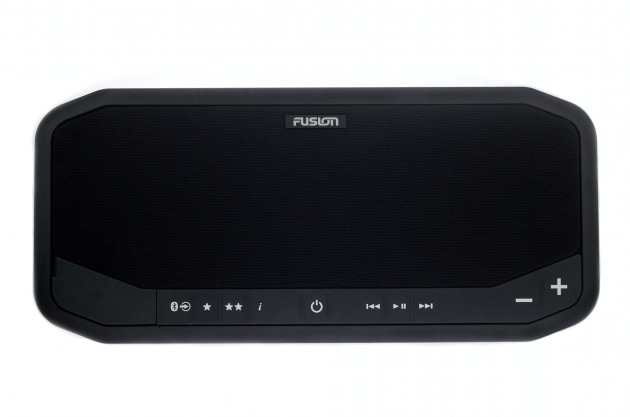 FUSION announced today the release of a weather-proof version of all-in-one marine entertainment system – the Panel-Stereo Outdoor.
Purpose-built for outdoor installations in marine environment, the Panel-Stereo is an all-weather audio entertainment solution. According to the manufacturers, it combines all the elements required for excellent audio reproduction - Class D amplification, Digital Signal Processing (DSP), dual 3-inch speakers, a passive base radiator all inside a perfectly tuned enclosure. Offering AM/FM, USB, AUX and Bluetooth streaming source options, the freedom of control via the Free FUSION-Link App and new ARX wireless remote, FUSION Entertainment is clearly proud of this audio solution.
"When we launched the Panel-Stereo in May of this year it was very well received," said Chris Baird, managing director of FUSION Entertainment. "We took the same top-quality components and compact form-factor and encased them in a weather-proof package. Now the incredibly versatile Panel-Stereo can be installed in outdoor and open-air environments adding even more options for our customers."
Panel-Stereo allows boaters to enjoy the flexibility of audio control from anywhere in or on an vessel via Bluetooth from compatible Apple or Android devices running the free FUSION-Link app. Users can also enable stereo control from a compatible Garmin watch and the new FUSION ARX wireless remote via ANT Technology, providing the freedom to choose how and where to control audio entertainment on board. Audio control is also possible directly from the front face of the Panel-Stereo, using audible feedback, to guide the user through changing stations, music sources and saving pre-sets. Multi-language voice prompts include English, French, German, Dutch, Italian, Japanese, Mandarin and Spanish settings.
Offering three mounting options to suit the requirements of any installation, the Panel-Stereo is a seriously versatile product. Designed for surface mounting with the optional 43mm surface mounting spacer, Panel-Stereo can be installed directly onto any flat surface with no mounting cut-out required. Minimal depth also makes it ideal for installation in shallow wall cavities, with only a single cut-out, where standard speakers will not fit. Both flush and flat options are available with a premium finish.
FUSION's Digital Signal Processing (DSP) optimizes audio to produce a technically superior listening experience. The stereo's two 3-inch speakers and large-surface bass radiator inside the perfectly tuned enclosure, consistently deliver efficient Hi-Fi audio reproduction with an incredibly smooth frequency response.
Requiring only 12V DC power, ground and AM/FM connections, the Panel-Stereo is designed for quick and easy setup to provide a true plug-and-play audio entertainment solution. The Panel-Stereo meets the international standards IP65 water and dust resistance rating, ensuring peace of mind for any installation.
For more information on the FUSION Panel-Stereo, FUSION or its entire line of audio products, click HERE.