Lowrance announces new Ghost trolling motors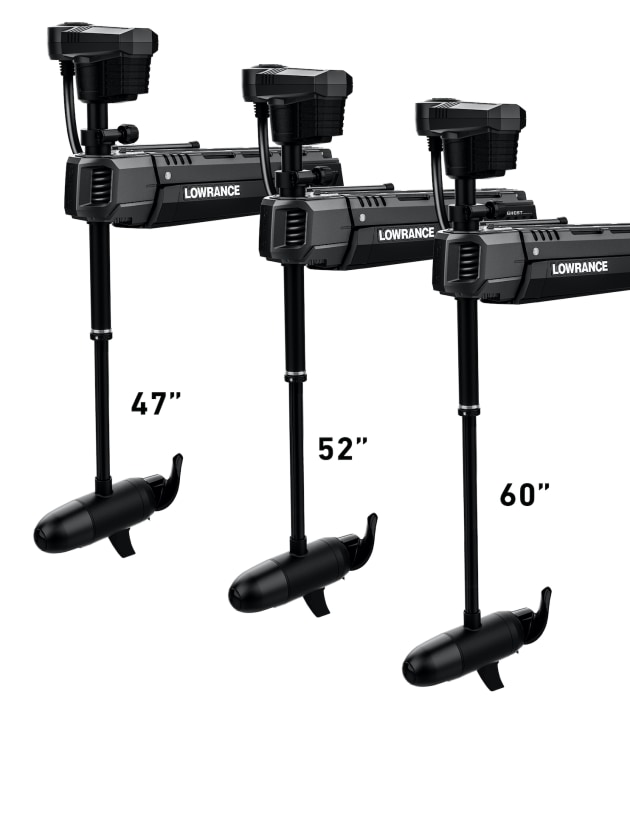 LOWRANCE has announced the expansion of its Ghost freshwater trolling motor design with the new Ghost 52 and 60.
The new Ghost 52 and 60 models – with 52- and 60-inch shafts, respectively – bring all the benefits and features of the original Ghost trolling freshwater motor to boats with higher bows.
"After the initial launch, we got a huge outpouring of feedback from customers looking for this same functionality for vessels with higher bows. We listened and now there is a Ghost for nearly every freshwater angler," said Lucas Steward, executive vice president for the Lowrance brand.
Features of the Lowrance Ghost 52 and 60 trolling motors include:
Brushless Motor
Ghost's brushless motor generates thrust that is 25-percent greater than current competitors and delivers 45-percent longer run times on the same charge – equivalent to nearly one additional day of operation. The combination of precision manufacturing, rare-earth materials, and a cutting-edge weedless propeller design provides high-output thrust with long-running efficiency.
Zero Sonar Interference
Ghost's brushless motor helps eliminate noisy operation and unlike common brush motors, has no brushes to wear out, ensuring greater reliability and longer life. The brushless motor emits no electromagnetic interference – giving anglers the clearest sonar views possible with zero onscreen interference.
Integration
Users can steer, adjust speed, setup route navigation or anchor at a current location with touchscreen control from a Lowrance display using the SmartSteer interface. Ghost pairs easily with HDS LIVE, HDS Carbon and Elite-Ti 2 displays via a simple NMEA 2000 connection.
Plug-and-Play Lowrance Sonar
Ghost offers two integrated sonar nosecone options, including HDI (CHIRP and DownScan Imaging) and optional Active Imaging TM 3-in-1 (CHIRP Sonar, SideScan and DownScan Imaging) transducers. All motors ship standard with an HDI transducer, but can be upgraded with a different nosecone at any time.
For more information: www.lowrance.com