Watersnake Geo-Spot GPS Electic Motor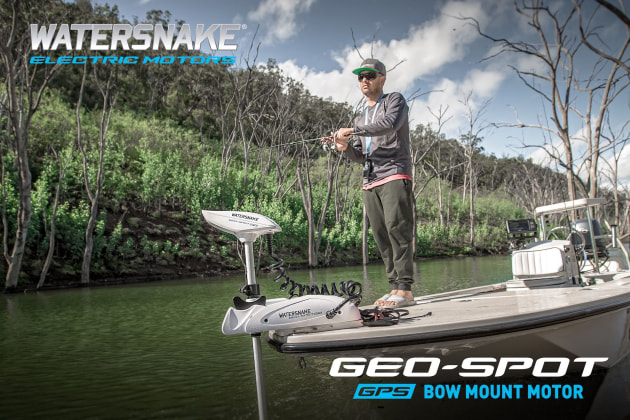 WATERSNAKE says its Geo-Spot GPS Bow Mount Electric Motor is a game-changer for GPS motors.
The user-friendly design enables simple operation and maximum control while only requiring a single 12-volt battery for power. The result is a simplified installation process and reduced battery costs.
Packed with all of the essential features of a GPS electric motor including Anchor Mode, Pilot Mode, Cruise Mode, and Navigation Mode, the Geo-Spot is a fishing weapon. Anchor Mode holds the boat in position against the wind, tide or current with the simple press of a button.
The Pilot and Cruise modes help to maintain heading and ground speed. The Navigate Mode and Track Recording function enable accurate tracking along shorelines and through productive fishing areas. The Geo-Spot can record 16 tracks (up to 5km long per track), so automatic retracing of a saved path is simple. This convenient feature removes the need for manual control and lets you focus on the fishing.
Equipped with 65lbs of thrust, the Geo-Spot packs plenty of power for most trailer boats and tinnies. The motor is efficient and draws an average of 15 amps and a maximum of just 50 amps. Under typical usage conditions and with a suitable battery, the Geo-Spot motor provides hours of on-water operation and enhanced fishing.
The Geo-Spot GPS motor comes equipped with a heavy-duty and splash-proof handheld fob which enables remote control from anywhere on your boat. It also includes in-built voltage protection for safety and an Anderson plug system for fast and simple connection. The Geo-Spot is also compatible with an optional foot controller for those who prefer to have multiple control methods or hands-free adjustment.
Packed with features, simple to operate, and designed for a 12-volt system, the addition of a GPS-enabled electric motor to your boat has never been so easy and affordable!
For more information: www.watersnake.com.au