DIY kayak: Setting up a kayak for fishing
WHEN most people think kayak fishing it probably entails sore arms, aching back, wet undies and a constant fear and anxiety of capsizing with no means of rectifying the up turned vessel.
In my few and short experiences in both kayak and canoe I can vouch for the above. Subsequently, this type of fishing was never more than a once a year novelty.
It wasn't until recently by some sheer luck or an act of god that a kayak literally landed in my lap and the mind began to ponder, especially since an unceremonious bout of repeated and constant coastal weather had limited any offshore fishing for months.
The coast is literally dotted with many creeks and rivers which I could fish in unfavourable weather and I knew they held some quality fish that could quell my fishing urges.
I wasted no time in accessing my nearly acquired piece of plastic and made a list of things I needed to get on the water and start smashing the fish.
The nearest BCF took care of a deluxe padded seat and paddle with a $99 combo sale, next was a trolley to transport it. I searched google and YouTube at many DIY Bunnings built projects but in my rush to get fishing I bought an off the shelf model.
During my searches I came across the Watersnake T24 kayak motor at a sub $200 price with bracket. My somewhat lazy nature and my mind spiralling out of control at places further afield I bit the bullet and bought one from the nearest tackle store.
In the space of two days I'd rolled close to $400 in additions to a standard sit on top 2.7m kayak, but the kayak was at a nil cost, so I was not to perturbed to spend some dollars on my new fishing venture.
One trip to Bunnings for a little tub to sit in the rear to hold my tackle box, the kayak motor battery and a few odd bits and I was loading the car ready to swimbait up a monster lizard from a non-descript little river atop the kayak.
I carted the kayak to the water's edge then readied everything and waded in about knee deep. Boarding the kayak onlookers probably were thinking I was quite akin to a turtle walking up the beach as a few less then confident attempts and a definite lack of experience almost had me in the drink.
Once I aboard I didn't feel at ease with the balance, but I pushed through it, stowed the paddle and readied the electric. One flick of the switch and all hell broke loose. The bracket was not tight enough, and it spun in the housing with the prop bouncing on the top of the water beside the kayak.
I managed to turn the switch off and grabbed my pliers to tighten the bracket more, and once again hit the button and proceeded to start spinning in circles. No matter which way I turned the electric it simply spun me in a circle with the prop torque.
Bugger it I just started fishing and quickly realised your standard type rod with a longer butt was not an efficient tool to be using in close proximity situation as a kayak, then the tide started to pickup with the wind and I was quickly swept down river with a useless electric motor.
No fish, a long paddle that turned out to be wet as my cheap paddle had no water collars on the shaft I was not impressed or excited about kayak fishing.
Not one to give up and sinking some hard-earned cash into the venture I vowed to get it all right and see if kayak fishing was for me.
Sneaking up a quite creek probing snags looking for bream, estuary perch and bass or drifting over flats throwing topwaters for whiting is certainly one of my favourite ways to pass the time nowadays.
The initial outlay along with a few other additions might look pricey but once you're a done there is simply no cost, no petrol, no maintenance, only the charging of the electric motor battery and driving your car to the spot. It's a great option for those with a mortgage and kids.
There is also the ability to literally go anywhere and launch anywhere. Boat ramps, sand flats, mud banks if you can get to the water you can probably launch a kayak.
Without doubt I made some mistakes and have learnt a heck of a lot about making the whole kayak process and my wet undies expectations much better and will try to share my experiences here.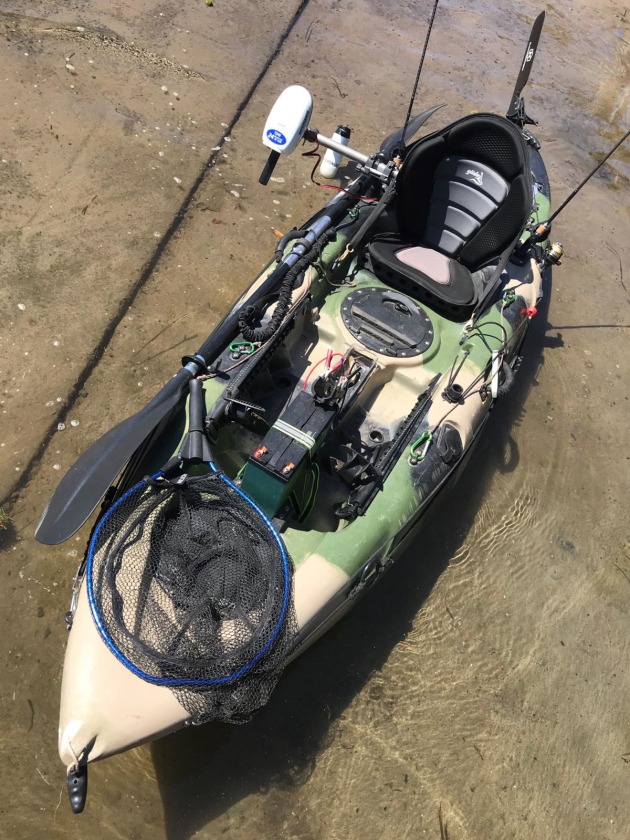 The Kayak
As mentioned, I did not buy mine and as luck turns out it does the job well and has some great attributes.
Most commonly, the construction is the biggest factor, the type of plastic Polyethylene (PE) and High-Density Polyethylene (HDPE), with HDPE being the top choice for strength and UV stability.
That said a PE constructed kayak is perfectly fine especially if the wall thickness is reasonable. If it is too thick than it may weigh a lot, portability is a big plus in this game, and you need to do some research.
When I compared mine with a close mate on the water for comparable sized rig his was noticeably less stable. When we looked more closely from the keel to the outer edges his was flat and mine had a reverse flare which was aiding in a more stable nature at rest; worth noting if you don't have the greatest central balance.
Storage is important and most come with two waterproof hatches, the forward one in my instance is almost useless as I'd never have the confidence to scramble up the yak in the water to get stuff out of it. The one positioned between your legs is great especially for phone wallet keys, etc, Just make sure to change it out from the nylon sock to a hard-plastic version as it does not get wet and the standard nylon socks are quite annoying.
Most will come with all other bolt on features like rod holders, another handy feature is some top deck storage in the central moulded section, even a cup holder will work just something you can sit used lures and some pliers in. Mine had nothing so I bought a plastic storage tray from K-mart, cut a hole and Sikaflex in place now I have a great little tray with lures, scent and pliers at hand as opposed to reaching behind for my tackle box.
The storage tray most come with in the rear there are a lot of DIY options to enhance this but a simple tub from Bunnings that was a snug fit and the standard elastic straps hold it in place and it keeps my tackle box, kayak anchor and some other items of the base of kayak so water cannot get in them, unless of course it rains.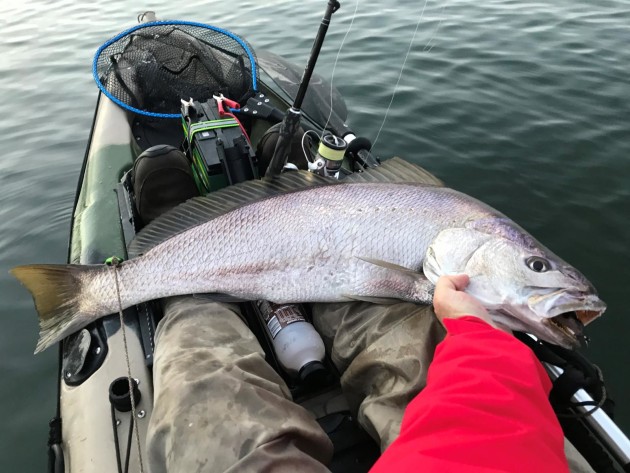 Seating
Every time someone asks me about my kayak fishing, they always say, "how is your back"?
This is without doubt an adage from the old canoe days, every once a year trip I did with mates canoeing down the Nymboida river my back ached from the first hour.
These days if you get the right seating and set it correctly the back is not so much of an issue and reducing the paddling effort with an electric motor would help a great deal too.
I use an off the shelf deluxe padded seat which is virtually standard on most package deals, just really make sure to set the straps in the right positions so you are upright and supported and lock them of with a few half hitches so they do not slowly loosen throughout the day.
Here comes the game changer and it cost me a whopping $7.95 from Bunnings. While buying something else I came across a gardening knelling pad. I shaped it up with a sharp knife and fixed it under my padded seat with some Velcro and now my back end can handle a few more hours in the 'yak and it does keep your butt off any water that might accumulate in the seating of the yak.
Paddle
Well my package deal paddle from BCF did the job but I quickly learnt the water stoppers are a must and made some from a pool noodle and cable ties.
I then ended up buying a two-piece multi offset paddle option with the water stoppers from Ebay and it works far better than the fixed paddle position one I originally had.
Since my paddle is not used much, storage was average with the single elastic securing cord that most yaks come with, I ended up finding some aluminium powder coated u-shaped brackets at Bunnings and fixed them to the yak forward and back and they keep the paddle firmly in place now.
Anchoring
First trip out I learnt I need some type of drift slowing and anchoring system to fish effectively. I had a small collapsible anchor that worked great as it could be used as drag or anchor.
It was then I learnt you can't just hook this on the front or back and side drifting or anchoring can make fishing difficult.
I bought a few aluminium clips and a roll of rope and made my own multi point anchor system all controllable from my seat, it worked well, and I was chuffed with my DIY system.
Then came a day I just could not dial in the right angle to fish on the one side that didn't have the electric. While making a purchase from an online tackle store I needed something extra to warrant the postage cost.
In the clearance section there was a kayak anchor pulley kit at $20 I could not help myself. Story short I bought another after one trip and both sides of my yak have full length drift control and anchoring capabilities.
Electric
This was one my first purchases and additions to the 'yak and it was probably my largest headache 'til I got it sorted, but now I would not look back so much that when it had an issue I used the yak only once until I got it back.
There quite a few options but probably the most common and easily available is the T18 & T24 Jarvis Marine Watersnakes, I chose a the 24lb thrust version with Kayak mount.
Now the mount does leave a little to be desired, with some modifications I did get it working far better, gluing the nuts in place so there was no chance of stripping them out of the plastic housing was the first step.
Nest step was to drill a hole through the aluminium pipe that went into the housing which I place a bolt and nut and stops the pipe spinning in the housing while engaging the electric in forward and reverse, as you can never do the lock bolts up hard enough to prevent this.
Another issue I had was being side mounted and no rudder system. It just spun the 'yak in circles. I had an idea for making a rudder for the shaft of the electric, after some tinkering it worked.
It transformed the whole thing and I was fishing more and more and further afield at a top speed of 6km/h, it was at this top speed with a slight chop one day that the back filled with water, the 13kg battery had to be shifted elsewhere in the 'yak.
I ended making a battery holder up between my feet at the front of the yak, this worked okay but in slight chop the less draft was noticeable and walking the yak any distance from the car the weight of the battery was certainly felt on my arm.
Cue the Lithium option and the price tag that goes with it! I shopped around and found a reasonable priced 30-amp hour lithium phosphate battery. It would give more working time than the 40-amp hour lead acid option I was using and whopping weight saving of 10kgs!
All I can say is it was money well spent at this stage and the reduced weight; increased working time is a big plus in kayak.
Last but not at least over a few months I yearned to improve the steering of the 'yak as at low speed the prop torque certainly favoured kicking the 'yak hard left but as speed generated the rudder on my electric overcome this.
In close quarters small creek situations this was a minor problem but quest for better it seen me lash out and buy a rudder system, it was tricky to dial in on a yak not design to have it and the pedal system did choke some leg room. That said it has improved it overall even drifting with no anchor along snags I can kick the pedal and angle the yak to favour my fishing style.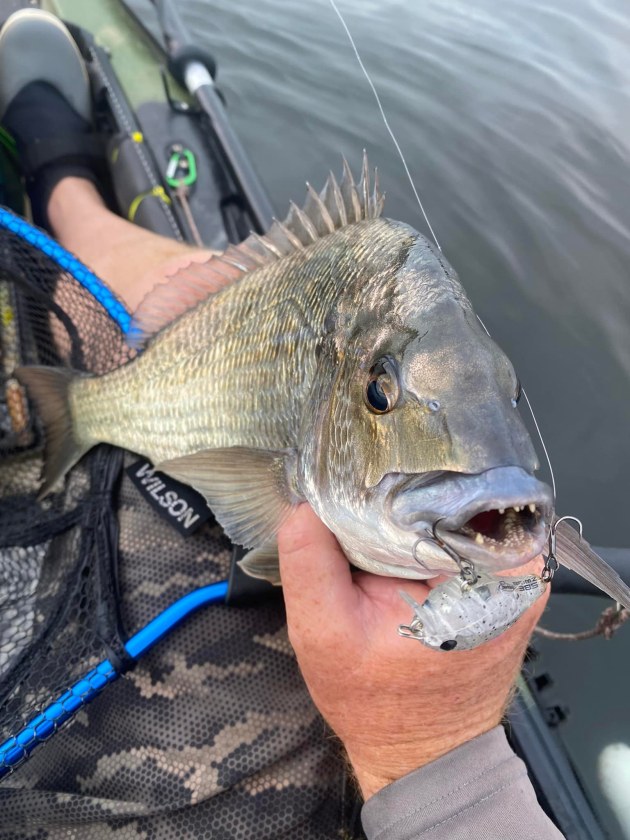 Other
Being a custom rod builder, I was quick to build rods far more specific to requirements, full length short EVA butts and sub 6'8" for all my estuary applications from whiting to mulloway. You tend to work the rod very close to your body and the standard butt lengths on most rods are a hindrance, though during extended fights on mulloway you wish you had the butt to dig in your chest.
Once I started getting some nice fish the whole getting a pic thing was difficult to say the least and I still have not been overly fussed in perfecting it, for the most I just get a pic laying on my lap and I'm happy with that.
When getting in and out of the kayak be very deliberate and confident in your movements, hesitation is often were most come unstuck. Also keep your torso movements very minimal and central avoid leaning, use your arms more than anything and you will find stability will not be an issue.
Cost
This might raise a few eyebrows, but I thought I would whack in what I have spent, for some it may seem a lot but this is where the expenditure stops for this fully decked out 'yak and I have always never been shy to spend a little if it will improve performance.
I've caught some great fish on it, from metre long mulloway, whiting and bream over 40cm and I'm sure there is more for this little beast yet, most of all it gives a quick no fuss, no cost option on those days were I cannot get offshore or only have a few hours.