Edgewater 188 Centre Console review

THE Edgewater 188 has been around a few years in Australia. Fishing World has featured various Edgewater models – including the 188CC – over this time. Edgewater are a regular sight on the water with several guides and high profile fishos using these boats. Sydney fly fishing guide Justin Duggan fishes from a 188, Fisho's Chris Cleaver owned a 170 and two 188CCs and now fishes from a larger 208CC. The larger 228CC was also the subject of a Fisho story and belonged to cricketer Brett Lee.
Given the high number of experienced fishos using Edgewaters, it's pretty obvious they're a great fishing boat that deserves some attention!
Well there's another Edgewater on the water which, thanks to impressive fit out, instantly caught my eye. This 188CC Edgewater belongs to marine industry veterans Riley and Laura Tolmay. Riley works for BRP, manufacturer of Evinrude and SeaDoo. He's also owned more boats than anyone I know, so it's fair to say it was an educated purchase. His wife Laura is also no stranger to boats and fishing, working for marine electronics giant, Navico.
As mentioned above, it was the fit out in this boat which caught my eye and that will be the focus of this review.
Family fishing boat
Riley and Laura have a young family and they're serious fishos, so they needed a boat which would cater to those needs. A centre console with a T-Top like the Edgewater allows for a wide variety of fishing and offers enough protection from the elements; an attribute all onboard would appreciate.
The Edgewater 188 is at home on an estuary, on a freshwater dam, or chasing game fish up and down the coast. Like many centre consoles, it's greatest advantage is in its virtuality and Edgewater has done a fantastic job creating a boat with few compromises.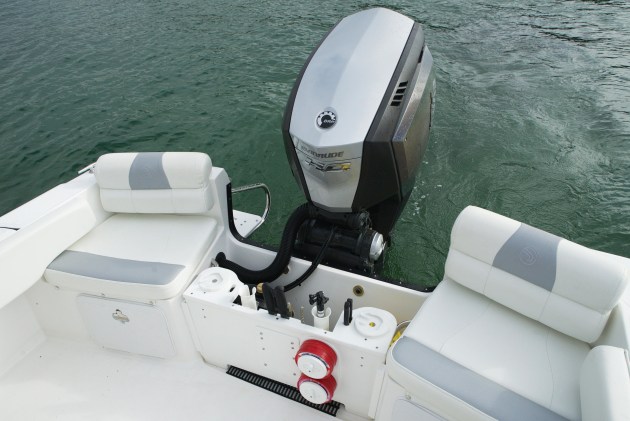 Power
The Edgewater 188 is powered by a G2 E-TEC 150 hp with custom cowling cover. The 150 is a class leading engine in power and fuel economy and matched with the 188, it makes an awesome combination.
With over 40 knots at WOT and incredible hole shot performance, the G2 gave a good account of itself during the test on Sydney Harbour.
The 150 features impressive torque and fuel efficiency. Hole shot and mid-range power is hard to match on these engines.
Other key features of the 150 G2 include Digital Power Steering (built-in), electronic shift & throttle and simple rigging. The 150 also features a larger in-built oil tank.
Another useful feature is i-Trim. This built-in feature automatically handles the trim leaving the boater to focus on driving.
There's also an auto pilot fitted to this boat, useful for longer runs offshore.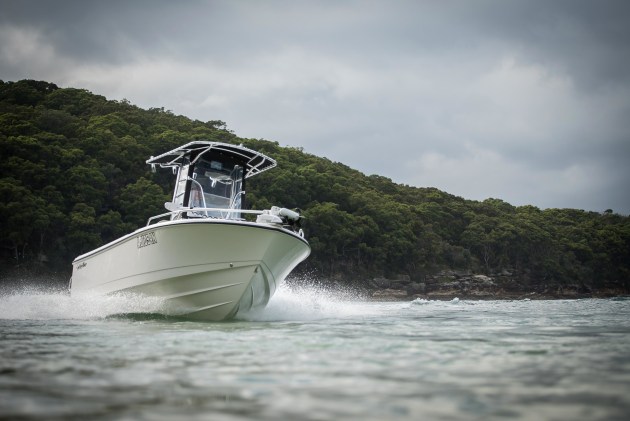 The fit out
This Edgewater is clean and uncluttered, and that's a big plus in my opinion. Riley and Laura have used available space well by installing several clever storing and fishing accessories. At the transom, the otherwise wasted space near the engine is filled with a tough plastic tackle storage unit which holds pliers, knives, lip grips, two rods and leader spools. It's out of way and very convenient whilst fishing.
Further forward and there's another great use of space with a tackle tray locker, which sits on top of the livewell. This is positioned under and just to the rear of the helm seat.
Storage can be a problem in centre consoles and they tend to get messy after a while. The clever use of these after market accessories has alleviated that problem.
The T-top features rocket launcher rod holders on top and clears at the front to keep spray away from the driver and passenger.
There are plenty of grab rails on the console and space to move around on each side.
Further forward and there's a small casting platform at the bow. This creates some additional storage underneath ad offers and elevated potion for casting lures.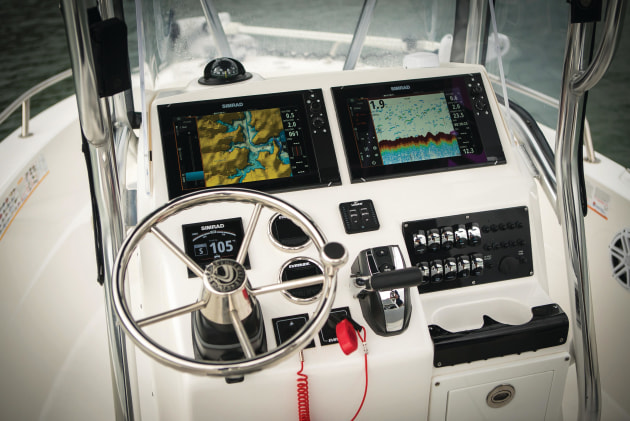 Electronics package
The standout feature on this boat, besides the excellent attention to detail, is the electronics and entertainment package.
The 188 features Simrad marine electronics and JL Audio sound system.
On the helm there's twin flush mounted 12-inch NSS Evo 3 units. There's also another 9-inch unit facing forward on the console. The idea here is anyone fishing up he front can glance back at the console for a look. Being behind the clears and up high means it's not easily accessible, so Riley installed a remote control, which is positioned just next to the cushioned seat in front of the console.
Above the console under the T-Top there's a Simrad marine radio and head unit for the JL Audio system. The JL Audio system, complete with sub woofer and multiple speakers needs to be heard to be believed. Its an impressive set up!
On the bow there's a Minn Kota electric trolling motor, further opening up opportunities for estuary and freshwater lure fishing.
Performance and fishability
The 188 offers a very comfortable ride in choppy conditions. It feels "solid" or "heavy" in the water, a great thing when ploughing across chop and swell. It lands soft and is nimble enough when taken through tight turns.
At rest it's also a very stable fishing platform and ideal for about three anglers.
All up this Edgewater 188 centre console is a very attractive package. The impressive G2 Evinrude E-TEC offers unmatched power and fuel economy, and really looks the part, while the fit out and attention to detail is second to none.
As an all round premium fishing platform with all the bells and whistles, Riley and Laura's Edgewater rig doesn't get much better.