Garmin's Cruise Craft 685 EX HT

CRUISE Craft's 685 Explorer HT is a perfect match for Garmin Marine's project boat, an offshore rig suitable for displaying the company's latest products and catching plenty of fish.
Garmin is a big player in the marine electronics world with a full suite of products aimed at everyone from the casual weekend fisho to the serious tech-depended game fisher. The company is widely recognised brand with a footprint in many outdoor and fitness pursuits. What the company excels at is merging its technology across its broad product range to create innovative solutions and cutting edge integrated technology.
So what does a brand like Garmin need to keep this innovation moving in the right direction? A boat, a really good boat with a generous dash to show off and test the latest gear in a real world scenario.
Garmin wanted to support an Australian boat company and thought Cruise Craft was a good match.
Fisho recently had the opportunity to jump onboard Garmin's 685 EX HT Cruise Craft, a spec'd up trailerbale game fishing boat. The boat had just returned from a fishing tournament on the NSW South Coast and was on its way to Port Stephens north of Sydney for more blue water fun.
Jason Browne, Garmin Australasia's marine manager, met Fisho on the Central Coast for a quick fish and drive of the Cruise Craft. The weather was sunny, but a strong westerly blew up mid morning. Perfect boat testing weather!
The 685 EX HT is the biggest model in the Explorer range from Cruise Craft. The Explorer range are dedicated sport fishing boats with a spacious deck area and attention to the needs of serious fishos.
Garmin worked closely with Cruise Craft to ensure the best possible fit out with some clever features added to an already great boat.
Project boat
Jason and his team from Garmin regularly use the boat to fish offshore and attend a number of tournaments up and down the coast.
"We can comfortably fish with four people in a tournament with plenty of space forward for gear," says Jason.
"You feel really safe in this boat because of its size. We couldn't be happier, the boat performs so well," he says.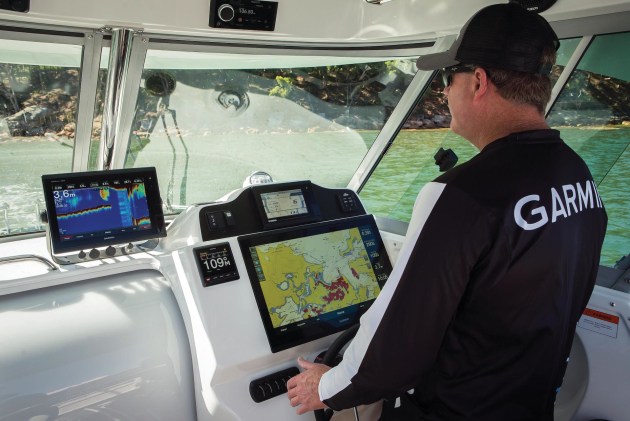 Features
The obvious addition to the transom is a rear mounted Garmin GPSMAP 952. The unit is flush mounted directly underneath the bait board. Many centre consoles these days have additional screens at the bow to make it easier for crew to check what's under the boat. It's often forgotten in cabin boats, but after using this one, I reckon you wouldn't have the transom designed any other way. Fishos at the back of the boat have no need to turn around and waste time moving around looking for a clear shot of the screen. A quick glance and you're back into it.
Another feature at the transom is a switch panel located next to the walk-thru door on the port side. The switches operate the deck wash, livewell etc.
There's also a solid fold down seat the transom and storage for batteries, etc.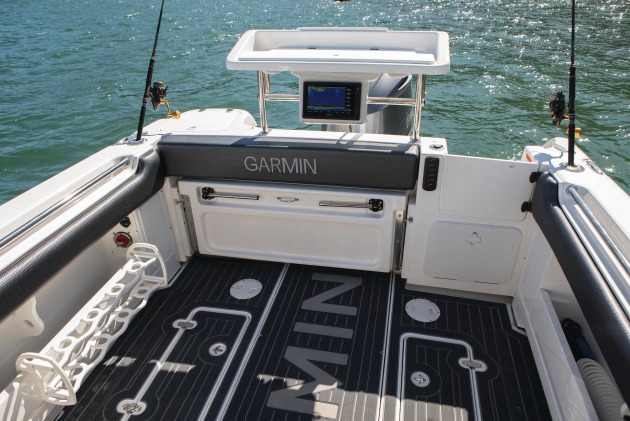 The flooring looks impressive with customised Garmin SeaDek. SeaDek is a great product; grippy under foot, it stays cool and is easy to clean.
Under the SeaDek on each side are two large kill tanks.
The sides are a good, safe height with padded combing and additional storage in the parcel shelves below.
This boat had an additional sliding rod holder which attaches to the parcel shelf. Extra rod storage is always welcome, however these can get in the way sometimes in my opinion.
Turning to the front, each side of the boat has a cushioned seat box for storage behind the bucket seats.
The dash has ample space for a full suite of electronics, which is obviously a prerequisite for Garmin.
Garmin has fitted a GPSMAP7412 which will soon be replaced with a GPSMAP8416. The new GPSMAP8416 will feature a crisper screen, faster processing, built-in LiveScope, and built-in high definition sonar.
Also there's a flush mounted GPSMAP8422, that's 22 inches of screen! The speed, clarity and features of this high end unit are perfectly suited to a specialist game fishing trailerboat such as this. There's radar and auto pilot, which work well with the unit to create a safe and easy boating experience. The great thing about this gear is the seamless integration between technology. Even Jason's Garmin watch integrates and can be used to drive the boat if needed, in addition to checking water depth, etc.
Garmin has fitted a CM275LHW and Garmin GT51M-TM thru-hull transducers which work well to hold crisp clarity at speed. Even at 40 knots the sonar "held ground" with clear readings of bottom structure inside Broken Bay. There's also a Panoptix transducer mounted on the transom.
Other electronics include a Yamaha gauge, two separate VHF radios and Fusion's new Apollo stereo.
Further forward and there's a lockable sliding door to access a spacious bunk area.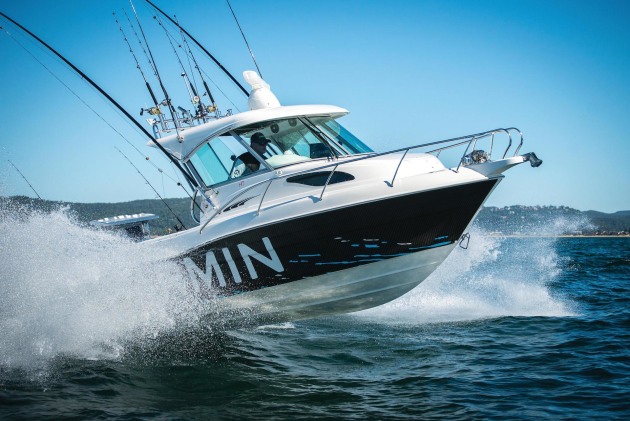 The hard top configuration is a no brainer these days for offshore fishos. The extra protection from the elements on this boat is a great feature when things turn ugly out there. And there are plenty of grab rails, a simple addition, which surprisingly so many boats lack.
Power and performance
Jason said choosing Yamahas to power the Cruise Craft was an obvious choice. The powerful, yet economical Yammie 300hp is a good match for the 685 HT. With top speeds around 40 knots, the V6 4.2 litre four-stroke is no slouch in the water and a great match for the 685 Explorer.
The 685 is a big boat and ate up the conditions we experienced on the test day. A slight trim to keep the nose down saw us smoothly cut through the choppy sea at a consistent 20 knots. Some slight tweaking with the trim meant a comfortable return journey against a very strong westerly.
The 20 degree deadrise makes a good compromise between performance underway and at rest. It's a stable platform to fish at rest and more than comfortable in a sloppy sea at speed.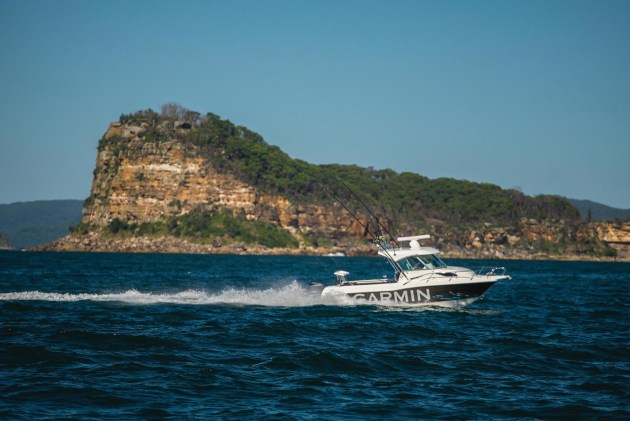 The ultimate package
Garmin has picked a winner with its 685 HT Cruise Craft. The large trailerbale boat weighs under 3 tonne and can be towed up and down fishing blue water tournaments and showing off the company's latest technology.
It's a great performing boat with plenty of power and well suited to serious fishos with a clever fit out and spacious deck area.
More info about CruiseCraft boats can be found at cruisecraft.com.au and for news on the latest Garmin technology, visit garmin.com/en-AU/.