Get personal: PWC fishing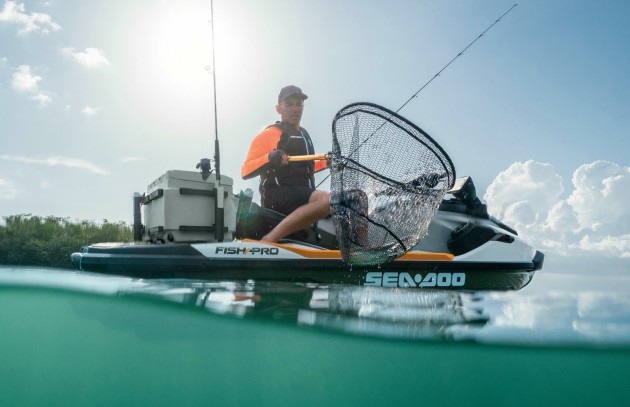 PERSONAL water craft are the best-selling watercraft on the market and are getting more and more popular. Whether you love them or loathe them, jet skis are here to stay.
Jet skis, or personal water craft (PWC), have even started to invade the fishing market. And why not? They are very quick, can handle the rough stuff and can skip over 20cms of water. Compared to your average fishing vessel, they are also cheap as chips. Take them into the shallows to hunt flathead or whiting or take them out wide to chase snapper or mackerel. They are incredibly versatile. But standard, they are no fishing machine. Set them up right and they are fantastic to fish from, as long as you have no friends and don't mind being open to the elements. Although, some of the newer PWCs have excellent stability and can fish two comfortably.
It all starts with the right hull. There are basically four styles of PWC. The cheaper entry level units that are usually two seaters with a smaller hull. The Sea-Doo Spark is one such model. They are able to be adapted for fishing however, the larger skis are a better option.
The speedier units will have all the adrenaline junkies salivating. These models are all about power to weight. Once again, these are very small two-seater models that are better suited to single operators. This kind of power and light weight is best represented by the Kawasaki 310R which pumps out 310hp in a very light weight and nimble machine. Not a great option for anglers as the attachments would ruin the cosmetics and create a number of potential hazards that could cause injury when putting the ski through its paces. Kawasaki also produce the last of the stand-up models that would also be unsuitable.
This leaves the big cruisers as the best option. But don't be fooled, these things are crazy fast and some models have the high output super charged engines of the adrenaline models but with a bigger, heavier hull. The Yamaha FX Cruiser is an excellent example of the big, luxurious three-seater with plenty of storage and an ideal jet ski to set up for fishing. All manufactures make big cruisers so there are a number to choose from.
Any one of these big luxury PWCs is ideal to setup for fishing. Some slightly better than others but anything with a little bit of room and a kick board on the rear that can be set up with the necessary attachments is ideal.
Sea-Doo has even built a model that comes set up for fishing straight out of the box. The Fish Pro has some great features including dry storage, footrests for facing backwards when fishing as well as all the usual esky, tackle storage and rod holders. The Sea-Doo Fish Pro also comes standard with a Garmin fishfinder and GPS unit.
If the Sea-Doo Fish Pro's 170hp engine is a little light on power for you or you want to set up your own jet ski for fishing, than the good news is that the industry has exploded with fishing options for owners of PWCs.
Rod holders are a must. Just be aware that it is very difficult to keep rods and reels out of the spray and this can lead to corrosion and poor performance of some very expensive fishing gear. I have seen some setups with waterproof bags or wet-suit material covering the reels to protect them which would be easy enough to make at home. Never the less, you need to have rod holders. Having a strap to keep them from bouncing out of the holder is important of you plan on going offshore.
Before you start bolting rod holders to your PWC, there are some great cooler bins on the market that have rod holders and storage all sorted. Some of these units will require a rack or some sort of mounting device for it to be attached.
A big rear swim platform is vital but if setting up a big cruiser, most will have a good sized rear platform for the esky.
The major makes all have their own fishing cooler setup and there are also a lot of aftermarket products available as well. Some are very bulky and have a massive frame that would need to be removed if freestyling due to the risk of falling off and hitting some of the steel work. Having said that, there are smaller options and even coolers that have all the bells and whistles without the big frame. Sea-Doo has a very good LinQ system for their accessories and they have a few options for coolers. Even a smaller deck can house the small cooler complete with rod holders, tackle storage and room for pliers and knives. The bigger models can house their larger eskies that even have rod holders for trolling. I think they are over priced at around a thousand dollars for the bigger coolers, but they are well designed and an excellent accessories for fishing.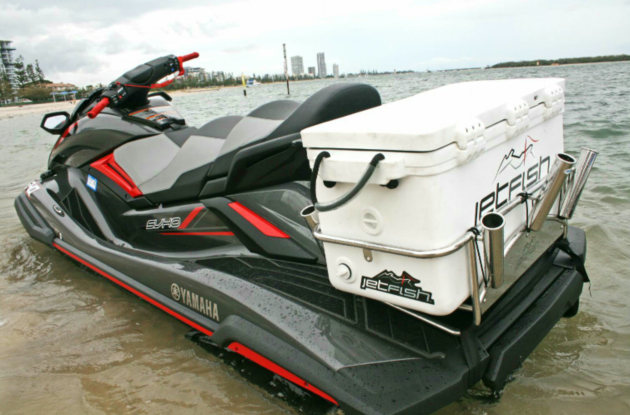 Yamaha has a great setup that is ideal for their FX Cruiser range. It's not as sexy as and compact as the Sea Doo LinO system but is iust as functional. The aftermarket range is not cheap either but there are lots of options and most that I have seen provide all the basics. Just keep in mind that a set of pliers, some spare fishing tackle, rod holders and a cooler big enough to keep your catch is a must. There is no need for a massive cooler if you're chasing whiting on the sand flats but if you're out chasing tuna or mackerel, think about how you are going to land them and what accessories you need to assist you to do that. You may even need a landing net and somewhere to store it so that is close enough to grab in the heat of the moment.
Sounders and GPS units with a "through the hull" setup on the transducer are perfect for PWCs. This is especially important for reef fishing but not necessarily for fishing the shallows. Having some additional fuel storage is a good idea if trolling or doing big runs as well. But when it comes to custom setups, there is nothing wrong with even attaching a bracket to the rear cooler for an electric motor. Especially considering that fish do not like a sound of a jet ski and if you have ever fished from a PWC, you'll know that they have a mind of their own and you are constantly having to reposition the ski to fish from the transom. Even a paddle to assist with positioning the ski is a good option.
By simply attaching a single rod holder, you can get out on your jet ski and start fishing. Additionally, you can spend a few grand on turning it into a fishing machine capable of almost anything or even buy a Fish Pro that set up and ready to go. There are plenty of options and loads of fishing ideally suited to PWC owners.