Grady White 228 Seafarer review

SYDNEY-based Rod Findlay is an experienced game fisho and no stranger to offshore boats. A few years back I spent a day onboard Murrifin, Rod and his brother Craig's 39 foot flybridgc cruiser. Murrifin was no ordinary boat. Rod and Craig built the boat, creating a deadly game fishing platform, one that's spent many days successfully chasing fish off the East Coast. Rod also had a second boat which was recently sold, a large trailerable centre console, and it needed a replacement. The new boat would complement Murrifin; the much-needed second boat for sneaky day trips up and down the coast. The answer was in a Grady White 228 Seafarer, aptly named Murriweeni. Rod bought the boat prior to last year's Sydney International Boat Show and displayed it on Short Marine's stand. During the show Rod was still making final tweaks to get the boat ready for the upcoming season.
The 228 Seafarer is a 22 foot fibreglass walk-around. It's a spacious and well designed boat and well suited to game fishing with a crew of four people. "I always like this style of boat. It gives me the ability to launch by myself with access down the side. I also wanted a cabin because I have two young kids now. It's a good kids boat. My four year old can walk all the way around it with the bow rail," says Rod.
"One thing this boat does is uses all of its length well. It's a good break up of space. You end up with a big deck space, a cabin you can sleep in, a toilet and a freshwater tank. It also holds enough fuel that you can tournament fish over two days. It has 430 litres. The average day marlin fishing, lure trolling is about 150 or 160 litres. Live baiting it's sub 100 litres. I wanted a boat that if I did fish a tournament I could take it away and not have to refuel it on the Saturday night of the event," says Rod.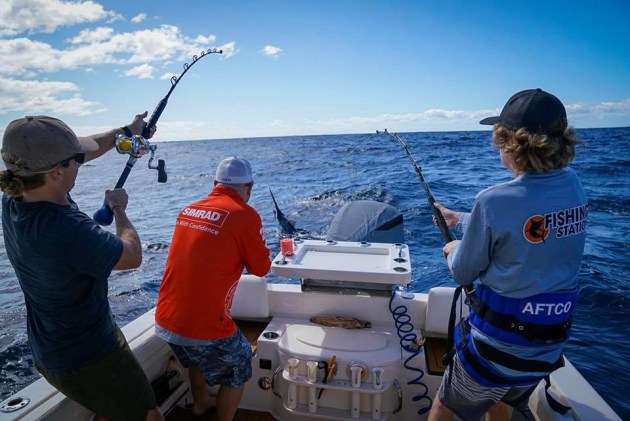 Port Stephens marlin
Finding the combination of migrating fish, good weather and no work or family commitments can be hard, but not impossible. The advantage of a boat like this is it's able to be hitched up and trailered at the drop of a hat when the fish are on. The options for game fishing close to Sydney sometimes involve two or three hour drive north or south and the option to act quick and get out fishing can make all the difference. Reports were coming in of marlin at Port Stephens and at short notice Rod made plans to fish mid week.
I arrived to meet Rod and his crew just after sunrise. The weather unfortunately, but not unexpected, was windy. We stopped to catch bait off the islands outside Port Stephens. The bait tank was filled in no time and Rod set the Simrad auto pilot towards our destination, about 18 miles offshore. The journey was slow with a steep head-on chop making high speeds impossible. We made the run out with an average cruising speed between 14 and 18 knots. We weren't alone with other boats, bigger fly bridge cruisers, finding the run out punishing. All boats are a compromise, and as Rod explained, the Grady White isn't designed as an offshore racing hull in these conditions. It holds it own in the messy conditions, but finds its real strength as a fishing boat. After all, as Rod says, why have a boat designed for driving fast when you spend most of the day fishing?
As a fishing hull, the Grady White excels. The 20 degree deadrise and beamy configuration makes for a stable platform at rest. It's a comfortable boat to be onboard while fishing offshore. No sooner had we pulled up and a fish revealed itself on the Simrad sonar screen. Bait was showing deep and the tell-tale arch of a marlin above. Baits were rigged and dropped. It wasn't long before we hooked up, a small and lively black marlin grabbed a bait and performed a few aerials before being safely tagged and released. The day only got better. The weather improved and the fish increased. The Simrad revealed plenty more boat and more arches and more fish tagged and released, including a better size black and a striped marlin. The clarity and definition of bait and marlin on the Simrad was impressive. Rod has fitted two NSS EVO 3 units, a 9 and a 12 inch. They're matched with a S5100 transducer, auto pilot, Simrad marine radios and a JL Audio entertainment system.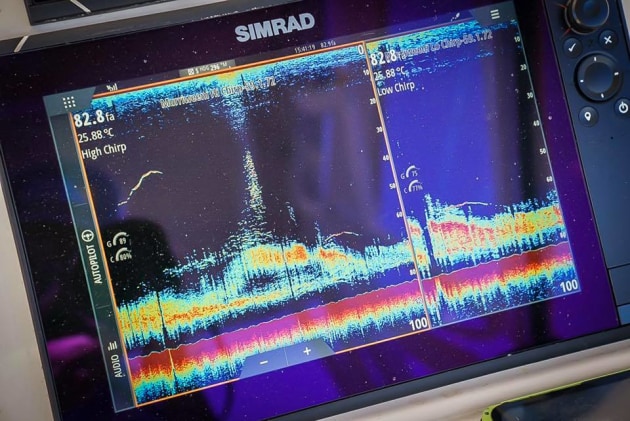 "The Simrad performs better than others for this style of fishing. It's good at getting the detail out of the bait school, marking marlin, being able to identify the right type of baits schools so you're jigging the right type of bait. It's powerful, we get 600 fathoms out of the low frequency and about 150-180 fathoms form the high. Identifying pelagic fish mid water is by far the most important thing," says Rod.
Rod has custom installed the transducer in the centre of the boat about a metre in from the transom. This makes for a working sounder at all speeds. That's important so spots can be identified during the run out at speed.
"Having a sounder that's working all of the time is important," says Rod.
Other features
The Grady White is a self draining hull and the boat itself, according to Rod, has a high level of build quality.
"You don't see too may old Grady Whites with poor gel coat. They age well," he says.
"They use all quality products, good stainless steel fittings."
From the factory the only addition to the boat was the bait board, outriggers, aerials and electronics. The boat was basically ready to go from the factory.
Power and performance
The Grady White is powered by a 3.2 litre V6 300hp Yamaha. Rod wanted a trusted and reliable engine and the 300hp has been around long enough to have that assurance of reliability. The trip back was a breeze. A following sea was a good match for the Grady White. Rod drove the boat sfaely and smoothly between 25 and 30 knots.
Back at the ramp, the boat was easily managed and back on the trailer without hassle. As a trailerbale game fishing boat, Murriweeni ticks a lot of boxes.
Finding that sweet spot between a large game boat and a smaller trailer boat isn't easy, but as a day chasing marlin onboard this Grady White revealed, such a boat does exist.
For more information: shortmarine.com.au or contact Ryan Short on 0432 123 101.