Guesty's Yellowfin 7600 centre console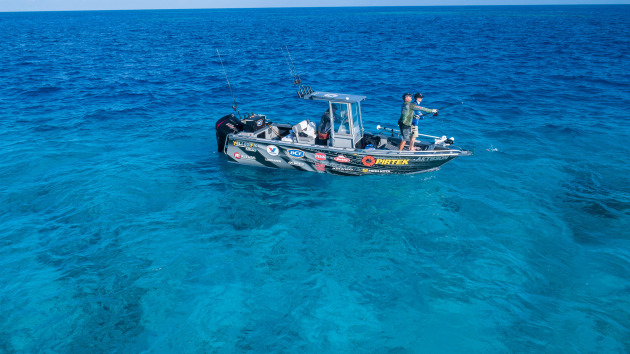 WELL known TV fishing show presenter Michael Guest recently updated his boat with a brand new 7600 Yellowfin Centre Console. The 7600 replaces the 7000 Centre Cab, which Guesty made solid use of with a long list of good captures up and down the coast while filming the last season.
As Guesty explains, the new boat holds true to its promise as an all-rounder with serious fishing credentials.
Firstly, it's a centre console and that means more fishing space. It's also a bigger boat and, according to Guesty, a versatile one!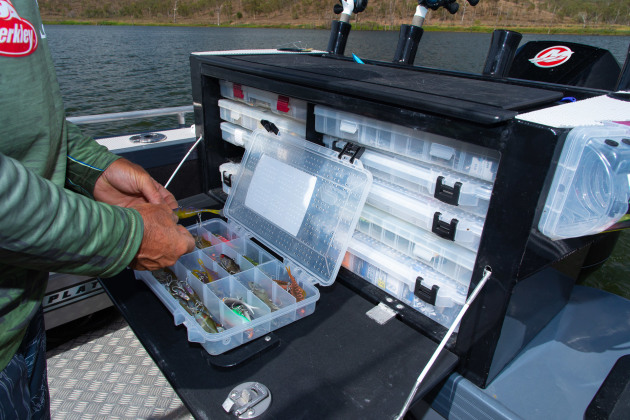 "It's a longer boat with more fishing space. I wanted the electric motor casting area at the front. And it's the best of both worlds. We can go marlin fishing one day and be in two foot of water the next moving around with the electric. It's awesome!"
When Fisho spoke to Guesty he had just returned from a filming fishing trip to Queensland with cricketer Andrew Symonds. Over the course of a few days, the fellas had notched up some big miles fishing out of Townsville on the reef then backing that up with some productive days on a local barra impoundment.
"I've always wanted one of these boats, the centre console Yellowfin. We did a day there out of Townsville where we did 160 nautical miles. While the next day we're up on a barra impoundment spot-locking around trees. It's a big barra boat, but it's been awesome," he said.
"We got some great fish on the reef - big GTs, emperors, nannygai, cobia."
"I'm really enjoying it. It has heaps of deck room and pretty well everything you want in a boat, but bigger."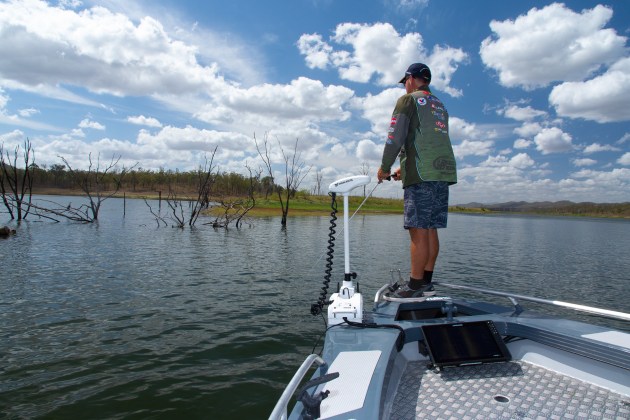 Features onboard
Given its versatility, a good electric motor was necessary for casting lure sin impoundments. Guesty fitted a 1121b, 87-inch shaft Minn Kota to the bow. That's connected to a 36 volt single lithium battery. While a single lithium battery of that calibre isn't cheap, it's the way of the future and saves plenty of weight.
For electronics there are twin 16-inch Lowrance LIVE sounders - one on the bow and one on the console. They have the 3-in-1 transducer and a 1 kilowatt transducer as well for the deep water.
"It reads the water no problem at 40 knots. We had it out in 380m and it reached the bottom in high CHIRP, let alone low CHIRP," says Guesty.
The yellowfin also has Ocean LED underwater lights and light bars inside the boat for lighting up the interior for filming or getting ready in the morning.
It has a big 10 tray tackle station at the back, which is a factory Yellowfin inclusion on the boat. It contains two mega trays and leader dispenser on the side.
There's a 140 litre cooler under the striker chair at the bow for casting around snags and operating the trolling motor. Guesty says there's plenty of space to place another large ice box at the back if they need to take some fish.
The floors are chequer plate and there are spacious side pockets for gear storage. Guesty keeps the outriggers in these side pockets when not in use.
Other additions include deck wash, Exploding Fish rod holders (swivelling rod holders) in the gunnel, and trim tabs.
Yellowfin did a factory set of clears for the console. There's a clear at the front and on the sides and Guesty says they did a great job keeping out saltwater when things got rough. There's also a big 380 lire fuel tank for the long runs offshore.
"We did 180 nautical miles with five blokes and fully loaded and we burned 160 litres for the day," says Guesty.
The Yellowfin is fitted with a Mercury four-stroke V8 250hp Pro XS. These new four-strokes are renowned for their impressive torque, fuel economy and reliable modern technology.
"I was very impressed with a 250hp V8 to get that sort of fuel economy."
"We can have someone sitting at the transom and have a conversion. It's incredible how quiet they are. It goes like a train, has heaps of torque. You have to be careful when you hit the throttle that everyone is holding on."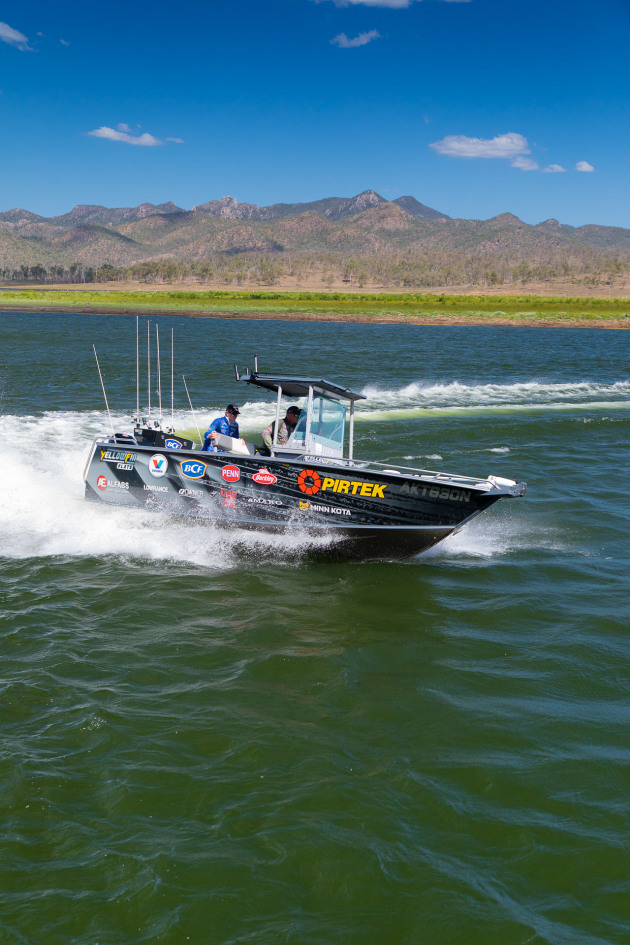 As for performance, the 7600 has met Guesty s expectations.
"We've had the boat in some rough conditions and I'm just learning about the boat as we go. How much trim do we need, how much trim tab on the nose, what's the weight distribution like etc. We did a big run out of Townsville the other day and quarter on with 18-20 knot wind, once you got the nose right and trim the nose down, it was really good," he says.
"In a following sea we trimmed the nose up and it was a good ride. There's heaps of stability at rest and it has nice high sides. When you're fighting a fish I like the high sides, especially when you're offshore."
"There are also big wide gunnels. I found when we were barra fishing I found myself moving along the gunnels casting around the snags."
For more information: www.yellowfinplateboats.com.au