Offshore sounder tips with Rod Findlay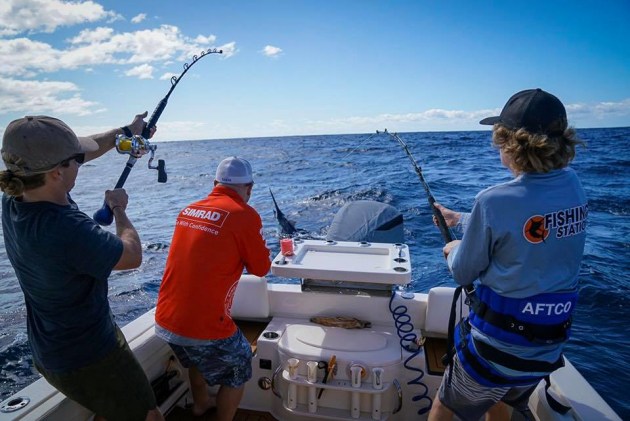 FISHO catches up with experienced Sydney game fisho Rod Findlay who shares his tips on using offshore marine electronics.
What boats do you run and what electronics are onboard?
We are lucky enough to have two boats. Number 1 is Murrifin. She is a 39ft Game Fishing boat with twin C9 575hp Caterpillar diesels we built from scratch. She has two Simrad Evo 3 screens in 12inch, a S5100 sonar module running a R509LHW transducer which is wide beam 1kw High Freq Chirp and 3kw Low Freq Chirp, 4G radar and a Nac 2 autopilot. Number 2 is Murriweeni. She is a Grady White Seafarer 228 with a single 300hp Yamaha V6 outboard. She has two Simrad Evo 3 screens one 12inch and one 9inch, a S5100 sonar module running a B275LHW in a custom fairing block mounted in the keel, and a Nac 2 autopilot.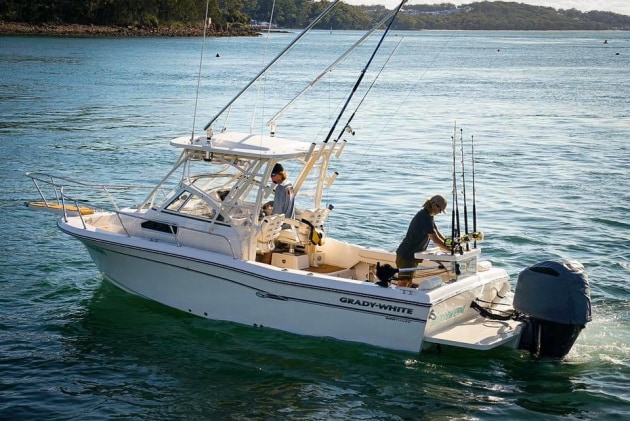 What do you consider are essential features for quality offshore electronics?
From a navigation perspective it helps to have the latest up to date electronic charts in your gear especially if you're fishing in new areas. From a purely fishing perspective you need to have the best transducer you can afford for the style of fishing you're doing then invest the time and money to install it so you get the most out of your investment.
For someone new to the game what are you looking for on the screen when you're fishing? Any tips?
Depends on the species I am chasing at the time but the first thing in gamefishing I want to understand is if there is any current present, so I check my boat speed while completing a big circle and see which direction I speed up in. This will help for not only finding fish around structure but also help when manoeuvring the boat while fighting a fish. From a sounder perspective you will need time on the water learning any unit as different brands and models mark differently. For me personally if I mark bait early in the day I want to catch it on a jig and try and size my lures or gear to match it. Once you get familiar with modern sounders they are an amazingly powerful and accurate tool. In both my units we can size and identify baitfish now to the point we know which schools of bait is the best to jig or with the current runs of yellowfin tuna we have had we can size them to avoid the smaller school fish and spend more time around the schools of larger tuna.
What's the best marine electronics technology that's come along in recent years?
For offshore pelagic fishing the Simrad $5100 running the high frequency wide beam transducers has been a game changer for finding marlin and bait. We have effectively tripled our midwater search area. When we started using these for the first time it was really frustrating seeing three times more marlin on the screen in any given day but not always getting the bites.
Anything else related to marine electronics for those getting into game fishing?
Make sure you get the right transducers for your application. Don't expect a low power inshore unit to deliver offshore performance. When you do start marking fish in the right area but don't get bites straight away don't leave the area. More time you spend in the zone the better your chances of being there when they decide to bite. The most successful fisherman are always the most persistent.