Southern Formula 2100 review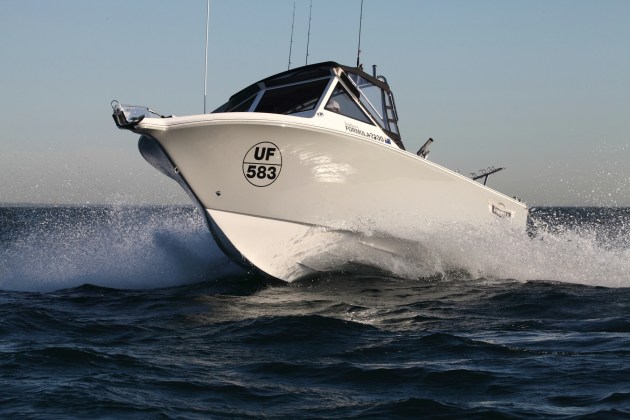 "SOFT, dry and stable". That's how Haines Hunter managing director John Haber describes his vision for the ride of the new series of Southern Formula blue water fishing boats. "Anyone can make a boat that handles well going flat out in calm water", says John, "but when you're fishing, you're hardly ever going flat out. We wanted to make a boat with exceptional performance at more moderate speeds and in rougher conditions."
Happily for me I recently got to experience that performance during an on-water test of the new Southern Formula 2100 in Port Phillip Bay off Sorrento, Victoria. Along for the ride were John, myself, and noted fishing journo Charlie Micallef, of South Seas Adventures fame. Together we slipped the shiny 6.4 m vessel off the twin-axle Easy-Tow trailer and into the calm waters behind the breakwall. I could immediately see that this was a substantial and impressive boat. For the record, the test boat was being pushed along by a V8, 4.6 L, 250 hp Mercury Verado. Incidentally 250 hp is the maximum allowable horsepower for the 2100, while recommended horsepower is 225. There is also the option of fitting twin engines of a smaller size.
Jumping aboard, we headed out into the bay to find a perfect day for testing: 25 to 30 knot winds and some sharp pressure chop in the shallow water south of the ramp. We spent the next hour and a half putting the 2100 through its paces, running the big boat through the waves at various speeds and angles, and doing some tight turns. I'd have to say, I reckon John has achieved his vision. The big girl jumped out of the hole and onto the plane at around 2400 rpm (15 knots) and by 2,700 rpm
(22 knots) was efficiently holding plane. Sure, there was a bit of rocking and rolling as you would expect, but I always felt that the boat was steady and well under control. There was certainly none of the slamming and banging that I have experienced in other boats even at perfect travelling speeds, while the big Verado purred away so quietly at the back it was easy to forget it was even there. If I could choose just one phrase to describe how the boat handled the conditions that day it would be "with authority". We didn't get to experience it on the test day, but John says the 2100 has a top speed of around 48 knots in calm conditions.
John puts the 2100's sure-footed ride down to a combination of the boat's weight and its hull design. The fibreglass hull weighs 1300 kg on its own and the boat as tested weighed around 2800 kg, so it's not going to be thrown around easily. The Carolina-style hull features a variable 21-degree deadrise V and is flared to throw displaced water away from the vessel, which also helps keep occupants dry. And perfectly dry we stayed, too, with the little water that did wash above the windscreen being easily kept out by attractive and well-fitting clears stretching from the top of the windscreen to the bimini roof.
John later showed me the thickness of the hull cross-sections of the hull from installation holes he had drilled for the transducers and they were between 25 and 30 mm thick. Message: it's made to last! John explained that Southern Formula incorporates a high multi-laminate construction system to ensure the best possible laminate layup process is applied. Their system comprises an ultra-high UV resistant gelcoat made specifically to their formula, hand-rolled vinylester resin, glass, roving, pre-cut woven roving, Corematt and Divinycell all applied in a specific sequence to ensure consistency and overlapping to give maximum weight and strength where it's needed.
As John walked me through the boat's main features, I could tell he has enormous pride in what he and his team have created, and a huge passion for boating and fishing, too. "You don't want to kill your crew," he smiles. "It can be a three-hour run out to the tuna grounds off Portland", he cites as an example. "If you have to bash your way all the way out there and all the way back, it's no fun for anyone."
After the test we motored the 2100 back to the mill-pond waters of the Balnarring Marina so that I could inspect the boat's features in a calmer environment. It is obvious that a lot of thought has been put into the set up to help make it, as John says, "one of the best blue water fishing boats made in Australia." For starters, with an eminently towable but still substantial 2.4 m beam and a cabin that finishes around halfway along the vessel, there is loads of room left out the back for a large, uncluttered fishing deck; certainly plenty of room for the five people the boat is allowed to carry. There is an optional hinged dive door on the starboard side for when you need to land that fish of a lifetime, twin livebait wells at the stern, multiple rod holders, provision for a bait board and snapper rack above the engine, and side curtains on both sides for even more storage. Under the floor there is a 300-litre fuel tank, a 250-litre kill tank and other storage areas, a bilge pump and a grated storage compartment for up to four batteries. In a clear sign of the insane level of attention to detail shown by Southern Formula's boat builders, every screw in the entire build is finished north-south-east-west!
Moving into the cabin there are two ergonomic chairs that are able to be either sat on or adjusted into a bollard that you can lean on while standing for when the seas are rough. Under the captain's chair there is yet more storage space while under the passenger's chair there is a solid cool box fixed in place so you can keep all your food and drinks icy cold. Both chairs are within easy reach of the cockpit where there is room to install up to a 16-inch screen and other gauges, while the broad dashboard provides room to mount further screens if necessary. Above the cabin there is a rocket launcher for yet more rod storage. Below decks towards the bow there is a huge compartment with a padded floor for sleeping and shelving for more gear…not to mention a pie warmer! Finally, right at the bow there is a bowsprit and anchor with an electric winch that comes as standard.
It's possible that some Aussie anglers may never have heard of Southern Formula boats. That's understandable since they have only been in production for a little over 24 months and there are only around 40 of the various models out there in the market so far. On the other hand, it's an equally fair bet that almost all Aussie anglers would have heard of Haines Hunter. In simple terms, Southern Formula is a sister company of Haines Hunter and the boats are wholly Australian-made from the same factory in Derrimut. At present there are three models in the Southern Formula range, being the 2100 (formerly know as the Southern Formula 19), the 2300 (formerly the 21) and 2500 (formerly the 24).
"We wanted to incorporate the traditional Haines Hunter build quality and performance into a new-look retro hull", says John. "Southern Formula boats definitely have the Haines Hunter pedigree."
So, if fishing is a factor in your formula for happiness then these boats may well be the answer. If you're looking for a head-turning boat with vintage lines that is a serious blue water fishing boat, the new Southern Formula series is definitely worth a look.
For more information: www.southernformula.com.au