Top 5 family fishing boats
THERE'S no need to compromise on fishing features while keeping the family happy with these "crossover" family/fishing boats.
Bar Crusher 615BR
THE 615BR is built on Bar Crusher's proven 615 series Gen2 hull and is the toughest Australian-made bowrider you're likely to find… 
Rated to carry a 115-150hp outboard, the 615BR's performance capabilities and dual-console bowrider-come-casting-platform design, ensures this boat is equally capable as a serious fishing boat in the morning, as it is a sports boat towing the family around on a ski biscuit, wakeboard or waterskis in the afternoon.
Measuring 6.15m length overall, with a 2.25m beam, the 615BR is constructed from heavy duty, pre-stressed 4mm (bottom sides) and 4mm (top sides) marine grade plate aluminium. This high-performance and functional bowrider incorporates other exclusive innovations such as the Waveslicer non-pounding, deep-V hull for an ultra-smooth ride, Rigideck engineered sub-floor system for maximum hull strength, and Quickflow water ballast technology for excellent stability at rest.
The Gen2 hull design combines key features including a wider negative chine running forward, optimised wider chine aft and the distinctive Delta Flare – delivering greater hydrodynamic lift for more efficient planning and improved fuel economy, a higher bow attitude and better spray deflection for a drier ride, as well as increased stability at rest.
More info at barcrusher.com.au
Stacer Crossfire
STACER'S hybrid vessel, the Crossfire is designed to meet the needs of all Australian boaties with its spacious deck and convertible V-Bunk casting platform.
Making waves in the industry since its debut in 2016, the Crossfire delivers an ideal crossover vessel thanks to its hybrid bowrider/barra-bass build creating the perfect layout for both families and the avid fisho.
Designed to meet the needs and wants of all family members, the Crossfire has quickly become a familiar vessel across Australian waterways, proudly becoming one of the most popular products in the Stacer range.
Available in a range of sizes with a person capacity of up to 6 people and ample options for customisation, the Crossfire can be easily tailored to all family sizes and uses.
With a wide range of standard features including its spacious bow bunk with ample storage capacity, extruded side decks, a rear live bait tank for fishability, pole mount inserts for adaptations including ski pole and/or cutting board mounting, the Crossfire encompasses all the essentials for a premium boating experience at an affordable price.
Built with the industry renowned Revolution Hull, the Crossfire boasts a sharp entry point and flared side sheets to slice through chop and disperse water away from the boat to deliver a smooth and dry ride in an array of waterways including estuaries or rivers, and open bays. Whist its variety of options including a bimini and envelope for sun safety, sound system for added entertainment during days out with family and friends, rod locker and an affixed full casting platform setup for the modification to a fully-fledged fishing boat, epitomises the Crossfires versatility.
Available as a ready-to-go fully configured boat, motor and trailer package.
More info at stacer.com.au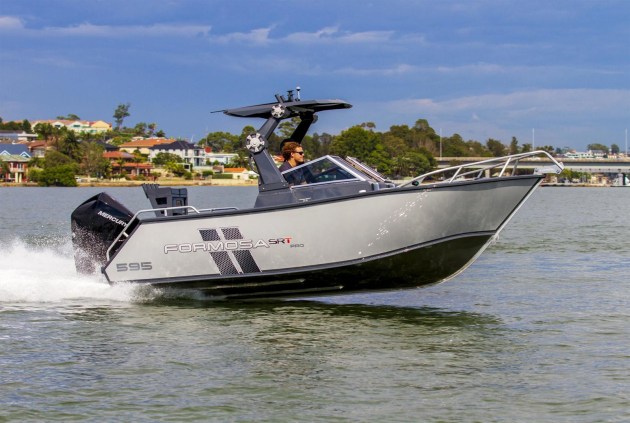 Formosa SRT X Bowrider
THE Formosa SRT X Bowrider is available in sizes from 5.25m to 7.55m. The unique hardtop design and extremely versatile layout allows the whole family to enjoy Australia's amazing waters. Take the family out skiing & wake boarding one day, then transform the boat for offshore fishing the next.
It starts with Formosa's unique Wake Tower aluminium hardtop including grab rails, four rod holders and a ski pole welded to the top – ideal for wake boarding (if that's not enough a second optional removable ski pole position can be included in the transom). The unique "knuckle" design in the wake tower arms feature exposed perforated Aluminium plate on the outside (very eye catching), and inside the knuckles is perfect for housing 6" speakers. Moving through the walk-through dash, the forward lounge includes a full set of cushioned seating with backrest coamings, ample storage underneath, and the centreboard can be removed for a traditional U-shaped lounge. The driver & passenger seating includes two embroidered, high back, contoured bolster seats mounted on aluminium storage boxes with hatches. The bolster seats allow for a very comfortable standing-driving position (very handy offshore). Finished off with a flush folding rear lounge and your preferred Active Transom design (single or dual transom doors, or even a fold down fully open transom), the X Bowrider is ideal for all manner of water sport activities.
For the fisho, the forward lounge cushions can be removed creating a large casting deck perfect for any avid lure angler. The seated driving position has a large, raised dash area suitable for flush mounting multiple electronics and clears can easily be added between the dash and wake tower hard top for even more comfort in offshore conditions. With the flush folding rear lounge stowed, the large rear deck area opens up for bait fishing, jigging, trolling and any other offshore fishing applications you can think of. With a healthy array of fishing options including electronic trolling motor mounts, bait tanks & live wells, cutting boards, kill tanks, additional welded aluminium rod holders and casting cages – an angler can kit out their X Bowrider for their preferred style of fishing with no compromises.
All Formosa SRT hulls are built with strength & styling in mind, made with plate hull construction including 4mm & 5mm 5083 high tensile aluminium bottom sheets, extra wide longitudinal stringers and a boxed lock-cell sub-floor structure creating a strong rigid hull. With a 19-degree deadrise, high sides, wide beam and a healthy reverse chine – these boats eat up offshore conditions with plenty of room for your crew when you get out there. An optional Quad4 counterbalance ballast system is also available for even greater stability in offshore conditions, on what is already a very beamy & stable hull. The floor can also be upgraded from carpeted marine plywood, to Formosa's Pro Deck true self-draining decks with welded aluminium floors finished in either carpet or checker plate, or even with a flat aluminium surface ready for EVA foam flooring such as Seadek or Deck Armour.
Formosa SRTs are built out of Brisbane, with a dedicated dealer network right across Australia.
More info at www.formosamarineboats.com.au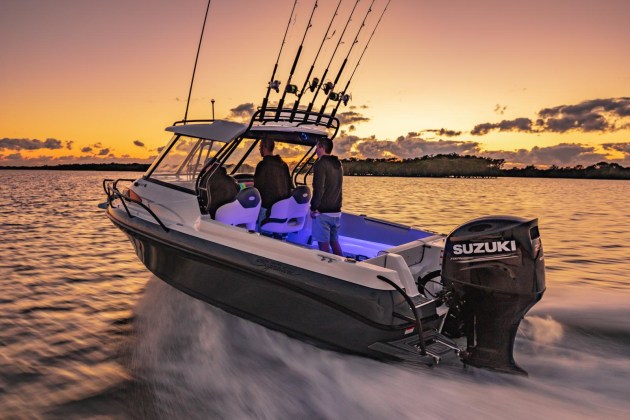 Signature 640F
THE new 640F is a great addition to the Haines Signature award winning trailer boats range.
The Haines Group's 640F builds on their reputation for creating quality Australian designed and built boats. Providing customers, a versatile, family friendly fishing boat loaded with new and exciting features.
John Haines (CEO) explained that the 640F has everything the now replaced 602F provided plus more, allowing for a better boating experience.
"In the past, the 602F has been one of our most popular boats, which was overdue to be reimagined" said Mr Haines. This paved the way for the concept of the 640F.
Taking you further for longer than our previous models of this size, the 640F has a fuel capacity of 226L. This provides up to 25% more fuel capacity than its predecessor, maximising your time on the water. Handling a maximum outboard power of 225HP, so you can really have fun with it! This increased power option will give better fuel economy, range, handling and performance.
"Derived from the 602F, we ensured that the new 640F included all of the existing features, but incorporated feedback from our valued customers and dealers, taking this boat to the next level," said Haines.
The new and improved dash layout can now handle up to a 16" GPS/sounder screens and comes with even more desired features in the standard package – including Simrad & JL Audio electronics featuring chartplotter/sounder, VHF, stereo and speakers ensuring an enjoyable experience, as well as a dual battery system with VSR standard giving you long range, trouble free boating thanks to automated battery charging.
In addition to this, the 640F has many optional design features, giving customers the option to make the boat their own. This includes an optional fully enclosed hardtop with a sizable roof hatch for great airflow, as well as a lockable sliding cabin door to ensure all your gear is secure with space for your family or friends to escape the elements on extended trips.
Finally, you may choose to include the best in class transducer option, with a pocket mounted, dual-frequency transducer moulded into the hull, giving the ability to read bottom and mark fish with incredible clarity in depths to 1200m.
Starting from $78,658 RRP for a standard boat, motor trailer package (Suzuki DF140ATX and Dunbier dual axle trailer), including Queensland registration and dealer delivery (ex Brisbane) and on waters.
More info at hainessignature.com.au
Quintrex Fishabout
BOATING for the whole family has never been so easy thanks to the Quintrex Fishabout, with its customisation, spacious uninterrupted deck space, and entry level price.
Based off the brand's engrained mission of "Boating Made Easy" since being founded in 1945, the Fishabout has been crafted to meet the needs of every boatie and every walk of life.
Designed with a car-like layout, each vessel delivers comfortable ergonomics and easy-driving to offer an unparalleled first-boating experience for new buyers, or a stress-free product for experienced boaters.
Designed for families and friend-groups of all sizes, the Fishabout comes available in six configurations from 430m through to 540m, with a person capacity of up to five people.
Standard with just the essentials, including extruded side decks, a rear ladder, ample underfloor storage and hydraulic steering for models over five metres, the Fishabout is kind on the wallet, delivering premium boating at an affordable price.
With the fine tuned Blade Hull, designed through decades of craftmanship, it not only delivers an economical performance but also an industry-leading ride experience thanks, with its flared sides dispersing water away from the vessel and its sharp stem line that cutting through water with ease.
Together with an expansive range of options, including a bimini and envelope, ski pole and cutting board, sound systems and speakers and more, the Fishabout can be easily modified to adapt into the ultimate fishing or watersports and family vessel.
Or, customers can option up with one of the newly released Boat Bundles to simply cater the Fishabout to their lifestyle – with a Comfort Bundle designed for family boating, Fishing Bundle for the anglers, Captain's Bundle to dial up the driving experience, or the Fishabout Pro to experience the best that Quintrex has to offer.
In addition to the perfect feature setup, all Quintrex boats come available to purchase as a fully packaged, drive-away boat, motor and trailer unit that is configured from the Gold Coast factory. All trailers are built specifically for its paired boat, fitted together within the factory by a specialist team before continuing through the manufacturing line.
More info at www.quintrex.com.au