What is a plate boat?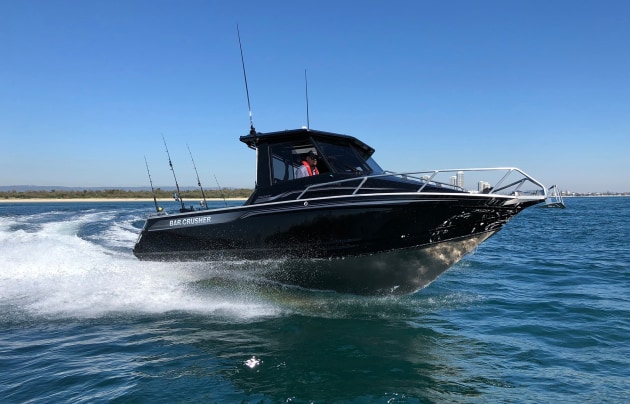 WHILE many think the United States is dominated by big fibreglass fishing boats, aluminium boats actually represent 70 per cent of the outboard-powered recreational boat market over there. And, not surprisingly, that figure is even greater here in Australia.
From Tassie to the Top End, Australia's harsh marine environment is unforgiving on equipment. As aluminium boats are relatively light to tow, economical to power, easy to maintain and very durable, "tinnies" have been popular among Aussie anglers for generations.
Over the past 20 years, the old-school mindset of an aluminium boat being good for freshwater/estuary fishing and a fibreglass boat being required for offshore work, has given way to the rapidly-increasing plate boat market.
Purposefully-designed and well-built plate aluminium boats are capable of handling it all — from chasing cod or barra one day, to heading wide for tuna or marlin the next. With their many inherent benefits, it's clear why plate boats are now the most popular trailer boats among hardcore fishos — both here and, increasingly, around the world.
Tinnies vs plate boats
There are essentially two types of aluminium boat-building techniques used in Australia: Pressed aluminium (tinnie) construction —fine for boats that will be used in rivers, lakes and estuaries and on calm days off shore. The tinnie construction method is used among mass-production manufacturers such as Quintrex, Stacer, Savage, Sea Jay and many other brands.
Plate aluminium construction — ideal for bigger boats over 5m in length that will be used for bay, coastal and offshore fishing. This method is used by specialist boat builders such as Australia's own Bar Crusher and New Zealand's Stabicraft (both leaders in the plate boat industry).
Many tinnies are easily recognisable by their clinker-style look, which is literally pressed into the aluminium when the hulls are formed in large brake press machines. Once pressed into shape, the sheets are generally spot-welded together and fitted-out with thwart seats (open dinghies) or have carpet-covered plywood floors dropped-in (console and cabin boats) to brace the hull.
In recent years, some tinnie manufacturers have been producing a range of console and cabin boats with flat/smooth sides. Once the hulls are formed into shape and put together, the consoles are screwed to the carpeted plywood floors and/or cabins attached.
Most boat dealerships now stock a range of colourful, smooth-sided pressed-aluminium boats and their price-point makes them popular. On the flip side, these modern-looking tinnies have created plenty of confusion among new boat buyers as to what's a "tinnie" and what's a "plate boat".
What is a plate boat?
While tinnies are made from alloy with a softer temper that allows the aluminium to be easily pressed into shape, a plate boat (as the name suggests) is built from heavy-gauge, high-tensile 5083 aluminium cut from flat plate.
A true plate boat draws great strength from an engineered sub-floor frame that supports, braces and stiffens the hull. A plate boat also has a fully-welded and sealed aluminium floor, which essentially turns the entire hull into one very rigid structure.
Smooth sides don't turn a tinnie into a plate boat, so if you can see ribs or extrusion frames running down the inside of a boat's hull — with tabs and screws holding down a carpeted plywood floor — it's a dead giveaway the boat is built using the tinnie construction method (or a hybrid of it).
Plate boats are designed and built to last, so the console, cabin or hard top is welded to the floor to become one with the hull. If it's screwed down, it's another sign the boat you're looking at isn't a real plate boat.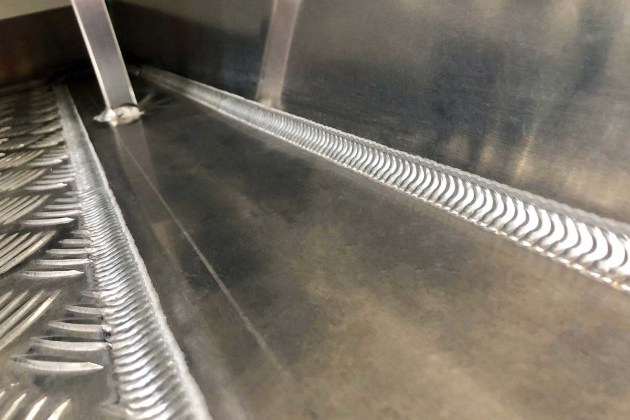 TECH TIP
Technically, aluminium plate is 6mm alloy plate and thicker. However, few trailer boats are built from 6mm aluminium these days as decent-quality 6mm material is very expensive and doesn't provide any significant advantage in terms of strength and durability over high-quality 4mm and 5mm plate aluminium.
If you're looking at a sharply-priced production plate boat claiming to be made from 6mm plate alloy, it's likely inferior-grade imported materials have been used and, quite often, many corners have been cut in the boat's production.
Sub-floor systems
There are two typical sub-floor systems used in plate aluminium boats.
The "cross-frame and flat bar" technique is common in many boats and is also used by mass-production tinnie manufacturers that sell a few plate boats as well. Dating back many years, this technique involves the placement of a number of frames running across the hull, set at varying distances. Between the cross-frames, flat bar (typically 50mm x 6mm) is stitch-welded to the bottom plate.
The other technique, used by dedicated plate boat specialists such as Bar Crusher and a handful of others, uses full-depth and full-length longitudinal frames so everything is boxed and triangulated. For even greater strength, cross frames are used between the longitudinal frames to tie the whole sub-floor together.
If you think of an aerospace honeycomb structure you'll be able to visualise this sub-floor system. All the framing is braced in all directions. Completing this system is the fully-welded and sealed aluminium floor, which creates an incredibly strong structure.
The reason every plate boat builder doesn't use this system is because it's more expensive, harder to do and requires superior welding and fabrication skills.
Plate performance
When any boat — fibreglass, pressed alloy, or plate aluminium — is used in a metre or more of wind chop and swell, it will be subjected to tremendous forces that will stress the hull.
A true plate aluminium boat — with a super-strong hull that's been properly designed, well-braced and stiffened — has almost zero flex and can withstand this punishment.
All things being equal construction-wise, how a boat performs in rough conditions is based on hull shape. Flatter hulls provide great stability at rest, but pound and bang in rough conditions; whereas deep-V hulls are designed to handle the rough stuff. Basic science, really.
There's no shortage of plate boats on the market, so do your research, seek advice from real people (not keyboard captains!), and get out on the water for a test drive.
We've owned many brands of plate boats here at Fisho over the past two decades. And, like many experienced anglers, there's a boat-load of reasons why!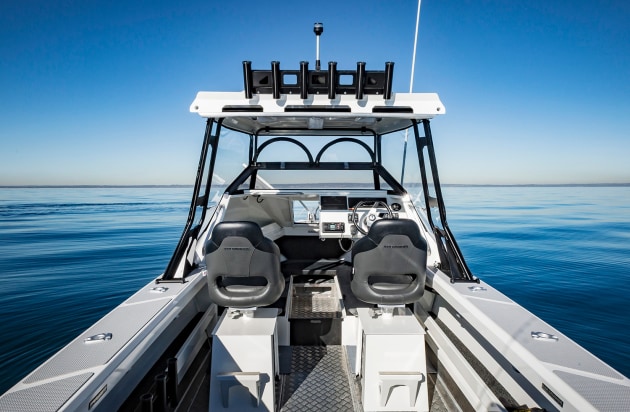 WHAT ARE YOU LOOKING AT?
A few questions to keep front of mind when you're looking at plate boat:
Does the boat incorporate a properly constructed sub-floor frame?
Is the boat constructed from high-quality, heavy-gauge, high-tensile aluminium cut from flat plate?
Does the boat feature a welded-in, fully-sealed aluminium floor? If the answer to any of these basic questions is 'no', then you're probably looking at a tinnie, rather than a plate boat.