How to catch bluespot flathead
FLATHEAD are a cool fish, and regardless of where you live around Australia's coastline there is likely a species or two nearby. Here in my home state of South Oz we have the southern bluespot flathead as the dominant species, and like most flathead they're quite aggressive and will take a variety of lures.
I get a real buzz from targeting our local flatties, especially flicking small lures in shallow water for them. Seeing the silhouette of a flathead emerge from amongst scattered rock and zeroing in on your plastic or hard body lure is pretty cool, especially when the fish have a bit of size to them.
I was flicking some soft plastics recently along a sheltered beach in a nearby National Park. This particular beach is quite shallow and has a lot of near-shore rock and weed beds; perfect for southern bluespot. I managed to catch and release several small to mid size flathead during the session, but the best fish came right at the end. I had a solid bluespot follow my 70 mm paddle-tail plastic right into the shallows. After following the lure the fish settled on the sand in plain view, and on my next cast the fish rose to take the plastic  on the drop, classic visual fishing. 
Where to look
Southern bluespot flathead can be found in the southern quarter of our country from Kalbarri in WA, through South Australia to Cape Everard in Victoria, including Tasmania. The southern bluespot are a smaller relative to the dusky flathead that are found in the eastern states, with the literature stating the species grows to above 90cm, but I'm yet to see a southern bluespot close to this size. Most of our flathead are in the 40 to 50 cm bracket, with the occasional fish above 70 cm. Even the smaller fish will aggressively swipe lures though.
Southern bluespot are found in water out to 30 m deep, but during the cooler months they take up station in our shallow bays, and at this time of year – in SA at least – they are a viable target. We don't get cricket-score numbers of southern bluespot, but if we get a dozen we're having a good session.
When targeting southern bluespot in the shallows we look for gently-sloping beaches with plenty of near-shore formation. Scattered rock, sheets of limestone, patches of eelgrass, plus depressions and channels in the sand will all help to congregate and hold flathead. It's not unusual to work an entire beach for minimal action, only to pull several nice fish around one lone cluster of rocks. They are very structure oriented.
One of the beaches we visit regularly doesn't have a lot of natural structure, but it often holds areas of lose seaweed in the corner of the beach. By working lures along the edge of the fine weed we've pulled some good fish – the structure needn't be a permanent fixture to hold flathead.
And don't be afraid of shallow water. We pulled some great fish last season from water under a foot deep. If it has the right formation and deep enough for a flathead to wait in ambush, then it's worth running a lure through. My best flathead this past season was actually caught while casting back towards the shore. I was wading about 10 metres from the beach over a shallow rock shelf, and on my way back to shore spotted a flathead sitting in the shallows. There were actually two of them sitting together, both around 70 cm, and I managed to catch and release one of them.
The majority of our flathead fishing takes place during the building tide and around the peak of high, when the flooded water gives the flatties an opportunity to move into the shallows to feed. Here in SA we have plenty of shallow bays and protected beaches, which is perfect habitat for this species. Southern bluespot will also hold along high energy surf beaches, but when looking for concentrated numbers of flathead to target with lures, sheltered beaches are a safer bet.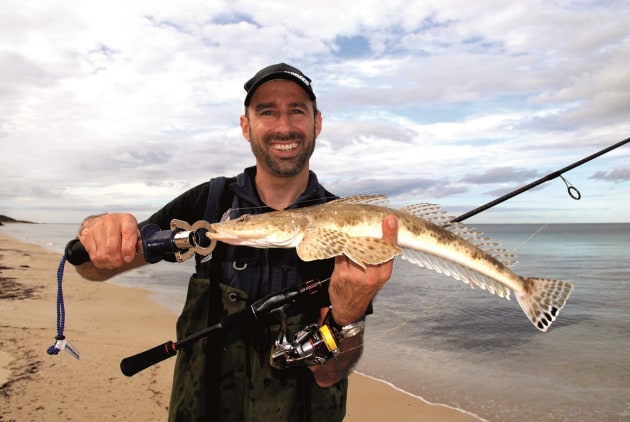 How to
We primarily target our flathead with soft plastics, which are a great option for flatties as you can slowly and methodically work the lure around rock and along the bottom where flathead are waiting to ambush prey. Flicking lures in general allows you to keep on the move and cover ground until some fish are found. 
Because we're targeting the shallow margins of the beach, we mainly tackle these areas by foot as it's often too shallow to access by boat. We have some really good flathead beaches not far from my home town, making it possible to slip in mid-week after-work sessions. 
I generally target the high tide in the afternoon, and will try to pick a beach offering offshore winds depending on the conditions on the day. It's an active form of fishing, and with a small backpack or waist belt I'll walk the length of the beach, firing casts around clusters of rock and weed. We're not looking for heavy weed, but rather the light eelgrass or scattered tape weed which allows the fish to sit on-guard without being enveloped in darkness.
After I've worked an area with multiple casts, I'll move on and target the next likely area. Because flathead are quite localised, by keeping on the move you'll cover ground which will maximise your chances of locating a few fish. When fishing over a particularly shallow area, it doesn't hurt to wade into the water to work your lure out along the edge of the rock or along a tapering drop off.
When fishing from the shore you'll be working your lure from the deeper water towards the shallows, so if you get a follow it will be relatively easy to spot the fish – especially when coming off hard bottom. When a flathead moves from sitting amongst rock the fish will likely be dark in colour and will stand out easily when over sand. Always keep an eye on your lure as it nears the shore, and don't be afraid to work your lure right to the rod tip; we've hooked some cracking fish right at our feet.
We also have a few islands and hard-to-access beaches in our local region which are only accessible by boat. Sometimes we'll pull the boat up to the beach and tackle the fishing by foot, and other times we'll work likely areas from the boat itself, depending on the conditions. This is where a small shallow-draft boat is ideal, and by positioning the boat close to the beach you can cast into the shallows and work the plastic or hard body back into deeper water. We aim to fish the same structure as we do when fishing by foot, and being elevated in the boat gives you good vision when working the shallows. 
If you see a follow or if you get a hit, get your lure back out in the zone as flathead will rarely travel far. We've had flathead hit the lure two or three times before eventually committing to eating it. I prefer a slow retrieve, whether using plastics or hard bodied lures, making sure the lure is paused in the strike zone for as long as possible. Don't rush the retrieve.
Working the lure
When casting soft plastics, I let the plastic settle on the bottom before starting a slow hopping retrieve. I'll do two sharp lifts of the rod tip before retrieving the slack line, then I'll let the plastic settle for 2 to 3 seconds before repeating. Just about all of the hits come on the drop or during the pause. Our southern bluespot will often hit the plastic before eating it, and this will feel like a single knock, usually while the plastic is motionless. If I feel this, I pause the plastic for a bit longer before continuing the retrieve. 
With sinking hard body lures I prefer lifting the rod tip to about 2 o'clock, and just maintain a slow twitching retrieve to work the lure just off the seabed. When working the lure over sand it's okay to let the lure hit the bottom.
We have used small blades off these beaches too, and while we have caught a few fish they're not the most effective lure in this situation. Because of the shallow water it's hard to work these lures slow enough while maintaining their action, and they get fouled on rock and weed a lot more than other lures.
Tackle and lure options
Being able to work a lure right along the bottom and in the feeding zone is what makes soft plastics such an effective and versatile lure. I like paddle tail or curl tail plastics in the 60 to 90mm range for our southern bluespot. If I had to pick half a dozen plastics to take out on a session they would be the Squidgie 80mm Bio Tough Fish in cracked pepper, 70mm Fish and 80mm Whip Bait, both in white lightening colour. From Berkley the 4" Nemesis in pepper prawn and from Halco the 3" Paddle Prawn in jelly prawn colour. There are plenty of other plastics on the market too, but these are just the plastics I have used and have had success with.
As for jig heads I like a 1/8 oz head, or around 3 g in metric, with fine gauge 2/0 hooks. If you use a heavier gauge hook you will miss some hook-ups. I have found the Atomic Seekerz and Squidgie round heads are both good options.
When using hard bodied lures, I like 70 to 90 mm sinking hard bodies. These will allow you to work these lures at depth, without having to work them too fast as is often the case with floating hard bodies. Some good lures we've had success with include the 70 mm Duel Hardcore, 70 mm DTD Gavun Smelt, and the 90 mm YoZuri Crystal Minnow.
As for rod options, a lightweight spin outfit of around 7' and rated at 1-3 kg or 2-4 kg is ideal, matched to a 1000 to 2500 reel and spooled with 6 or 8lb braid. This represents a lightweight outfit you can use all day and is perfect for flicking small lures.
Southern bluespot flathead offer a viable lure target at a time of year when a lot of species fade off the radar here in SA. Why not grab a light spin outfit and a handful of lures and go walk your local beach?