NSW DPI Fisheries: Tagging fish – what is it and how it works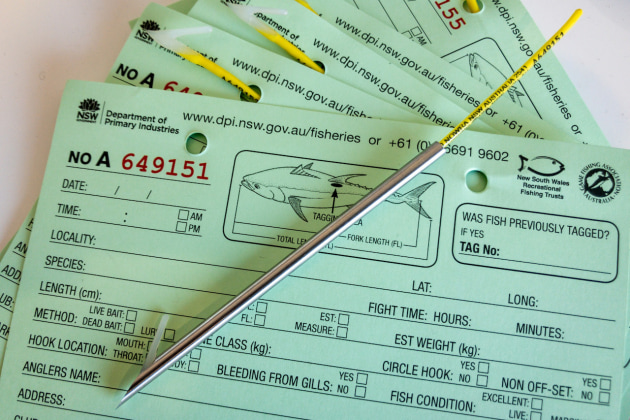 THE NSW DPI Game Fish Tagging Program is the world's largest saltwater tagging program and has been in operation since 1973. Since the program's inception, there have been about 483,000 fish tagged and more than 8,950 recaptured.
The NSW DPI Game Fish Tagging Program issues tags free of charge and works closely with NSW Game Fishing Association, the Game Fishing Association of Australia and the ANSA (NSW branch). The program is run using funds from the NSW Recreational Fishing Trust.
How tagging works
Tagging is essentially pretty simple. Tags are provided to anglers and when an angler catches, tags and releases a fish, the details of the capture are recorded on a tag card with the corresponding tag number. The card is then returned to DPI.
When a tagged fish is recaptured, catch information is linked to the original tag and release and compared to the recapture information. Details of the distance the fish travelled and its growth are sent to the angler who first tagged the fish and also to the angler who recaptured it. A recapture certificate is also issued!
Tagging data
Tagging is used to obtain information on the biology (distribution, movement, growth) of billfish, tunas, sharks and sportfish and encourages anglers to participate in the management of the fishery. The tagging program also serves to promote sustainable fishing practices and to educate fishers and the wider community on the benefits of catch and release fishing.
Tagging data is used by fisheries scientists to study the lives and habits of key game and sportfish species, which are otherwise often challenging to study due to their highly migratory behaviour.
The movements of tagged fish can be studied by measuring the distance and direction travelled between tagging and recapture. This can also be linked with other factors such as environmental influences. Growth patterns can also bemonitored.
The observations provided by the tagging program also enable scientists to study the structure of fish stocks and assess whether there is any mixing between populations that are geographically distant from one another. This information is vital to improve the understanding and management of valuable game and sportfish species.
Want more information?
Contact the NSW Game Fish Tagging Program on 02 6691 9602 or at gamefish.tagging@dpi.nsw.gov.au for more details, including on how to get involved in the program.