PNG black bass & bluewater adventure
FEW places on earth feel truly remote. Our closest neighbour to our north, Papua New Guinea, is one exception. While PNG is far from undiscovered, the country's rugged terrain has meant many areas remain seldom fished and that's a big draw card for anglers looking for real adventure and world class fishing.  
A list fish
Black bass have been at the top of my bucket list for a long time. It all started with a cancelled black bass mothership trip almost 20 years ago. Two subsequent trips to PNG – one for game fish, the other an exploratory journey looking for black bass and barra – whet my appetite for catching these iconic freshwater fish. I'm not alone. Ever since the days of Vic McCristal, Rod Harrison, Dean Butler and Lefty Kreh pioneered and put PNG black bass fishing on the map, Aussie anglers have yearned for these exotic fish.
Interestingly, while PNG is Australia's closest neighbour, few Aussie tourists visit this beautiful country. That is unless you're there for work or fishing. Flying into Port Moresby and landing at Jackson International Airport you'll notice a funny mix of travellers. There's the Aussie worker flying through to remote camps working in mines. Then there's the fisho, easily identified by a long rod tube, a giant heavy bag, and an excited look on their face. That was me!
West New Britain
The flight from Port Moresby to Hoskins airport (Kimbe) is less than an hour. Then it's a 40 minute ride from the airport to Liamo Resort. Here we freshened up and enjoyed the sunset with a few drinks in the beer garden. After dinner we made our way on board Ultimate One.
Ultimate One, Baia Sportfishing's 72 foot luxury mothership, was anchored just off the resort. Ordinarily a trip such as this would depart that evening, waking up in a remote location ready to fish. Unfortunately, two Americans joining our trip – Doug Olander, editor in chief of Sport Fishing mag, and his mate, tackle industry veteran George Large – had a delayed flight and wouldn't arrive until the following day.
The river was muddy, a result of the region's regular afternoon storms. While black bass don't like dirty water, our experienced guide Chris was still optimistic. Another potential set back for catching bass is the regular migration of white bait into the rivers. Similar to whitebait in our estuaries back home, swarms of these tiny fish routinely push up river where bass gorge themselves while rejecting anything else.
We noticed a few skipping whitebait around the river mouth and saw a canoe-load full of locals fishing for bait along one of the scrubby banks. The bait push into the thick bank-side vegetation where the villages use nets to capture the schools.
The whitebait and coloured water meant trolling was our best option in the main river. The idea was to troll a few metres away from the edge where the fish were more likely to take our offerings. I was using a bright green Halco RMG Poltergeist. The Poltergeist is a great cod and barra lure and within a few minutes it also proved its worth as a versatile black bass deep diver.
Both Mal and I caught several smallish bass on the troll before things went quiet around lunchtime. After lunch we travelled to a nearby lake via a narrow overgrown channel. The lake's water was much clearer, but void of any structure. The weedlined banks and lack of structure called for a topwater approach. Several small bass came on board with 115mm Halco Roosta Poppers doing the damage. We also caught a couple more small fish and a nice mangrove jack trolling the channel on the way back through to the main river.
Bluewater
The next morning we woke alongside the Vitu Islands after a 14 hour overnight journey. Vitu are a series of lush islands offering good shelter for anchoring and outstanding fishing for a number of sport fish. The volcanic islands give way to incredibly deep water and an endless series of shallow bommies; perfect territory for dogtooth, Spaniards, wahoo, GTs and plenty more reef dwelling species.
We anchored behind a small dormant volcano. Steam from the island's active geysers could be seen along the beach. The shallow blue water along the island's lee gave way to deep blue water and a line of bommies which ran for several miles.
The wind made things challenging. We fished from one of three long boats which travel alongside Ultimate One. These boats are incredibly versatile and work well across the blue water and inside the river chasing bass. Casting poppers along the edge of the bommies became challenging, so we switched to the troll. I attached a Halco 190 Laser Pro, while Doug and George fished Halco MAX 190s and Rapala X-Raps.
The Laser Pro and MAX proved reliable, quickly converting several wahoo – that night's delicous dinner – plus a big Spaniard lost near the boat and a dogtooth or two for Doug. We also lost a few Gomoku micro jigs on a deeper reef to mackerel. The lures were connected via knotable wire, an effective and easy option for the toothy critters we encountered.
Ultimate One is more than a mothership. The spacious back deck makes a great fishing platform and there are loads of rod holders for trolling and there's always a helpful deck nearby to help land a fish. There's even a game chair! Having a fishable mothership makes for a great option for travelling between spots.
Again, using Halco Laser Pros and large 190 MAX lures, we were able to effectively troll at a fast speed while reaching our destination. It was a great way to catch several more Spaniards, wahoo and dogtooth – not to mention a few unstoppable critters – most likely big dogtooth tuna. We were using Shimano Stella 18000 reels, 80lb Power Pro braid and Grappler rods – a great combo for a heavy handed approach.
Island culture
The wind increased and Ultimate One found an anchorage nearby a local village. The villagers organised a "Sing Sing" for us, a local custom well worth taking time out to experience. Baia Sportfishing has a great relationship with the people of these villages; a great thing and a bonus for the longevity of sport fishing and tourism in the area.
Back to bass
Being onboard a large mothership with an experienced crew is a huge advantage. It means flexibilty in your fishing choices. If the wind blows from a certain direction, you move. If the rivers are dirty, again, you move and find clean water. That type of choice to fish in various locations often isn't available any other way.
We left the islands behind and moved inshore for the second leg of our journey. While we got a good taste of river fishing the first day, waiting for the late arrivals, the western end of West New Britain was our ultimate destination for chasing these legendary fish.
Ultimate One found anchorage outside the mouth of the region's biggest river. These rivers are big and there are plenty of them. Within a short distance, Baia Sportfishing has access to about six rivers and each one of those stretches long distances upstream. We didn't get the opportunity to fish the headwaters – all the action was down low – however I'm told the spot tail bass action can be great and the scenery spectacular.
Black bass are a lot like their close relative, the mangrove jack and behave in a similar way to many of our native sportfishing in Australia. They love structure. Casting accuracy is important and so is retrieve speed and lure choice.
We began casting around the river mouth with dozens of log jams creating the perfect sanctuary for the bass. Casting wasn't working and the dirty water, similar to our experience on the first day, meant trolling was a better option. We did just that and had a great time with Doug and George catching their first PNG black bass.

What really surprised us was the variety of species inside these rivers. Besides the PNG black bass and spot tail bass we were chasing, there were plenty of white spot cod, big trevally, tarpon, jacks, wolf herring, barracuda and even an enormous bream caught on a Poltergeist. But we weren't there to catch bream!
Another surprise were the amount of fish caught in the same spot over and over, despite the constant trolling from several boats. These fish weren't exactly shy like some of our natives. That said, a quiet approach doesn't hurt and I'm sure counts for more big fish.
We fished several of the rivers along the coastline and for the most part didn't travel far upstream. On the final day we made our way east along the coast. We had half a day before making our way back on Ultimate One for the overnight trip back to Kimbe.
The river was cleaner. We trolled a few lures around the mouth for a few saltwater fish and a couple of cod. No bass. The guide suggested making a longer run upstream. The weather was warmer, more humid and a storm was building. The water got clear upstream. The birdlife was vibrant and noisy and the backside vegetation was like a scene from Jurassic Park.
The log jams and clear water meant casting was back on the agenda. While trolling is an effective method for catching bass, there's no doubt casting makes more exciting fishing. These tough balls of muscle live up to their reputation and once they reach a certain size become seriously tough critters.
The clear water called for a more natural colour and all of my fish on this day were caught on a 125mm Halco Scorpian in a dark green hue. His was the best day yet with over a dozen fish landed in a couple of hours of casting the clear water snags. This was the PNG black bass experience I pictured and it didn't disappoint!
Eight days sampling the best of PNG sport fishing was a great experience. Splitting a trip like this between blue water and river bass fishing makes the long journey and expense worthwhile. The waters of PNG deserve so much more exploring. There's more to discover offshore, along the reefs and inside the rivers. And a boat such as Ultimate One with the team from Baia Sportfishing is the perfect way of exploring the area.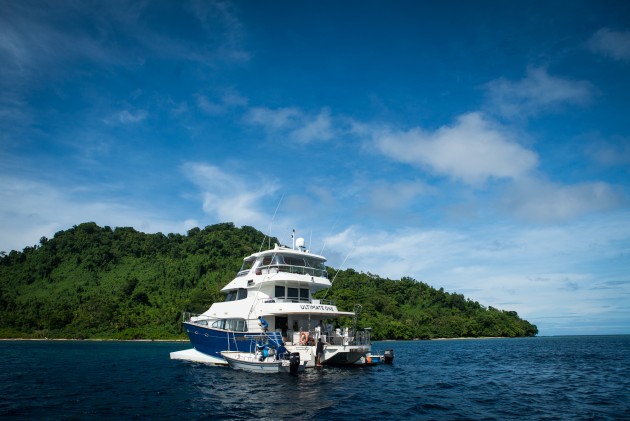 Ultimate One
Ultimate One is a 72 foot Wave Piercer built in New Zealand. The boat belongs to Riccard Reimann of the established Baia Sportfishing. Richard is born and bred in these parts and is an experienced fisho and professional operator. There's no doubt Baia Sportfishng and Ultimate One is the most professional and reliable option for fishing PNG.
This seaworthy boat usually fishes six anglers plus crew and guides. It's very comfortable at sea and the amenities onboard are first class. The rooms are twin share, and there's a large kitchen with delicious meals served every day. The boat uses a desalinator, so there's no problem drinking from the taps.
After a long day on the water catching fish, sitting on the back deck with beer watching the sun set is an amazing experience.