Shimano Metanium MGL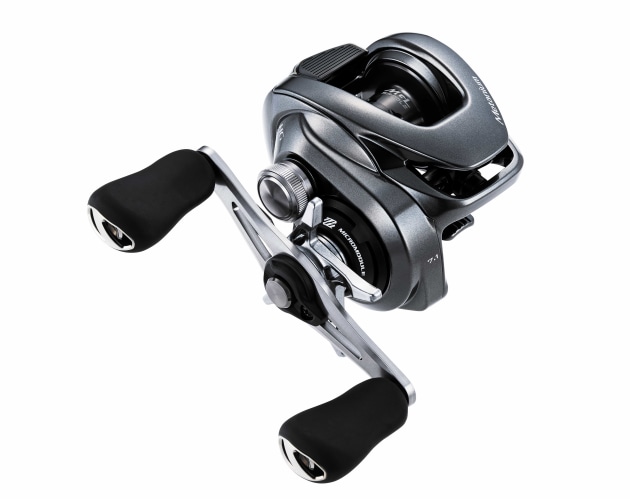 THE Metanium MGL is one of the most advanced additions to the Shimano family of baitcasters in Australia. Shimano says, this flagship model has been designed for the keenest of anglers who fish a wide variety of species from bass to barra.
The lightweight Magnesium CoreSolid Body is designed to deliver unmatched durability, rigidity and sensitivity.
The CoreSolid Body integrates the B-Side Plate, levelwind guard and frame into a solid one-piece construction and this is the first design of this type in a Shimano low-profile baitcast reel.
The addition of the Magnumlite Spool three, which decreases spool inertia by 17 per cent, gives you the ability to cast even the lightest of lures as the spool operates with minimal resistance.
To further enhance castability and control, the New SVS system has been included to provide six settings of brake adjustment via the external dial. With setting one being the freest setting and six applying the most brake.
The large diameter and fine-tooth Micro Module gear is made from a solid brass construction that ensures long-term durability and smoothness. By also combining the Silent Tune technology, spool bearing vibration is reduced and casting performance is further increased substantially over conventional systems.
The Metanium MGL has been extensively tested by Shimano field testers for over 12 months in Australia's top end region which is renowned for extreme saltwater conditions.
Fitted with 10+1 shielded ball bearings and weighing only 180g, the Metanium MGL is the lightest 150 sized reel in the Australian Shimano range. This series will be available in a gear ratio of 6.2:1 and HG 7.1, along with a left hand 151 HG 7.1 model.
Available in March with an RRP price of $649
For more information: www.shimanofish.com.au