BCF to tackle fishing waste with new Rig Recycle bins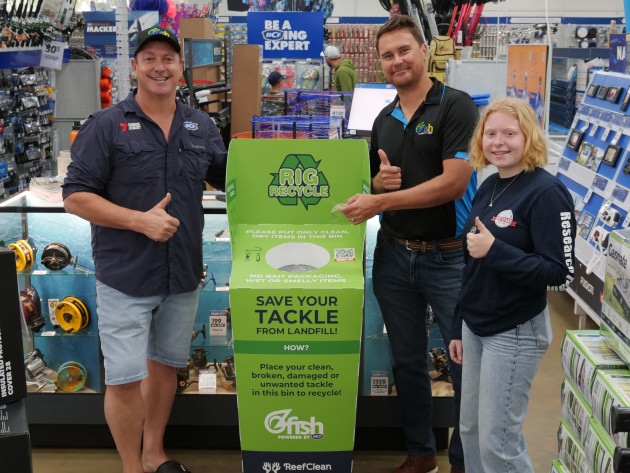 IN an Australian first, it is now possible to recycle your unwanted fishing tackle at a select number of BCF - Boating, Camping, Fishing stores through a new recycling pilot launched today.
Fishing conservation charity OzFish Unlimited in partnership with Tangaroa Blue Foundation are launching the program together with BCF who are opening their doors for recreational fishers to bring in their old, unwanted or recovered fishing tackle and dispose of it in purpose-built Rig Recycle bins.
"Recreational fishers now have a way to recycle their fishing tackle and play their part in reducing the impact this waste has on our waterways," says founder and CEO of OzFish, Craig Copeland.
The Rig Recycle concept is an initiative of ReefClean and was developed to help overcome issues such as pollution from discarded fishing gear, while also reducing the amount of waste sent to landfill.
"This program goes one step further than a traditional tangle bin, targeting fishing tackle items that can be recycled or reused. When developing this program, we did not just want to add this rubbish to landfill, that's not really looking at the entire problem," Copeland said.
All the tackle placed in the Rig Recycle bins will be assessed by OzFish or Tangaroa Blue volunteers and sorted to be either recycled by Tangaroa Blue or repaired and up-cycled by OzFish volunteer fishers, into small packages for other charities.
"We can refurbish hard lures with new paint, bibs, split rings and hooks, with fishing-based charities reusing them for more sustainable fishing," Copeland said.
"The Rig Recycle bin will take mono filament line, plastic line spools, hooks, sinkers, swivels, lures, jig heads and floats, broken or unwanted."
"We need to look at a best practice circular system and how we can genuinely be sustainable as an industry."
CEO of Tangaroa Blue Foundation Heidi Tait said it is the first rig recycling program in Australia.
"There are only three other known rig recycling programs in the world, so it's a gamechanger for the fishing industry," said Tait.
"Tangaroa Blue Foundation puts equal emphasis on the removal and prevention of marine debris and pollution in our waterways through targeted projects like ReefClean and Rig Recycle."
"Data from our Australian Marine Debris Initiative Database (AMDI) shows that monofilament line makes it into the top 10 items found during clean-up events. With an average of 125 meters of fishing line recovered during every AMDI clean-up, this initiative stands to have a significant impact in reducing waterway pollution from fishing gear and reducing waste sent to landfill," stated Tait.
BCF is equally excited to be backing the program and making positive changes to the industry.
"BCF is thrilled to be involved in this innovative trial where we offer our customers an option to reduce the impact of our own industry on the planet," stated BCF Managing Director Paul Bradshaw.
"OzFish are sustainability trailblazers and the projects they are leading are having a tangible effect on our nation's waterways. I believe our customers will support it and we hope to then roll it out across the country," Bradshaw said.
The first rollout of the Rig Recycle bin will see them installed at 9 BCF stores across Queensland and 2 in Western Australia, with the potential for more to be announced soon.
This project has been developed by OzFish in collaboration with Tangaroa Blue Foundation through their ReefClean initiative which is funded by the Australian Government's Reef Trust.
For more information: ozfish.org.au