COMMENT: Do we really need rock fishing laws?
The object of this Bill is to amend the Rock Fishing Safety Act 2016 as follows:
(a) to extend its application to all naturally occurring rock platforms or other rock formations exposed to ocean swell within New South Wales,
(b) to require persons to wear appropriate footwear when fishing at high risk rock fishing locations,
(c) to permit persons to wear a wetsuit instead of a lifejacket when fishing at high risk rock fishing locations,
(d) to provide that penalty notices can no longer be issued for offences.
This amendment would make more sense to me, if it weren't for parts (b) and (c).
Coincidentally, just days ago, a rock fisher on the NSW South Coast was swept off the rocks. Interestingly, the fisher was wearing footwear, (what looked like) heavy clothing and no lifejacket.
Judging by the video footage, it wouldn't have mattered what the foolhardy angler had on his feet when the wall of whitewash knocked him off the ledge. Luckily, he wasn't knocked out – even a lifejacket probably wouldn't have saved his life in that scenario.
He just should not have been out there.
Not surprisingly, the news media were all over this incident, milking it for as many views and comments as they could on social media. The footage attracted plenty of comments calling for all kinds of action, like: "It should be made law to wear a pfd and even head protection when fishing off the rocks."
What's next from the pollies, helmets while rock fishing?
Though, in all seriousness, while I agree that in some instances the right footwear is as, if not, more important than a lifejacket, are laws telling us what to wear the answer? Do they even make sense?
I've fished alongside some of the most experienced rock fishers in the world and some of them swear by wearing no footwear at all. In fact, some believe a pair of thick socks offers the best grip. Likewise, many believe lifejackets could hinder you're ability to escape a life threatening incident while fishing off the rocks. 
Wetsuits aren't the answer either!
Much like lifejackets and wetsuits while rock fishing, footwear for rock fishing is a nuanced issue. I own several types of different rock fishing shoes, each pair for different locations and applications.
Can a politician or an outraged Facebook commentator please tell me which pair is "appropriate" today?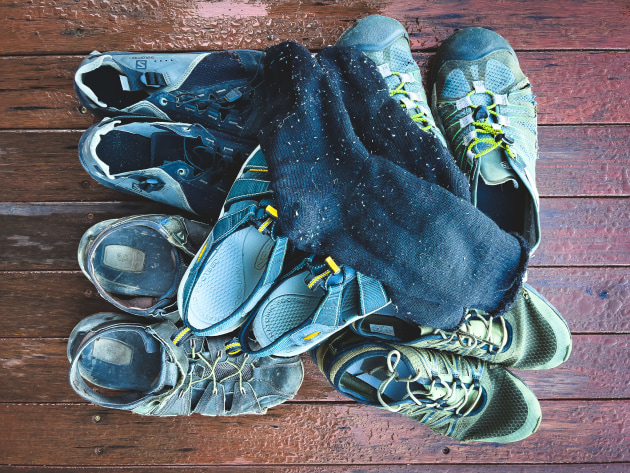 The fact is, rock fishing is inherently dangerous. In the wrong conditions, it can be life or death. Even on the best days – like driving a car – it's an educated risk.
The elephant in the room: Surf Life Saving Australia says, on average, 4 per cent of drowning deaths in Australia each year occur when rock fishing. People born overseas account for around 60 per cent of all rock fishing related drowning deaths. 
Clearly, we have a communication issue and a lack of education on the dangers of rock fishing in Australia, within the migrant community.
Interestingly, according to the Royal Life Saving National Drowning Report 2021 the leading locations of drowning deaths in Australia last year were rivers and creeks with 26 per cent and swimming the activity leading to the most drowning deaths at 25 per cent.
Does the vocal minority calling for more rock fishing safety laws on Facebook (who more than likely don't fish off the rocks) know this? Probably not.
So, do we really need rock fishing safety laws? In any case, mandating footwear and lifejackets or wetsuits won't solve rock fishing deaths.