FISH FACTS: Transgender fish...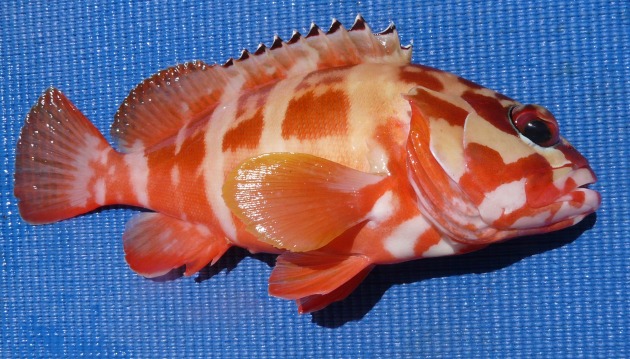 GENDER equality is a common discussion topic in today's world of #metoo and marriage equality debates. But what is not commonly known is that fish have been leading the way in this area for millions of years. Indeed, around 2% of fish species worldwide are classed as "sexually labile", because their sex is not fixed and can change in individual fishes over time during the course of their lives. Transgender fish have been around for a long time, and as this month's article will show, it's fair to say that fish have explored virtually all possible combinations of hermaphrodism during that period.   
True, the usual (some would say boring) sexual orientation for 98% of fish species is the conventional situation that fisheries scientists call gonochorism. This is the condition whereby any one individual fish matures as either male or female.  Gonochorism is of course, not to be confused with single sex reproduction, or parthenogenesis, which is a form of asexual reproduction which can occur under certain circumstances in females of at least 5 species of sharks (including blacktip sharks and zebra sharks).  In circumstances where parthenogenesis has been recorded, it usually occurs when female sharks are isolated from male sharks for some time, such as sometimes occurs in public aquaria. 
With bony fish, on the other hand, parthenogenesis has not been recorded.  Instead, gonochoristic reproduction with both sexes involved in egg fertilization is the norm, a combination that obviously has provided these species with evolutionary advantage over time, evidenced by the fact that the vast majority of the 25,000+ extant (i.e. existing in the world today) species of bony fishes are gonochoristic. Nevertheless, hermaphrodism has evolved from gonochorism several times in the history of fishes, and is now documented in at least 27 different taxonomic fish families, totalling around 500 species.  Living in the Indo-Pacific region, Australian fishos are more familiar than most about hermaphroditic fish, given that several of our iconic target species are hermaphrodites. 
For example, it is well known that our beloved barramundi are protandrous hermaphrodites, which means individual fish mature first as males (in barra, at around 50-55 cm long), before changing sex into females. In barra the changeover to female occurs after the spawning season once the male fish reaches around 75-80 cm long, and occurs rather quickly,  such that individual fish become female well before the next spawning season.  All barra over 90-100 cm long are females, and it is thought that this life strategy of having the largest fish as females assists survival of the species by maximising the number of fertilized eggs. Other popular angling species with protandrous life histories include threadfin salmon, bream (yellowfin and pikey), and tarwhine (Table 1).
In contrast, several other groups of fishes "lean the other way" in that they mature first as females, before changing sex into males later in life. These species are called protogynous hermaphrodites, and include several popular angling species such as coral trout, cods and groupers, tropical emperors, snapper, wrasses and parrotfish.  For example, all snapper (Chrysophrys auratus) start life as females, but around half change into males before they mature at around 3 or 4 years old, after which their sex is fixed for life. However, for other protogynous species (particularly parrotfishes and wrasses), the sex change from female to male is triggered by social factors, such as the absence of a dominant male, with the transformation involving marked morphological changes in colour and shape. 
A recent study of the female-to-male sex change in black-spot tuskfish (Choerodon schoenleinii, a carnivorous wrasse that occurs throughout northern Australia), is a case in point. A study undertaken in a large laboratory tank suggested that the sex change in this species was initiated by a lack of male-to-female tactile contact. Researchers hypothesised that visual and chemical cues from the male fish being in close proximity to the females inhibited sex changes in female fish. When the male-to-female sex ratio was reduced such that frequent tactile contact with all the available females was impossible, the likelihood of a female changing into a male was increased. In the absence of a dominant male, tactile contact among females was thought to possibly determine which individuals changed sex.
As interesting as the protogynous lifestyle may be, the swingers take things even further. Though fewer in number, some fish species are sequential hermaphroditesthat can mature as either male or females, then can switch to the other sex when required.  Several species of coral gobies are known sequential hermaphrodites, changing sex (and back again) whenever required to equalise sex ratios.  And last, but definitely not least, are the simultaneous (or synchronous) hermaphrodites.  These fish, including a few species of gobies and serranids (cods and groupers), possess mature male and female sex organs at the same time.  As is often the case with other hermaphroditic species (e.g. invertebrates such as worms or molluscs), synchronous hermaphrodite fish tend not to self fertilize, instead they utilise their sexual plasticity to maximise spawning success.  For example, on the Great Barrier Reef, the black tip rock cod (Epinephelus fasciatus, a small cod species well known to anglers) matures as a simultaneous hermaphrodite,  but as they grow larger some individuals may lose female function and become functional males (i.e. they transition from simultaneous to sequential hermaphrodites).  What an interesting life those pretty little cod have………….