Solid growth rate for trophy-sized flathead
A CROC-SIZE dusky flathead tagged in the St Georges Basin has recorded an impressive 10 centimetre growth rate after being recaptured just over three years after it was originally released.
Angler Marley Watson, 13, recaptured the 97 centimetre flattie while fishing on the southern side in the Basin on 29 December 2020. The tag details reveal the fish was originally tagged on 27 December 2017 by local fisho Connor Barrett while kayak fishing on the north-western side of the Basin.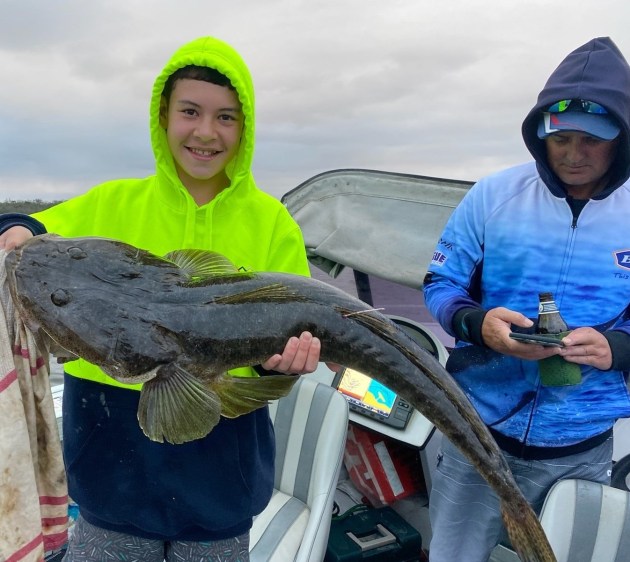 Basin tagging stalwart Dave Loose, who was fishing nearby in his boat, assisted Connor in landing the fish, which was measured at 87 centimetres before being tagged and released in excellent condition.
The fish was at liberty for 1,097 days and was re-captured approximately 2.3 nautical miles from the original capture location. Well-known Sydney charter skipper Matt Reid, of Raptor Charters, was holidaying with Marley and other friends and reported that the fish again swam off strongly after being re-released.
A 10 centimetre growth rate over three years is significant for a flathead of this size. NSW DPI Fisheries research indicates that growth rates for dusky flathead tend to slow after the fish reach "trophy size" of 70 centimetres and above. As is apparent with this recapture, individual fish can, however, record noteworthy size increases.
This latest Basin recapture again highlights the viability of catch & release fishing for large female dusky flathead as a management tool to protect important breeding populations while also allowing multiple anglers to experience the thrill of catching a "trophy size" fish.
For more information on the Trophy Fishery Program, check out www.dpi.nsw.gov.au