Tickets on sale for National 4x4 Outdoors Show, Fishing & Boating Expo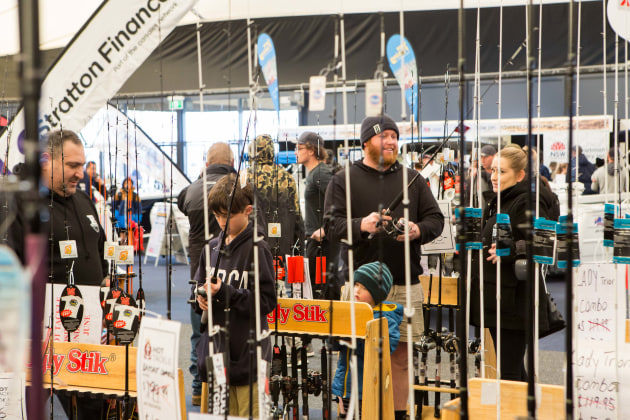 TICKETS for the 2019 National 4x4 Outdoors Show, Fishing and Boating Expo in Melbourne on August 16 to 18 are now on sale.
Australia's premier outdoors lifestyle exhibition will once again showcase the best of the fishing, boating, 4x4, camping, and outdoors lifestyle, with an array of exhibitors, attractions and special guests.
Early-bird ticket purchasers can buy on-line now and will automatically go into the draw to win a Dometic Portable Solar Blanket valued at just under $1200.
Once purchased, the tickets can also then be registered on-line to receive a free three-month digital subscription to Pat Callinan's 4x4 Adventure magazine.
This year's event includes support from the Boating Industry Association (BIA), with members receiving their own discount ticket code to buy online.
Thousands of products will be on show from dozens of leading outdoor lifestyle brands and retailers, filling the halls and adjacent outdoor precinct of the Melbourne Showgrounds, alongside returning fan favourites like the Proving Ground and Action Arena. A brand new pavilion will showcase the latest in camper trailers.
Two stages will run concurrently at the 2019 National 4x4 Outdoors Show, Fishing & Boating Expo in Melbourne, hosting a rollcall of special guests set to share stories, expertise and enthusiasm for everything to do with the active lifestyle.
Early regular guests confirmed for the Waeco CFX Outback stage include Mr 4x4 Pat Callinan who as Australia's premier off-road expert will talk all things action and adventure, and colourful 4WD Action duo Shaun Whale and Graham Cahill with tales of their exploits making the popular DVDs.
Cooking up a storm on the Catch and Cook stage will be a mix of bush tucker experts and fishing gurus, who will share recipes, offer fishing tips and perhaps even give show-goers a taste of their efforts, headlined by AFL legend Peter "Spida" Everitt.
The 2019 National 4x4 Outdoors Show, Fishing & Boating Expo Proving Ground will provide show visitors with the opportunity to compare what it's like to drive the latest in four-wheel-drive models on a simulated off-road course, as well as pick up some driving tips from the off-road experts on hand. And as if that's not enough, they can also experience the Iron Summit courtesy of Isuzu D-Max.
At the outdoor Action Arena it'll be all entertainment, with spectacular daily shows that are set to thrill, headlined by Hot Wheels stunt truck legend, Matt Mingay.
Tickets are now on sale HERE with adult tickets priced at $19, pensioners at $14, and children under 15 free.
For further information about the Show, including stage schedules and a full list of exhibitors, click HERE.