Trophy-size yellowtail kingfish caught six times!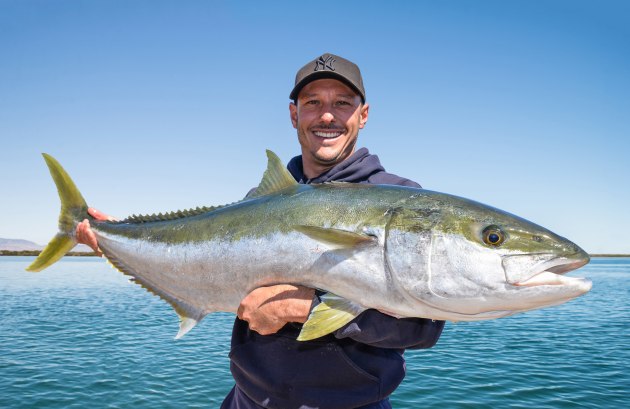 LAST November my brother-in-law and I were fortunate to have an encounter with what turned out to be a rather special yellowtail kingfish.
My brother-in-law Fabian was the lucky angler who recaptured the fish in Port Augusta, South Australia and with an old tag clearly missing and a rather newer looking tag lodged firmly in its back we were anticipating that it must've had a cool story to tell.
After lodging the tag number with the NSW DPI Tagging Program it soon became evident that this was in fact the sixth time that the fish had been caught (and the fifth recapture) which I'm lead to believe is a potential kingfish record within the tagging program itself!
This fish was originally caught and released in Port Augusta October 2015 at 126cm and didn't show up again until November 2018 when it made two more appearances at Port Augusta three weeks apart at a respectable 135cm. In February 2021 it was caught and released at 137cm by an offshore fishing charter near the Four Hummocks, Coffin Bay South Australia, (approximately 192NM south-west of Port Augusta) before making its way back up again to be caught twice in November initially at 140cm and then again by Fabian a few weeks later at 141cm and an estimated 30kg.
It was by no means ground breaking data as far as recapture locations and growth rates go but this sort of information provides fantastic support for the catch and release sustainability of this mighty species, further highlighting the benefits of the amazing tagging program that the NSW DPI run. The fish unfortunately had a deep cut in front of the pelvic fins which was most likely sustained from a second trailing hook however it swam off well so I'm hoping this isn't the last we've seen of it.
Long live the king!