Berkley Powerbait 8-inch Jerkshad review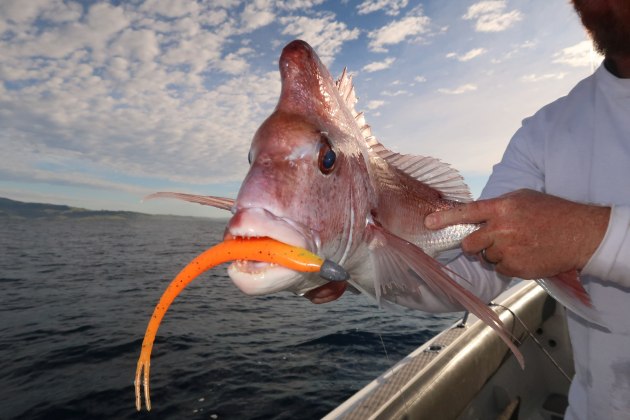 BERKLEY'S Powerbait Jerkshad isn't a new name in fishing circles. Many fishos would remember when the 3-inch version stormed onto the bream tournament scene and quickly cemented its name as a go-to plastic for years to come.
Bream aside, these lures quickly became popular for many species – from trout to tuna – when Pure Fishing released sizes from 2 to 7-inches after the initial success of the 3-inch size.
With an enormous amount of plastics available today, including Berkley's popular Gulp range, the Powerbait Jerkshad probably took a backseat over the past few years. But its fishy attraction remains unchanged.
When a package turned up in the mail with some new 8-inch Powerbait Jerkshads inside, it quickly flooded back memories of great snapper and mulloway on the 5 and 6-inch version many years ago.
In no time flat I opened a packet of the Fire Tiger colour and immediately that unique Powerbait Formula smell was evident. I pulled one out and noticed they were incredibly soft.
My first thoughts of snapper and mulloway quickly changed to flathead and kingfish as the subtle soft feel would undoubtably look amazing rigged on a worm hook.
On the water I rigged one on a jighead and it was easy to see these would be deadly on many species. And I was right! In short time it was performing better than the other few plastics I was using during a quick afternoon snapper fish.
These new 8-inch versions have earned a place in my tackle bag and at an RRP of $9.99 with eight great UV additive colours, and the ever reliable Powerbait Formula, I'm sure they will find a place in yours.
For more information: www.berkley-fishing.com.au.