Berkley Shimma Big Red review
WHEN you think big snapper and lures, a soft plastic rigged on a heavy gauge jighead will come to mind, and rightly so. They have nailed many impressive fish over the years.
I have dabbled in many types of lures while chasing my beloved "reds" and can vouch most work but usually come with limitations or simply don't have the fish catching ability of a well-presented soft plastic.
I managed to get my hands on some Berkley Shimma Big Red soft vibes before they were officially launched on the Australian tackle scene to test on the local snapper.
In the past I had done well on vibes, in fact my PB of 104cm was on a soft vibe, though hardware in the form of treble hooks and the wire rigging was always a problem when it came to the powerful jaws of a big red.
Berkley have listened to Snapper fisho's and addressed some of these problems experienced with other soft vibes, which were probably never intended to be used for snapper. Straight out of the packet they are fitted with Owner S-125M 1/0 single hooks attached with an extra strength split ring to a tough internal wire system.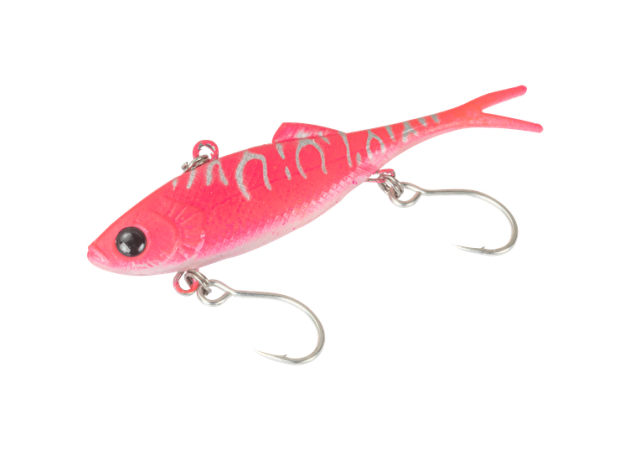 Another feature increasing the attractiveness of this vibe is the TPE (thermoplastic elastomer) material which makes them more impervious to being torn or chunks chewed out of them by those pesky leatherjackets.
First expectations were met when the lure managed a few fish while run in conjunction with some proven plastics, however the plastics edged them out at first. It was not until the bite waned and the soft plastics were drawing blanks that the vibe proved its worth. It did not set any records with size or numbers, but it certainly was catching fish when little else was and did not foul up like treble equipped vibes I had used in the past.
Coming in 5 superb colours and two sizes – 100mm and 120mm – and an RRP of $15.99 - $16.99 these vibes represent serious bang for buck and will catch a heck of a lot more than just snapper.
For more information: berkley-fishing.com.au