Rhino Rack Pioneer Platform review
THE versatile Pioneer Platform from Rhino is a perfect solution for holding kayaks and securely carrying 4WD accessories while driving off the beaten track.
Back in 2019 I wrote a piece describing my 4WD camping set-up and another reviewing the Pioneer Tray From Rhino. As a brief recap, my Navara 4WD had a roof top tent installed over the tray and a Rhino-Rack Pioneer Tray on the roof for carrying gear. The beauty of this set-up is because the roof top tent sits just below the height of the roof rack, I can still carry long kayaks or canoes on top of the roof. Of course, any kayaks I'm carrying need to be removed before putting up the tent, but that's a small price to pay for a versatile rig.
I recently upgraded the rack and replaced the Pioneer Tray and installed the new Rhino Pioneer Platform. Unlike the previous one, this sits flat with no sides. It's a sleeker platform with less wind resistance and easier access to gear on top. And given that everything onboard must be secured properly anyway, having no sides doesn't make much difference.
The important point to remember about the Pioneer Platform and Tray is they're much more than a simple "roof rack". It's a system of carrying gear safely and securely. Space is a at a premium in most 4WDs and having a full range of accessories to secure gear in the roof makes like a lot easier when travelling.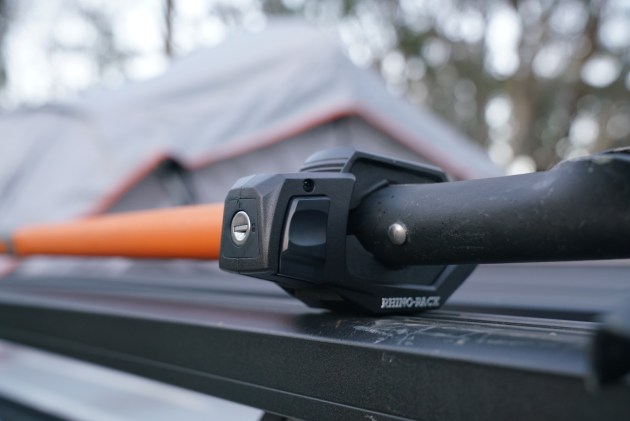 The Pioneer Platform is black powder coated for corrosion resistance and is made from aluminium with reinforced nylon corners.
The new generation of Pioneer Platforms feature a few new additions, including integrated front and rear channels for extra accessories, an under bar measuring strip for faster installation of accessories and new corners for tuck away wires.
As mentioned above, what sets the Pioneer Platform apart from a standard roof rack is the amount of accessories available and the simplicity of installation. I have an pull-out awning attached to mine permanently and have recently fitted a Rhino Stow It Utility Holder. The Stow It is a brilliant attachment with many uses. On a recent trip away I fitted it with a shovel (pictured), but I've also used mine to attach a paddle. It saves space inside the car and I have confidence knowing it's travelling safely on top. You could also use it to carry a large fishing rod, like a beach rod, or an axe etc. It holds nice and tight and best of all, has a lock so there's no worry about anyone stealing your gear while you're away from the vehicle.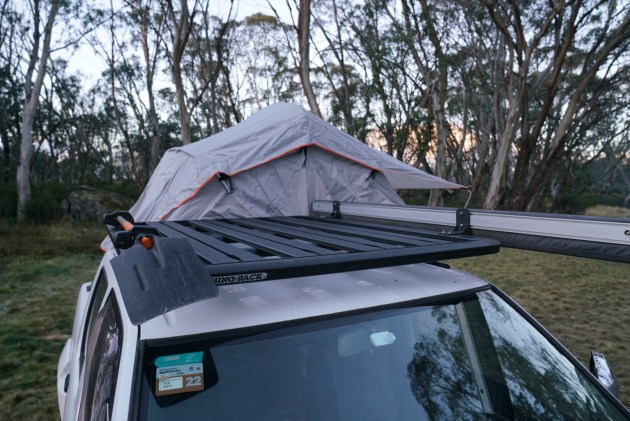 The Stow It recently won a Red Dot Product Design Award for its innovative design.
Other useful accessories include attachments for Maxtrax, fuel cans, water cans, spare tyres, high lift jacks and plenty more.
If you spend any time carrying kayaks or own a 4WD and use it for touring or towing boats, the Rhino-Rack Pioneer Platform is worthwhile investment. It's a safe and convenient way of carrying everything you need on the roof, leaving space for the other essentials like fishing gear, camping equipment, etc.
Check out the full range of Rhino-Rack products at rhinorack.com