Shimano SpeedMaster Surf rod review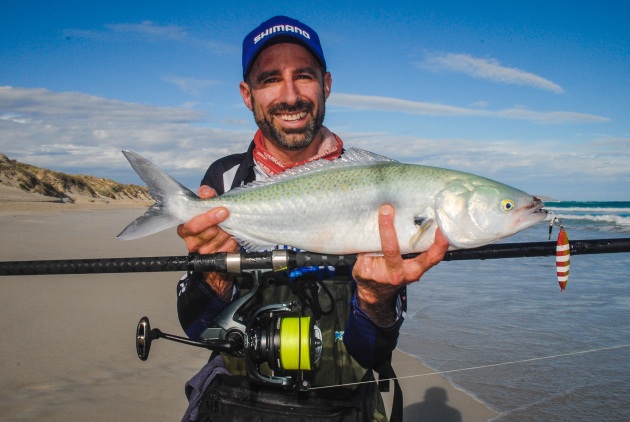 SURF rod development over the past decade has been huge. It doesn't seem long ago we were all using heavy glass-wrap rods to lob baits or lures into the surf, and the range of quality off-the-rack rods was very limited. Thankfully, things have changed and the options for quality multi-piece surf rods is now vast.
Around 6 months ago I got my hands on a Shimano SpeedMaster Surf rod, and it soon became my go-to rod for use on our local surf beaches. I got the 12'0" spin model SMSA12SP8-15 which is rated at 8-15kg, and it's been a great rod for casting baits as well as firing lures into the surf.
Made from 24T Carbon Graphite, the rod is lightweight to use but still powerful, with plenty of pulling power in the lower to mid section. I have been casting 60 to 80g lures with ease, but the blank is rated for larger lures up to 150g. I think a 150g lure would be pushing the performance of the blank, but I'm yet to prove that.
The rod features a long butt section – which I really like for casting bigger baits – with the cross weave shrink tube making the rod comfortable in hand. Walking the surf-line casting metal lures can be demanding on the body, so having a lightweight and well-balanced outfit certainly makes a big difference.
The rod is fitted with quality Fuji K Alconite guides, with a neat black gloss finish. I matched a Shimano XTC14000 reel to the rod and spooled it with 40lb braid. I would say this is on the heavier side for salmon fishing, but when soaking baits in the surf we also get a few mulloway and gummy sharks, so I wanted an outfit that would be able to handle these bigger fish with ease.
Most of my existing surf rods are still single piece, so having a quality two-piece rod has been fantastic. Being able to throw a couple of multi-piece rods inside the 4WD is so much more practical than strapping rods to the roof or bullbar.
There used to be a time when serious surf fishers wouldn't entertain the thought of using a two-piece or three-piece rod in the surf, but the feel of multi-piece rods is comparable with single piece these days. You'd honestly be going well to spot the difference in feel and performance.
There is one overhead and six spin models in the Shimano SpeedMaster rod range, varying in size from a lightweight 9'0" model, right up to a heavy 13'0" model at 12-20kg. I've been enjoying the 12'0" model over the last several months, and I'm looking forward to some more surf fishing soon. The RRP is very reasonable at $199.
For more information: www.shimanofish.com.au