Swiss Army Alox Pioneer X review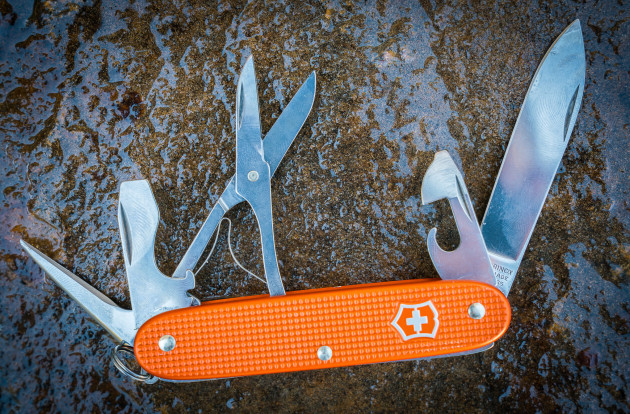 WELL-known knife maker Victorinox each year releases a limited-edition Swiss Army knife – the Alox. The colour changes every year to entice collectors and lovers of quality knives.
There are three models available – the Pioneer X, Classic, and the Hunter Pro. This year's limited-edition knife was produced in Tiger Orange. The Swiss Made pocket knife features aluminium scales, embossed and anodised for durability, and numbered with 2021 on the back.
Over the past few months I've been using the new Alox Pioneer X. It's accompanied me on a Kimberley adventure and a few more local fishing and camping trips. It's also a useful knife around the home and 4WD.
The Pioneer X features a large blade, scissors, reamer, punch, can opener, 3mm and 7.5mm screwdriver, bottle opener, wire stripper, and key ring. It weighs 94.5g and measures 93mm, about perfect weight and size for your pocket or fishing bag.
Overall, it's performed like a quality knife should. There's no signs of any corrosion, even though it's spent a fair amount of time in a saltwater environment. The blade isn't technically a locking blade, however it does firmly hold in place making it safe and easy to use.
I don't use all of the tools, but the scissors, blade and screwdrivers are very useful.
I own my fair share of knives and find the quality of Victorinox products never fail to disappoint and the price point is reasonably affordable. This one is a little more expensive, being a limited-edition, with a RRP of $158.
If you're looking for a new pocket knife with the same features and quality that Swiss Army is known for, in a unique colouration and style, check out the Alox Pioneer X.
For more information: www.victorinox.com.au