NSW mulloway recaptures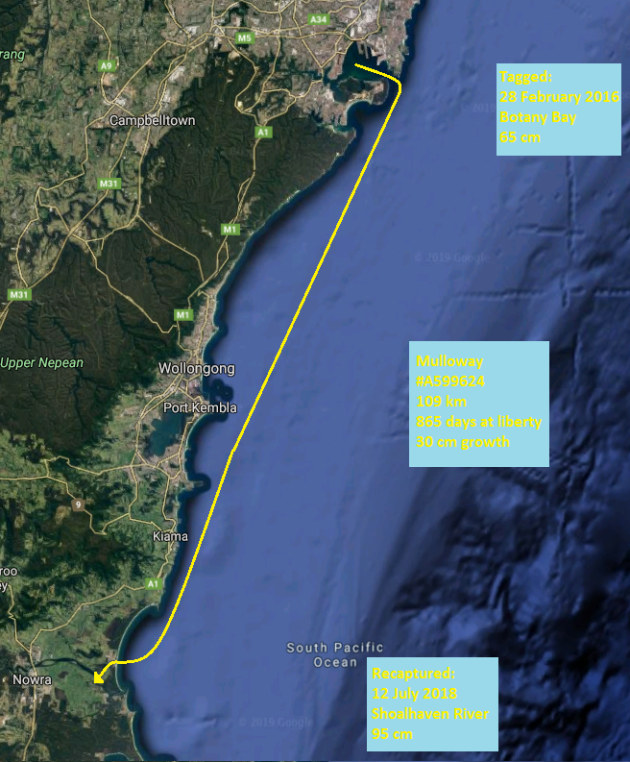 FISHO recently reported that the Victorian mulloway tagging program was going well, with some notable recaptures. Now it is great to hear, via the NSW Research Angler Program newsletter, that there have also been numerous recaptures right along the NSW coast, with 47 recaptures recorded in the past 12 months.
Fifteen of these mulloway travelled less than one nautical mile from their release site, while two of these fish were recaptured by the anglers that originally tagged them, both in Newcastle. Scott McIntyre was able to recapture a 76 cm fish four days after originally tagging it and David Birt's 68 cm Mulloway was at liberty for 21 days before he re-caught it. This is a testament to Scott and David's excellent post-capture handling and release skills.
David Birt was also lucky enough to recapture another tagged mulloway during this period, this time tagged by his son. Meanwhile Chad Kelly was able to provide some valuable data by recapturing two tagged mulloway that appeared to have stayed in the Hunter River system during their time at liberty.
Mick Carrambine recaptured a Mulloway originally tagged by Ivan Maric in February 2016 in Botany Bay. Time at liberty was 865 days and the fish was 30 cm larger after heading south 109 km to the Shoalhaven River. This fish represents the longest distance travelled by a mulloway in this period.
Dan Conquest recaptured a Mulloway originally tagged in December 2015 by Chris Cleaver. The fish was recaptured 55 km north in the Hawkesbury River and is the longest time recorded at liberty at 1155 days. Over this time the fish had grown from 60 cm to an impressive 108 cm.
For more information on the NSW mulloway tagging program, click HERE.